Trip.com Group (formerly Ctrip.com International) and TripAdvisor, Inc. announced a strategic partnership to expand global cooperation, including a joint venture, global content agreements and a governance agreement.
Ctrip Investment Holding Ltd., a subsidiary of Trip.com Group has entered into a joint venture with TripAdvisor's subsidiary TripAdvisor Singapore Private Limited. Trip.com Group will be the majority shareholder of the new joint venture entity and will contribute cash and market expertise.
TripAdvisor will own 40% of the joint venture and will contribute a long-term exclusive brand and content license and other assets of its China business. Both companies have agreed to share inventories in travel categories at the joint venture level. The joint venture will operate globally as TripAdvisor China.
"The joint venture is like a chef with the best ingredients (from Trip.com Group and TripAdvisor), but what kind of cuisine will the chef make to cater to the Chinese market and Chinese travelers? It remains to be explored." Mr. Jay Shen, Vice President of Trip.com Group & Head of Investment, told ChinaTravelNews.
Trip.com Group and TripAdvisor have entered into global content agreements providing for distribution of selected TripAdvisor content on major Trip.com Group brands, including Trip.com, Ctrip, Skyscanner and Qunar.
The Chinese OTA giant wants to become the world's No. 1 travel firm in five years, according to executive chairman James Liang during Trip.com Group's 20th-anniversary celebration last month.
Trip.com Group and TripAdvisor also entered into a Governance Agreement pursuant to which Trip.com Group will have a nomination right for one TripAdvisor, Inc. Board seat commencing upon the relevant regulatory bodies' approvals of the transaction. To maintain the Board seat, Trip.com Group shall acquire up to 6.95 million TripAdvisor shares or TripAdvisor shares valued at USD 317.6 million through open market transactions within one year following regulatory approvals.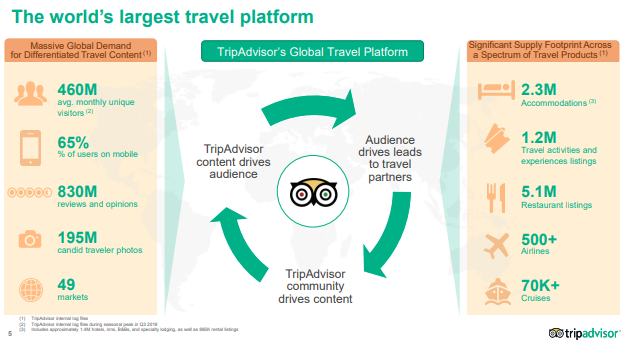 TripAdvisor, which claims to be the world's largest travel information platform with nearly half a billion monthly users, set up its China operation around 2009, and has seen flat growth in the country for the past decade.
The majority of the Needham, Massachusetts-based company's revenues are from its US and UK markets, which took up 83% of its total revenues in 2018, while all other countries including China contributed just 17% of the total.

TripAdvisor and its controlling shareholder Liberty TripAdvisor Holdings, Inc. ("LTRP") have separately agreed to provide Trip.com Group with certain information rights with respect to potential transactions for the sale of TripAdvisor Class B shares or LTRP Series B shares, respectively.
The broad strategic partnership pairs Trip.com Group's market leadership in travel booking capabilities and China travel market expertise with TripAdvisor's unique brand strength, rich global user-generated content, and points-of-interest database, as well as best-in-class in-destination supply. The strategic partnership marks an important step for Trip.com Group to realize its globalization vision with greater quality services, and for TripAdvisor to further strengthen its position as a global travel leader.
"We are pleased to announce this strategic partnership with Trip.com Group to expand TripAdvisor's global reach and also help outbound Chinese travelers plan more meaningful trips," said Stephen Kaufer, president and chief executive officer, TripAdvisor. "China is one of the largest and fastest-growing travel markets in the world. Trip.com Group, with its established brands and travel market leadership, is the perfect partner to help us achieve our long-term goals in the region."
"TripAdvisor is a leading global travel platform and an ideal partner for Trip.com Group," said Jane Sun, CEO of Trip.com Group. "As we expand our footprint overseas, it is important that we offer not only seamless access to global travel inventory, but also quality reviews, opinions and pictures generated by other fellow travelers. We are very excited about this strategic partnership, which will undoubtedly further enhance the travel experience for our customers worldwide."
Travel content is of great interest to Trip.com Group. Last December, the company launched its own social networking feature Trip Moments (or Lvpai, meaning travel photography in Chinese) on its platform to grow its user-generated content. In the December of 2017, Ocean Link, a private equity firm backed by Trip.com Group (known as Ctrip then), invested in Chinese travel site Mafengwo's USD 133 million Series D round of funding.
As of November 6, 2019, Trip.com Group was valued at roughly USD 21 billion in the market, while TripAdvisor was worth around USD 5.75 billion, less than half of its peak value in 2014.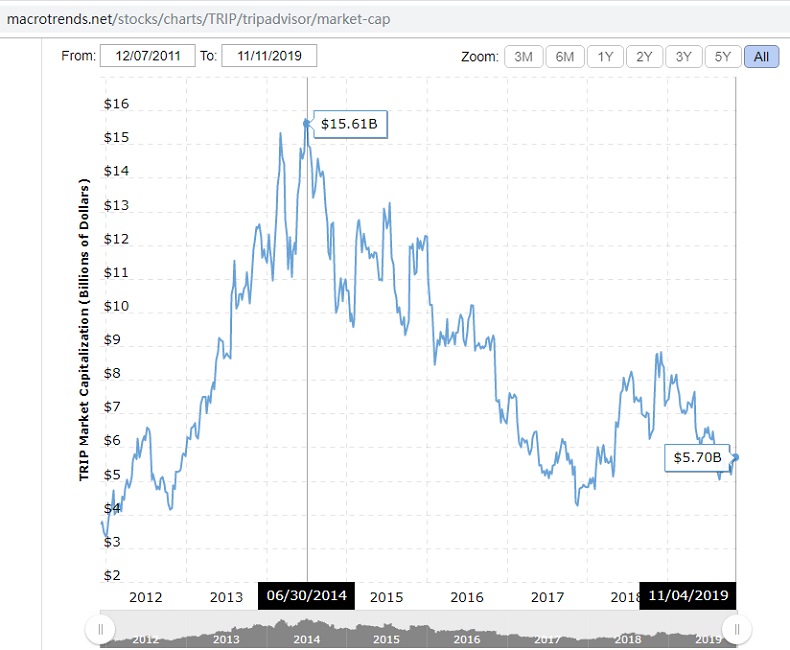 TripAdvisor's Chinese rival Mafengwo was valued at around USD 2 billion after the Series D+ round of USD 250 million with Tencent as the lead investor.