China and the USA are at the forefront of the global recovery in domestic passenger jet flights, together accounting for more than two thirds of the approximately 39,000 intra-country services operating daily as measured on weekly rolling average basis, according to travel analytics company Cirium.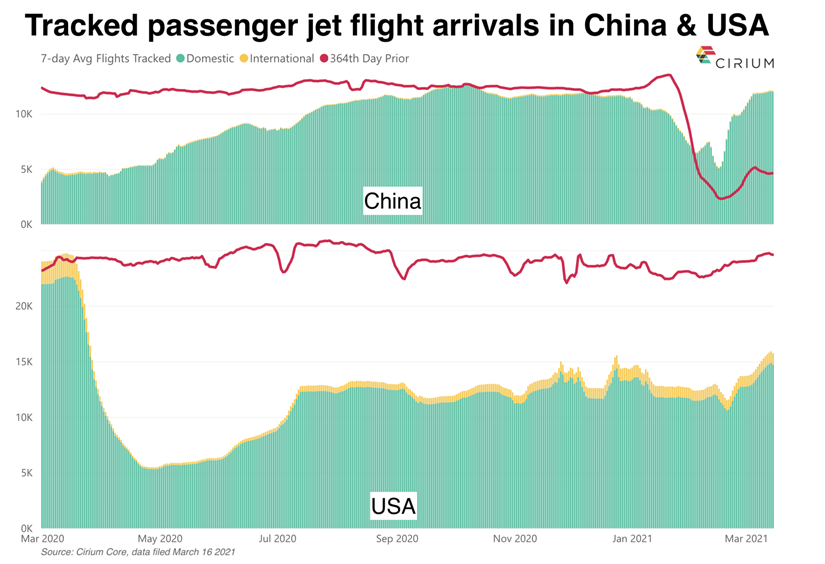 While total flight numbers in the USA remain nearly 40% down compared with typical pre-pandemic levels, carriers have begun to report indications of an uptick in forward bookings amid widespread optimism over the impact of the nation's accelerating mass vaccination program. US President Joe Biden said last week that all US adults would have the opportunity to receive a vaccine by early May.
US airports are welcoming more than 1,000 international flight arrivals per day, but China is running at just a tenth of that level as cross-border travel restrictions in the Asia Pacific region heavily stifle demand. However, lack of progress with restoring international services has not prevented China's airlines from hitting near pre-pandemic levels of overall daily flight activity following a sharp but short-lived downturn in the run-up to the Lunar New Year Holiday.
As of March 16 Cirium classified 32% of the global passenger jet fleet as in-storage, but for Chinese operators the figure is just over 8%, while for US airlines the figure is just below 29%.