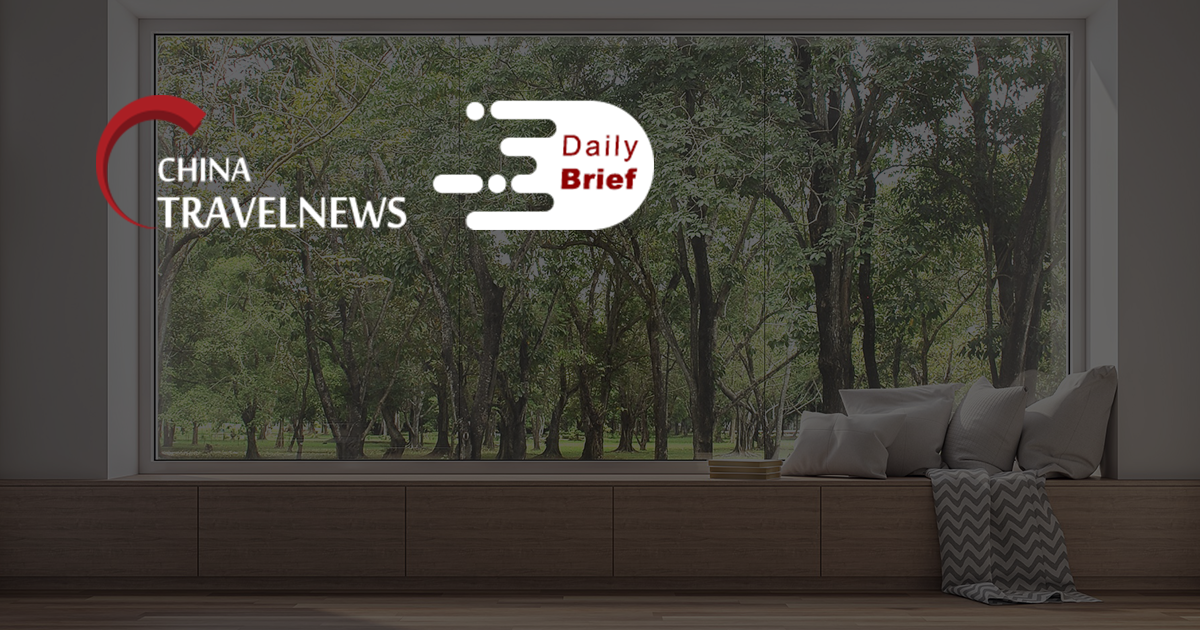 Alibaba-invested mobility platform applies for hotel-related trademark
>> Alibaba-backed mobility sharing platform Hellobike's affiliate company Shanghai Junfeng Network Technology is applying for the trademark of "Hello Hotel" in China, according to company information platform Qichacha.com. The registration is under several classes including catering and accommodation.
Top 20 China Travel Groups for 2020 announced
>> China Tourism Academy and China Tourism Association have jointly announced this year's Top 20 China Travel Groups. The list includes: China Tourism Group, Overseas Chinese Town (OCT), Beijing Tourism Group, Meituan, Caissa Group, Hebei Tourism Investment Group, Shanxi Culture and Tourism Group, Haichang Group, Jin Jiang International, Trip.com Group, Fosun Tourism, Spring Travel, Joyu Lvmama, Nanjing Tourism Group, Tongcheng Group, Zhejiang Tourism Group, Hangzhou Commerce & Tourism Group, New Century Tourism Group, Huangshan Tourism Group, SunRiver Group, Fujian Tourism Development Group, Shandong Province Guoxin Cultural Tourism Development Group, Jiangxi Tourism Group, Central China, Hubei Culture & Tourism Investment Group, Lingnan Group, Zhuhai Jiuzhou Holdings and TCG. Shaanxi.
Chinese travel platform Mafengwo's report sheds light on night tourism trends
>> Chinese travel services and social networking platform Mafengwo has released a report on night tourism. Data showed that young consumers were the most active participants of night tours. More than 72% of the tourists from the Post-95s generation (people who were born in or after 1995) made specific plans for their night tours.
Young urban white-collar workers with a monthly salary of RMB 15,000 (USD 2,292) were more willing to experience night tours, with 96.46% of this group making plans for night travel, while more than half of the tourists with a monthly income of RMB 20,000 (USD 3,057) would include night tours in their itineraries.
China-Australia relations have reached rock bottom at Queensland holiday destination
>> Sino-Australian relations on a Queensland holiday island have reached an all-time low. Chinese investment in Keswick Island, located in the tropical Whitsundays archipelago, has been met with opposition from residents. Locals fear the popular holiday destination is being developed exclusively for Chinese tourists.
Cathay Pacific reports 98.6% drop in passenger number for November
>> Cathay Pacific's latest traffic figures for November continued to reflect the airline's substantial capacity reductions in response to the pandemic. Cathay Pacific carried a total of 37,815 passengers last month, a decrease of 98.6% compared to November 2019. The month's revenue passenger kilometres (RPKs) fell 97.9% year-on-year. Passenger load factor dropped by 61.5 percentage points to 18.5%.
Sichuan Airlines pilot tests positive for virus
>> A Sichuan Airlines pilot has tested positive for coronavirus and been diagnosed as a confirmed, imported COVID-19 case. According to a Civil Aviation Administration of China guideline, cargo flight crew who complete a thorough personal protection routine and don't stay overnight abroad can be spared from quarantine upon their return and carry on their duties.
Chinese spenders offer Phuket hope amid the wreckage of Thailand's tourism industry
>> Gasping for tourists in the middle of a peak season devoured by the pandemic, hotel and tour operators in Phuket, Thailand are praying vaccines will open global borders before they are forced to close their businesses. Phuket welcomed 10 million foreign tourists in 2019, according to official data, most of them from China. That figure is unlikely to be reached again.
Rosewood Hotel partners with Trip.com Group to expand growth in China
>> Rosewood Hotel Group, a leading hotel company whose three-brand portfolio includes New World® Hotels & Resorts, and Tongpai Hotels of Chow Tai Fook Enterprises, have entered into a strategic partnership with Trip.com Group to mutually expand both hotel brands' footholds in mainland China. Rezen Hotels Group, a subsidiary of Trip.com Group, will carry out in-depth cooperation with New World Hotels & Resorts and Tongpai Hotels.