A total of 178 new airports are under construction in the Asia Pacific region as of June 2015 and China accounts for a third of those projects. However, the breakneck pace of airport renovation and construction is creating the problems of sky-high costs and ballooning operational losses.
According to a report by Nikkei Shinbun, 11 airports in the Asia-Pacific region are operating at over capacity, and the five major Asian airports – in Beijing, Seoul, Jakarta, Bangkok and Manila – have all exceeded their passenger throughput limits.
CAPA data show that of the 178 new airport construction projects, a third are in China as of June 2015. Beijing approved a construction proposal for a new airport last year at an investment cost of RMB84 billion (approx: US$13 billion).
The Hong Kong Executive Council approved the expansion of the Hong Kong International Airport, adding a third runway for up to RMB116.5 billion (approx: US$18 billion). Yet these two mammoth projects are only the tip of the iceberg as China will invest a further RMB497.8 billion (approx: US$77.9 billion) to build 58 new airports, boosting the number of airports in China to 260 by 2020.
China takes the lead in runway airport expansion in the APAC region.
In the Asia Pacific region, a total of RMB86.55 billion (approx: US$13.5 billion) has been invested in airport expansion and RMB58.2 billion (approx: US$9 billion) in airport construction as of June 2015. The region's total investment in airports represents 37% of the global total of RMB3.8735 trillion (approx: US$606 billion) and is over two times higher than the total airport investment in North America, the second highest in spending on developing airports.
Airport expansion projects in Taiwan and China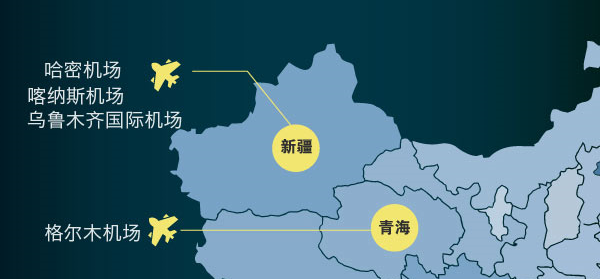 Top to bottom: Hami Airport, Kanas Airport and Urumqi International Airport in Xinjiang province and Golumd Airport in Qinghai province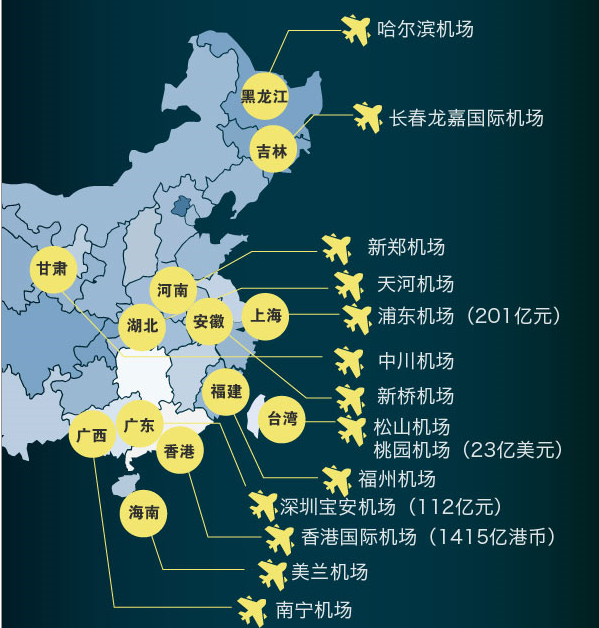 Top to bottom: Harbin Airport in Heilongjiang province, Changchun Longjia Airport in Jilin province, Xinzheng Airport in Henan province, Tianhe Airport in Hubei province, Shanghai Pudong Airport (RMB20.1 billion), Zhongchuan Airport in Gansu province, Xinqiao Airport in Anhui province, Songshan Airport and Taoyuan Airport (US$2.3 billion) in Taiwan, Fuzhou Airport in Fujian province, Shenzhen Baoan Airport (RMB11.2 billion) in Guangdong province, Hong Kong International Airport (HK$141.5 billion), Meilan Airport in Hainan province, Nanning Airport in Guangxi province.
Government subsidies for airports rising y-o-y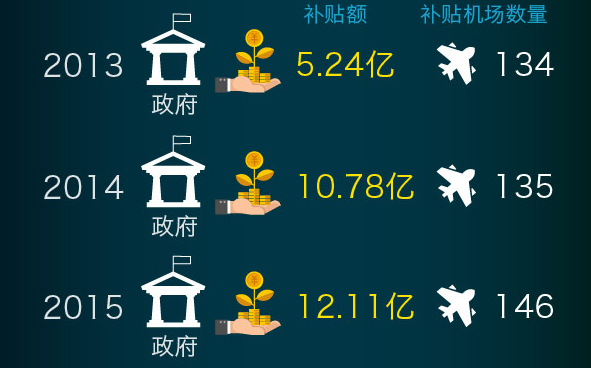 2013: RMB524 million total subidies for 134 airports
2014: RMB1.078 billion total subsidies for 135 airports
2015: RMB1.211 billion total subsidies for 146 airports
2015 total government subsidies by province (in RMB10,000)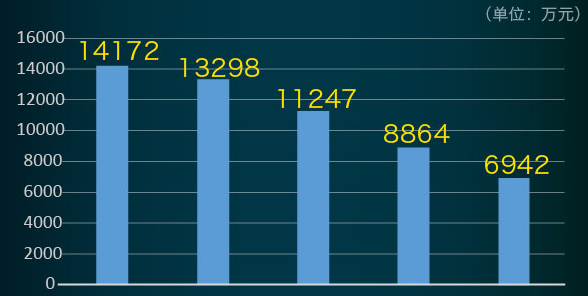 Left to right: Xinjiang, Inner Mongolia, Sichuan, Yunnan, Heilongjiang
Number of airports in each province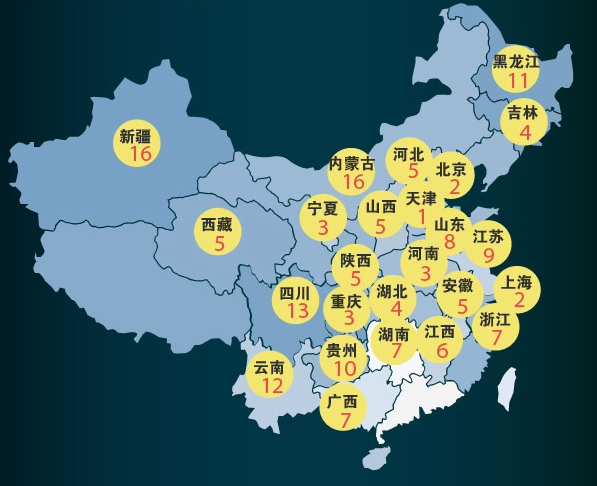 China's western provinces have the highest number of airports and incur the biggest losses. However, the medium and small sized regional airports in the vast but sparsely populated west are seen as intrumental for improving transportation in the region and for driving the the tourism industry and economic development.
The chairman of Civil Aviation Administration of China, Jiaxiang Li, said: "Airports have significant contribution despite the small losses they incur. The airports operating at a loss cover 77% of the national air route network and 91% of the national land mass, and they help drive at least RMB3 trillion (approx: US$469 billion) contribution to the GDP."
Xiaojin Li , professor of the Civil Aviation University of China, said: "China's civil aviation directly affects around 5% of the GDP and this figure rises to 8%-10% in many of the western regions. Aviation will be a major point for economic growth in the west."
Passenger throughput capacity of China's airports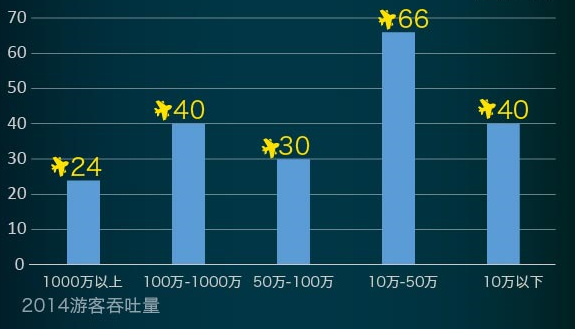 Left to right: over 10 million, 1-10 million, 500,000-1 million, 100,000-500,000, under 100,000.
Besides large-scale expansion of airports for civil airports, China will also construct 1,600 general use airports in the next 15 years in order to achieve town-to-town transportation linkage. While related goventment departments highlight the upside of the aviation industry's return on investment at the very favorable rate of 1:8, they are relatively mute on the costs and losses for operating airports, or how to share the financial liabilities.(Translaton by David)