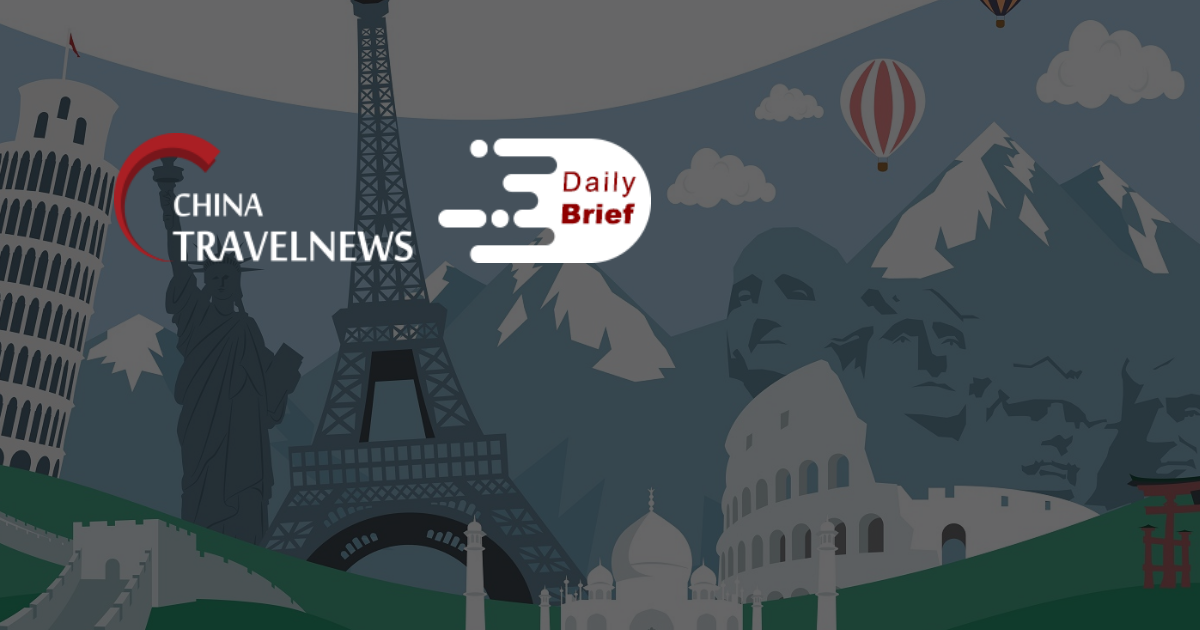 Delisting risk for US-listed Chinese stocks nearly halves after audit deal, Goldman says
>> China and the United States agreed last Friday a preliminary deal on cooperation on audit standards that could have an impact on circa 150 Chinese companies. The risk of Chinese stocks delisting from US exchanges has nearly halved after regulators reached an audit agreement, Goldman Sachs analysts said in a report Monday. US-listed Chinese travel companies include Trip.com Group, H World Group, Tuniu.com, GreenTree Hospitality and more.
Cuba-China tourism MOU points the Way "to seek a newer world"
>> The Chinese and Cuban governments signed a Memorandum of Understanding (MOU) on Tourism Cooperation last month, underscoring one of the key instruments to tourism development. The initiatives taken will be in accord with the identified interests in cultural tourism, health, historical heritage, and multi-destinations of the Caribbean.
Hong Kong's most popular tourist attraction Peak Tram reopens after 14 months
>> After being down for a year, one of Hong Kong's most well-liked tourist attractions, the Peak Tram, has reopened with a fresh new design. The funicular, which is the oldest in Asia and was previously visited by more than six million people annually when Covid-19 hit, welcomed back customers despite the city's continuing strict coronavirus regulations.
Chinese province bordering Beijing expands Covid lockdown
>> China is enforcing lockdown restrictions in areas around Beijing more intensively and will mass test the nearby port city of Tianjin, stepping up its quest to wipe out Covid-19 ahead of a key meeting of the Communist Party's top leaders. Shijiazhuang also suspended subway services and halted non-essential business operations in the locked-down districts.
Shanghai theme park opens Ultraman area to lure more visitors
>> Chinese leisure park operator Haichang Ocean Park Holdings has opened an area devoted to Japanese superhero Ultraman in its Shanghai theme park as part of efforts to attract more visitors in the wake of the country's numerous COVID-19 lockdowns. The Japanese superhero attraction is expected to increase food, souvenir sales.
Guangzhou revives amusement parks at dusk
>> Over a decade ago, Chinese theme parks would close at dusk. Today, they've become popular night-time venues. And some say business has been good. Both officials and businesses have been pushing for night-time activities across China. Experts say the reason behind this is simple. The longer you are able to keep a customer out, the more money he or she will likely spend. But one expert believes the benefits are beyond higher consumer spending.
Hotel giant H World sees Q2 revenue down 5.7%, plans to quit economy soft-brands segment
>> Chinese hotel giant H World (formerly Huazhu Group) said its revenue for the second quarter this year dropped 5.7% year-over-year to RMB 3.4 billion (USD 504 million). Q3 Revenue is projected to rise 13%-17%. CEO Mr. Jin Hui said the company will no longer develop soft brands in the economy segment in the future, and will accelerate to exit from this particular segment through retiring existing hotels in the next one to two years.
The Ritz-Carlton Club elevated experience launches in mainland China
>> The Ritz-Carlton, part of Marriott Bonvoy's portfolio of 30 extraordinary hotel brands, is elevating the journeys of its guests with enhanced offerings in The Ritz-Carlton Club across its 13 hotels in Mainland China.
Loss of Chinese tourists forces Europe's luxury retailers to rethink
>> Chinese tourists, once the biggest driver of luxury sales, have almost disappeared from European high streets since the closure of China's borders in 2020. With no clear date for their return, retailers are having to come up with new tactics. Rather than selling easy-to-grab items to fast-moving tourists, sales teams are having to slow down and personalize their services for pickier locals.
China Southern reveals latest international flight schedule
>> China Southern, which owns the biggest fleet in China of nearly 600 active aircraft, published its September international flight routes plan on its social media page. It shows some adds and cuts compared to the plan in August. The most highlighted add will be the resumption of scheduled flights between China and the United Kingdom. There are four other European routes for China Southern, and the Wuhan to Istanbul route and Shenzhen to Moscow route were resumed earlier this summer.