Domestic flight activity in China has rebounded sharply recently, marking the conclusion of a dramatic decline prompted by Beijing's request to its citizens to avoid traveling during the run up to the February 12 Lunar New Year, according to a Cirium report.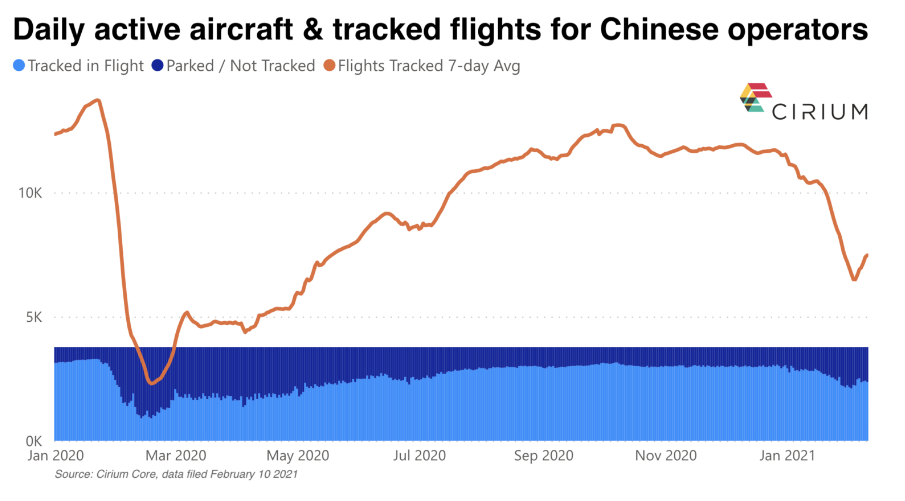 Including the very low number of international services, seven-day rolling average daily flights for Chinese operators fell below 6,500 on February 3 – a level last seen in early-May 2020. By February 10 this metric had recovered to nearly 7,500, although it is too early to determine to what extent this increased flight activity was driven by an uptick in passenger demand.
In terms of aircraft activity, around 2,250 Chinese-operated passenger jets were tracked making at least one flight on February 3, while over 1,500 did not get airborne. However, nearly 2,400 aircraft were active on February 10.
Cirium classified just over 8% of the Chinese-operated passenger jet fleet as having in-storage status on February 10, equivalent to 310 aircraft. This compared with the global figure of over 32% of passenger jets in storage.
The renewed recovery in China – coupled with a slight uptick in the USA – has pushed overall global domestic flight activity up slightly in recent days, in contrast to international markets where travel remains heavily restricted as governments attempt to contain the spread of more transmissible strains of Covid-19.