China re-opens visa facilitation for European nationals with valid residence permits
>> China decides that foreign nationals from a list of European countries who hold valid residence permits, including work permit, permit for family reunion and personal matters, may apply for visas for free at any Chinese embassy or consulate in these countries, including Albania, Ireland, Estonia, Austria, Bulgaria,North Macedonia, Belgium, Iceland, Bosnia and Herzegovina, Poland, Denmark, Germany, France, Finland, the Netherlands, Montenegro,Czech Republic, Croatia, Latvia, Lithuania, Luxembourg, Romania, Malta, Norway, Portugal, Sweden, Switzerland, Serbia, Cyprus, Slovakia, Slovenia, Spain, Greece, Hungary, Italy and United Kingdom.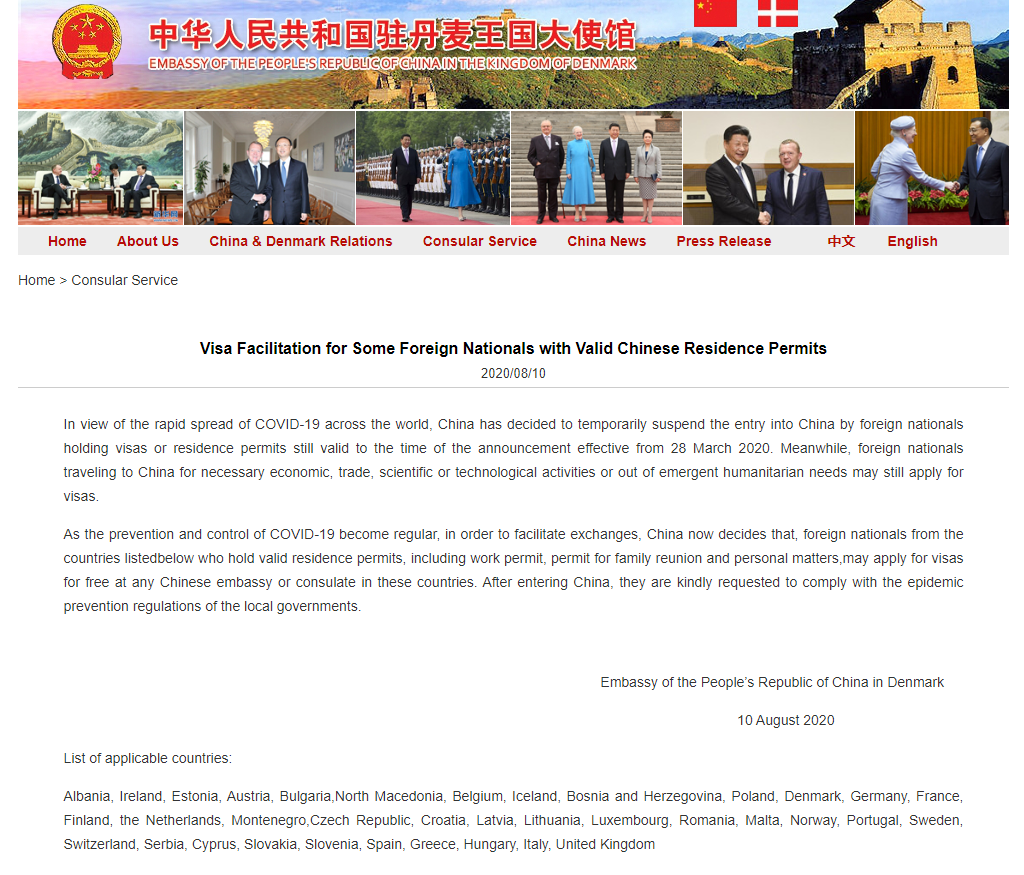 Earlier this year, China temporarily suspended the entry by foreign nationals holding visas or residence permits still valid due to the outbreak of coronavirus.
China resumes tourist visas to Macau
>> China will resume issuing tourist visas for visitors to Macau, paving way for the mass return of Chinese punters to the world's largest gaming hub after months of losses. Zhuhai city in neighboring Guangdong province will begin issuing tourist visas, including both individual and group tours, for mainland residents to travel to Macau again on Aug 12, said Macau's Secretary for Social Affairs and Culture Ao Ieong U on Monday in a press briefing.
China business travel returns for Marriott, revenue tumbles
>> Marriott has reopened 91% of its hotels globally as business travel reemerges in China and worldwide occupancy, which tumbled to 11% in April, reached 34%. The company reported quarterly profits on Monday that fell far short of expectations, however, and revenue plunged. In China, where business travel and even some group events resumed, occupancy levels reached 60%, about 10% lower than the same period last year, Marriott said.
Accor, Alibaba Fliggy partner with ROSEONLY at Super Brand Day
>> French travel and lifestyle group Accor united with Fliggy for the return of Super Brand Day from August 11 through 28, 2020. Partnering with exclusive rose and jewellery brand ROSEONLY, the campaign A World of ALL Romantic Wonders honours Chinese Valentine's Day in August. By leveraging the ecosystem of TMall and Fliggy, the campaign will touch upon all the ways that romantic experiences and loving memories enhanced through creative offerings at the Super Brand Day.
Digital marketing expert ASAP+ joins TravelDaily China in webinar
>> Dave Rumsey, CEO of ASAP+, a digital marketing specialist targeting Chinese consumers, will share insights on a webinar hosted by TravelDaily China and ITB China on August 18. Themed "How Travel Brands Should Utilize WeChat Now and in Future", the online session will shed light on how to stay relevant to the Chinese consumers through smart content and tactics and emerge as a retail-savvy travel brand, leveraging WeChat Mini Program e-commerce offerings.
China sees recovering air travel demands
>> China's air travel demand has recovered significantly since June with a continuous increase in the volume of flights, according to the Civil Aviation Administration of China. In June, the industry handled 325,000 flights, accounting for an average of 10,820 flights daily, up 14.1% from May, statistics from the CAAC showed. In July, the country's civil aviation industry handled a total of 370,000 flights, with an average daily volume of 11,941 flights.
China Eastern unveils new unlimited flight deal
>> Encouraged by the impressive performance of its weekend flight offerings, China Eastern Airlines on Monday launched a new product catered toward weekday flights, according to the Shanghai-based carrier. Priced at RMB 3,456, the new package allows users to take unlimited flights to any destination in the Chinese mainland on weekday mornings before 8am and on weekday evenings after 8pm. The package is valid for 180 days.
Skyscanner launches airline confidence ratings on cleanliness
>> Skyscanner has announced the debut of an airline confidence rating that provides travelers with the option to search for and choose airlines based on directly sourced airline safety ratings, the company said. The ratings score airlines based on their health and safety policies in the wake of COVID-19. Travelers will be able to see individual airline scores safety measures. A recent survey from AirlineRatings.com of over 2200 indicated that 44% of travelers now prioritise superior hygiene and cleanliness levels when considering travel.