For global travel and retail brands with the ambition to expand in China, recognizing WeChat as a major channel to tell a brand story is only the first step.
The next important move is to establish and maintain meaningful interaction with the Chinese consumers by curating relevant content and delivering messages through well thought out strategies.
The industry post-COVID-19 will be full of uncertainties. How should international travel brands utilize WeChat to stay connected with the Chinese consumers now and in future?
To answer this question, Dave Rumsey, CEO of ASAP+, a digital marketing specialist targeting Chinese consumers, will share insights on a webinar hosted by TravelDaily China and ITB China on August 18 (12:00 PM GMT).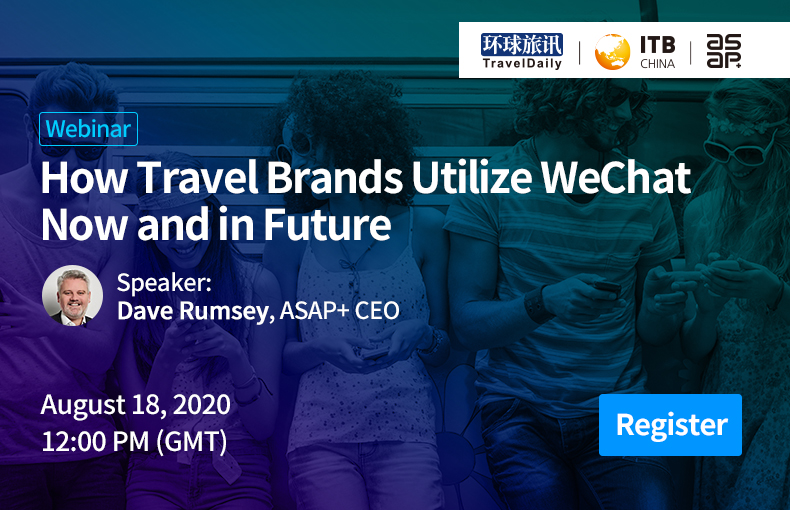 Who is ASAP+
ASAP+ is an experienced travel and retail marketing expert. It has helped major travel destinations and brands including Tourism Australia, Agoda, Accor and Delta Air Lines reach their target audience in the Chinese market.
Dave is an experienced leader with a proven record of delivering strategic business technology initia-tives across both the government and the private sectors. Prior to joining ASAP+ he was the CIO at Tourism Australia for 5 years where he led the IT and Digital Marketing transformation program.
Why this matters
Themed "How Travel Brands Should Utilize WeChat Now and in Future", the online session will shed light on:
* How to stay relevant to the Chinese consumers through smart content and tactics

* How to emerge as a retail-savvy travel brand, leveraging WeChat Mini Program e-commerce offerings

* How to prepare for the rebound of China's outbound travel activities
Participation
Click here to register now for the webinar on August 18, and join our discussion on WeChat digital marketing for travel and retail brands.
Contact: Echo Zeng
Email: echo@traveldaily.cn