OTA in talks with investors to delist from Nasdaq
>> Chinese online travel giant Trip.com Group (Ctrip) is in talks with potential investors about funding its delisting from Nasdaq because of rising U.S.-China tensions and the coronavirus-driven hit to its business, sources told Reuters. In a response to ChinaTravelNews' inquiry, Trip.com Group said it has no comment on the media report.
Alibaba live streams connect Europe to China's future travelers
>> Coronavirus may have curtailed outbound travel to Europe in 2020, but Fliggy has continued connecting Chinese audiences with European destinations, most notably via live streams. Since May, the Alibaba online travel unit has broadcast live streams from Serbia, Finland, Germany, and the U.K. as well as from some of the continent's most storied cultural destinations including the Palace of Versailles, the British Museum, and Madrid's Prado.
China's Jin Jiang ranked the world's second-biggest hotel group
>> With 1,348,532 hotel rooms open as of the end of last year, Marriott continued to top the 2019 global HOTELS 325 ranking list, followed by China's Jin Jiang International with 1,081,230 rooms as of the same time. Among the global top 20 list, seven hotel groups were from China, including Jin Jiang, Huazhu Group, BTG Hotels, Dossen International, GreenTree Hospitality, Qingdao Sunmei Group and New Century Hotels.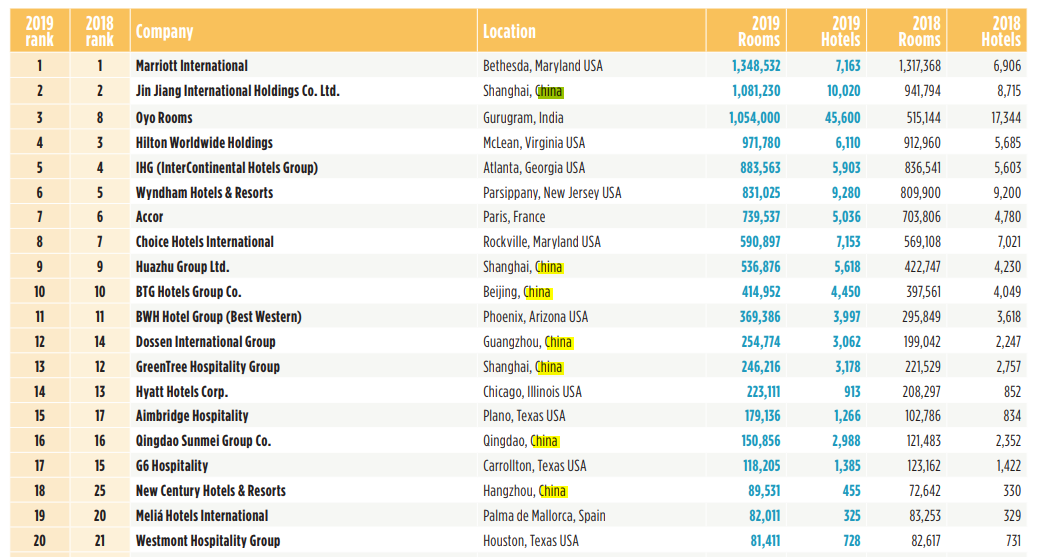 TravelSky projects half-year net loss of more than $35 million
>> Chinese airline IT service provider TravelSky said it expects to record a net loss ranging from RMB 250-310 million (USD 35.7-44.3 million) for the six months ended 30 June this year as compared to the net profit of RMB 1,440 million last year.
RV sales boom in China as safe travel alternative
>> Sales and rentals of recreational vehicles witnessed a boom in China during the post-pandemic period, as consumers look for a safer travel alternative. According to Qichacha, a major enterprise credit investigation agency in China, there were 1,274 newly-established RV companies nationwide in the first half of this year, up 17% from a year earlier. The number hit 849 from March to June, with an increase of 36.3% year-on-year.
Asian cruises resume in China, Taiwan
>> The Asian cruise market is slowly coming back to life, with an ocean cruise ship entering service in Taiwan and domestic river cruising approved on China's Yangtze River. Explorer Dream, one of the ships in the Dream Cruise Line fleet, embarked on its first short sailing in Taiwan, leaving from the northern port of Keelung.
China will start giving visas to Koreans soon
>> China has agreed to issue visas to South Korean students and employees starting next month, Seoul's top diplomat to Beijing said. The exact date of resumption of visa issuances has not been announced, but it is expected to be in early August. In response to the Covid-19 pandemic, China banned the entry of foreigners starting March 28, including people holding valid visas and residence permits.