Canton Fair will take place online in June
>> The State Council of China said on April 7 that the 127th Canton Fair will take place in mid to late June this year and will be hosted online, so as to prevent the spread of the coronavirus. The decision by the authority will have an impact on the companies that are participating in the trade show, as well as the local hotel accommodation and catering industries in Guangzhou.
IATA allows airline refunds in coupons
>> In a letter to the ticketing agents, the International Air Transport Association said it will waive the penalty on some settlement delay impacted by the coronavirus pandemic. The global airline association also said that it will understand if some carriers refund customer cancellations with coupons instead of cash.
Wuhan airport re-opens to host 233 flights today
>> Wuhan Tianhe International Airport will host 233 flights today after re-opening following a 76-day suspension to help reduce the spread of COVID-19. The airport will send out 111 planes and receive 122, according to figures from the aviation data platform VariFlight.
Inbound flights to China decline drastically last week
>> Chinese airlines are operating 3,700-5,600 flights per day in the week ended April 5 with a load factor of around 65%, according to airline data provider VariFlight. But the number of international inbound flights dropped from 46 on March 30 to just 4 on April 4. Japan, Singapore and South Korea were the top 3 departure points.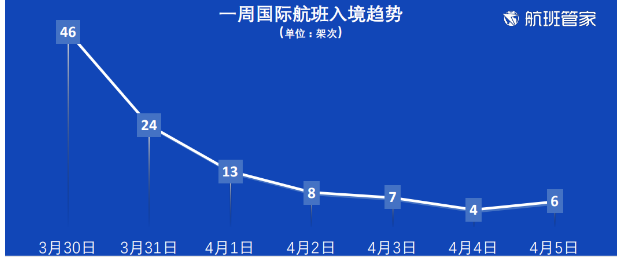 Hong Kong hotels bring in robots to beat coronavirus slump
>> Hong Kong hotels operator L'hotel Group has turned to robots amid a COVID-19 driven slump in the hospitality sector, with the aim of providing meals to guests and ensuring reduced interaction with staff. The company will have three artificial intelligence robots called Genie delivering meals and drinks to guests at its 432-room L'hotel Island South property which welcomes guests in quarantine, by mid-April.
Airbnb's new funding comes at a lower valuation of $18B
>> Airbnb's new USD 1 billion financing round backed by private equity firms Silver Lake and Sixth Street Partners has terms that imply a reduced valuation. The home rental firm is now valued at USD 18 billion, below the USD 26 billion internal valuation in early March.
Branded airline and hotel Google search volume drops
>> The coronavirus has had a devastating impact on the airline and hotel industries, a fact that has been further evidenced in findings from SEMrush, a trends data analytic firm, which tracked Google search volume for the two travel segments. The company's industry-wide branded airline searches found a 17% decline from January through February. The hardest-hit carriers were Bangkok Airways (-33%), China Eastern (-33%) and China Southern (-45%).