ChinaTravelNews - The coronavirus outbreak originating in Chinese city Wuhan has continued to evolved as the country is fighting to control the spread of the disease. People from all walks of life are responding to the virus threat including those in the travel and tourism sectors.
Facts
As of January 27 at 20:59 (GMT+8), the 2019-nCoV virus has killed more than 80 people and infected at least 2,800 more in China. A total of at least 40 confirmed cases were reported overseas, including those in popular Chinese outbound destinations like Japan, Singapore and Thailand.
Chinese regulators have stepped up measures:
The Civil Aviation Administration of China requested that all airline companies and ticketing agents grant free cancellations to passengers who would voluntarily cancel their flights, starting from on January 24, 2020.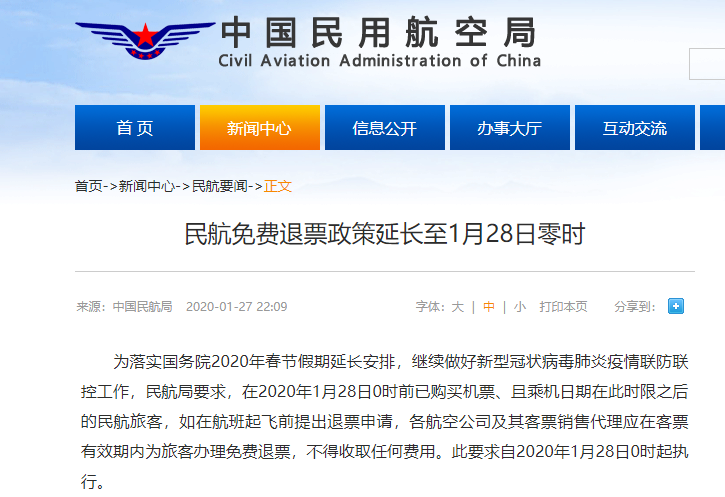 The Ministry of Culture and Tourism asked all travel agencies and online services to suspend all group tour offerings and "flight + hotel" packages on the same day.
Anyone traveling out of or into China is now required to undergo a health check, according to a report by Dragon Trail Interactive and the Chinese New Year national holiday has been extended through February 2.
The China Association of Travel Services has released an open letter, asking both domestic and overseas travel suppliers to refund costs for travel cancellations related to the virus and subsequent travel restrictions.
Online booking, transportation & accommodation providers are also taking steps to help:
Online travel platforms like Trip.com Group, Alibaba's Fliggy, Meituan Dianping and Qunar have all responded with free cancellation policies on flight, rail, hotel, attractions, package bookings for travelers who are traveling to or from Wuhan city/Hubei Province with suspected/confirmed cases of coronavirus, or had close contact with infected patients.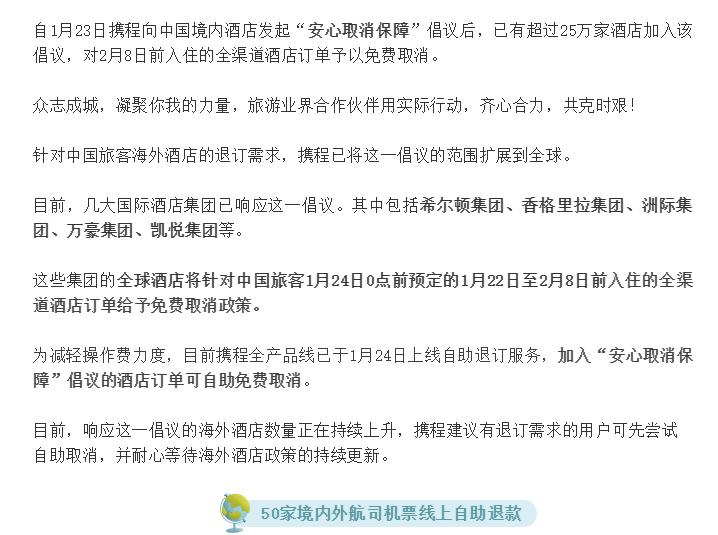 China Railway, the state railway operator, allowed passengers to cancel their tickets nationwide booked through various channels and get refunds without charging fees. Airlines including China Eastern, Air China, China Southern, Hainan Airlines and Spring Airlines have released their provisional cancellation and refund policy, allowing passengers who have purchased tickets before January 24, 2020 to cancel their flights before expiry date.
Chinese and international hotel chains such as BTG Homeinns, Jinjiang, Hilton, Marriott, Plateno, IHG, Atour and Wanda have all provided free cancellations for travelers to or from Wuhan/Hubei due to the virus outbreak.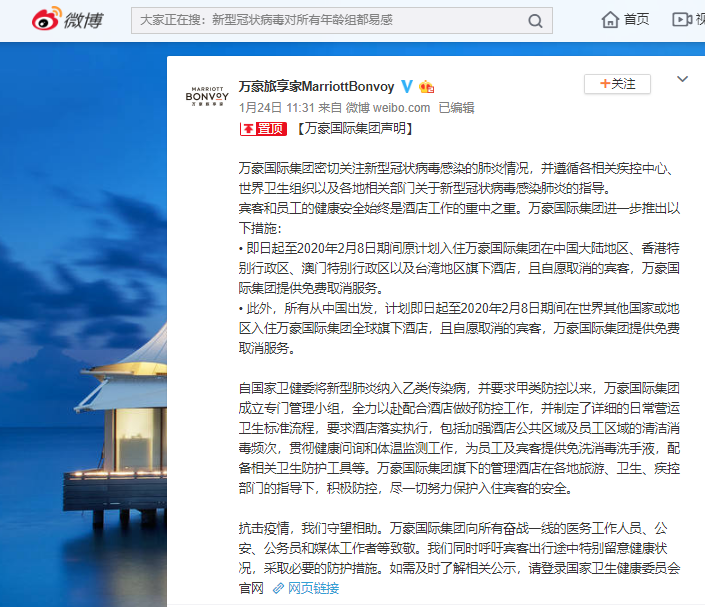 Advice
For travel and tourism brands, offering thoughtful communications and assistance to both travelers and corporate partners at the time will be much appreciated, according to Dragon Trail Interactive's recommendations.
The travel marketing specialist also advised that businesses could look to mid-February to recommence their operation and target the extended May holiday for outbound travel offerings.