ChinaTravelNews, Jerry Tang - Globalization has always been core to Alibaba's business strategy, which aims to realize "Global Buy, Global Sell, Global Delivery, Global Pay, and Global Fun". Under the vision of "Global Fun" in particular, Alibaba plans to leave a global footprint through business development of its travel platform, Fliggy.
A joint venture between Alibaba Group and the world's largest hotel group, Marriott International, in 2017 marked the beginning of Fliggy's globalization effort through partnerships with players in the travel sector. These collaborations also include working with Singapore Airline's KrisFlyer program to diversify Fliggy's membership benefits, partnering with JR Kyushu to offer Chinese travelers tailored rail tours in Japan, and attracting Booking.com to launch a flagship store on the Fliggy platform, among many others.
International travel players see great potential in expanding their product and service offerings to Chinese tourists through Fliggy, supported on the back end by Alibaba's ecosystem, whose wide-ranging services were tapped by 699 million mobile monthly active users, as of December 31, 2018.
"As Alibaba expands globally, Fliggy will join our domestic and overseas partners in providing better services on not just the consumer side but also the corporate side. Leveraging the power of the Alibaba ecosystem presents Fliggy a great opportunity," said Angel Zhao, President of Alibaba Global Business Group, Senior Vice President of Alibaba Group and President of Fliggy.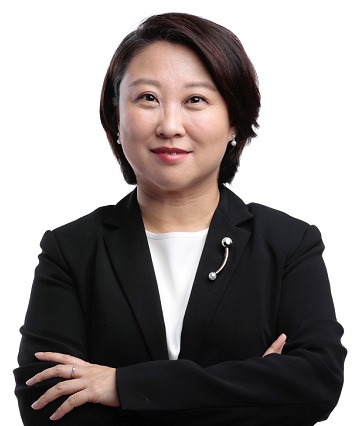 Angel Zhao, President of Alibaba Global Business Group, Senior Vice President of Alibaba Group and President of Fliggy
Helping merchants and consumers
In line with Alibaba's goal to "make it easy to do business anywhere" in the world, Ms. Zhao said Fliggy aims to "make it easy to do travel business anywhere" in the digital era.
"The overall travel industry is still fragmented, and many services are done offline, so there's still a long way to go to improve operational efficiency and precision marketing for registered members." Ms. Zhao said, "Fliggy will focus on the entire travel sector and facilitate travel merchants in their digital upgrade and transformation to provide consumers with better travel products and service experience."
Talking about the joint venture between Alibaba and Marriott, Ms. Zhao said the tie-up is not just a matter of investment agreement, nor is it just about selling Marriott's hotel rooms on Fliggy.
"The strategic value of this partnership is focused on building the digital capabilities of the world's largest hotel group, including working on precision marketing targeting Alibaba's loyal members. We've seen positive results in the partnership for the past year."
Fliggy is not alone in empowering travel merchants by offering digital marketing services and connecting them to Chinese consumers. Meituan Dianping, a food delivery and service booking platform that has been listed on the Hong Kong Stock Exchange, also wants to build a mobile marketing platform for hoteliers in China. Last December, the packaged travel unit of Ctrip outlined 15 major product lines and launched its new Open Platform to make things easier for travel partners and empower small and individual businesses.
For consumer-facing services, Ms. Zhao noted that Alibaba has a unique advantage over its competitors: the Zhima Credit scoring system from the company's fintech affiliate Ant Financial. Fliggy's Post Post Pay program was introduced in 2015 to allow customers with high credit ratings to reserve hotel rooms through Alibaba's platforms without paying a deposit and enjoy a wallet-free hotel experience and express checkout service. Subsequently, Fliggy also rolled out programs that allow qualified users to rent cars, overseas Wi-Fi devices and enjoy other products and services without the need to pay a deposit.
"Other than the guarantee on quality and safety, we also want to provide consumers with credit travel services, allowing them to gain more convenient experience based on insights from our platforms," said Ms. Zhao.
In early 2018, Fliggy rolled out its Post Post Pay functionality to more than 1,000 Marriott hotels worldwide, including more than 270 hotels in the Greater China region. Most recently, Fliggy has been working with Zhima Credit to allow Chinese travelers with high credit ratings to book restaurants in Japan without paying a deposit.
Fliggy's position
Fliggy said it has operated differently from typical online travel agencies (OTA) in China. Building on the Alibaba ecosystem, Fliggy wants to be a travel service platform which enables merchants to build direct relationships with Chinese consumers.
Unlike Booking Holdings or Ctrip which built up their market presence entirely with travel-focused services, Alibaba Group rose to the Chinese and global markets mostly buoyed by its "China commerce retail" arm, which accounted for 69% of the group's total revenue in the quarter ended December 31, 2018.
With a different operation and revenue mix, it's only natural and reasonable that Alibaba positions its travel unit as strategically different from travel specialists like Booking Holdings and Ctrip. It's the difference between building a full-service travel platform and building a business and service ecosystem which includes travel services.
There is still much room for cross-brand synergy or consolidation under the umbrella of Alibaba.
According to a public filing, Alibaba's "consumer services" which include Ele.me, Koubei and Fliggy accounted for just over 1% of the company's total revenue in fiscal year 2018. Last October, the company merged its food delivery service Ele.me and restaurant guide unit Koubei to gain greater traction in the local service sector.
Meanwhile, as the flagship brand for "non-local" travel services, Fliggy may still be repositioned in some way to better leverage the power of parent Alibaba's e-commerce services empire, which has greater potential in serving outbound travelers on their journeys.
Outbound travel spending
China's outbound tourism continues to grow amid economic slowdown and Sino-US trade war. Alipay, the mobile payment service of Alibaba's ecosystem, has worked with 10 international airports, including Munich Airport in Germany and Narita International Airport in Japan to service Chinese tourists globally since 2016.
"Alipay presents far more than just a payment solution at the end of a consumption process." Ms. Zhao said.
For merchants, they can distribute their coupons for overseas purchases on the platforms of Fliggy or Alipay, where travelers can see and make use of that, before or during their trips. With help from Fliggy's or Alipay's membership programs, merchants can also get layered and targeted marketing service from Alibaba to boost their sales.
For consumers, Alipay offers favorable exchange rates which can be tailor-made, based on different membership levels. Differentiating the exchange rate offers by membership levels and merchants can increase travel consumption.
"With individual credit scoring, tailor-made exchange rates and precision marketing, we can deliver more value to both the merchants and the outbound travelers," said Ms. Zhao.
Globalization by investing or integrating?
There are basically two ways for corporations to scale up: acquisition or organic growth.
U.S.-headquartered Booking Holdings (formerly The Priceline Group) found its way into globalization with the purchase of European hotel booking website Booking.com more than a decade ago. In 2017, around 89% of Booking Holdings' gross profit was from its international business with the "substantial majority" generated by Booking.com.
Alibaba's stakeholding in Shiji, a software solutions and services provider for the hospitality, food service, retail and entertainment industries, may lead to greater opportunities in hotel management, digitization of theme parks and attractions and more. Shiji employs 4,000 employees at its 70+ subsidiaries and brands and has been acquiring more and more technology firms by itself globally.
In recent years, Alibaba Group has been reducing the share of its investments aimed at global expansion - the company's breakdown on investments for international expansion has dropped from 38% in fiscal year 2017 to 15% in fiscal year 2018. It seems more focused on scaling up the globalization synergy by building or consolidating its in-house operation units rather than a buying binge.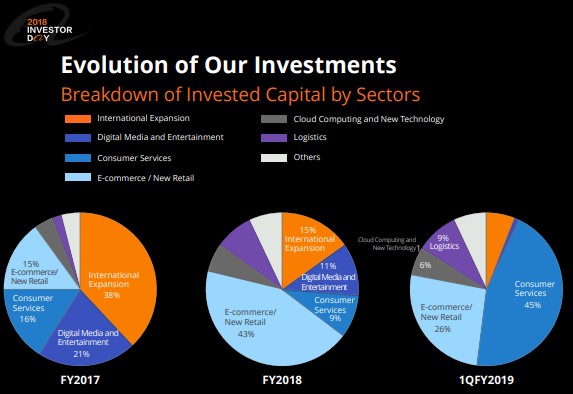 Asked if the company will make more investments to speed up its globalization, Ms. Zhao did not rule out the possibility, but she emphasized that the point of mergers and acquisitions is to build up complementary capabilities for Alibaba.
For travel unit Fliggy, growing either through external partnerships or through operational synergy within the internal family will rely heavily on the prominence of Alibaba Group's ecosystem and its long-term trajectory.
Angel Zhao, President of Alibaba Global Business Group, Senior Vice President of Alibaba Group and President of Fliggy, joined the conference sessions co-organized by TravelDaily China on March 6 at ITB Berlin 2019.