Many of Northeast Asia's full service airlines have undergone a leadership change in the last two years, and the new crop of executives – often younger and not taking full service dominance for granted – are starting to make their mark. For all the LCC growth and achievements there is still great potential, but at the same time significant infrastructure challenges and lack of government support, especially in mainland China.
Headline growth is not just from mainland Chinese airlines.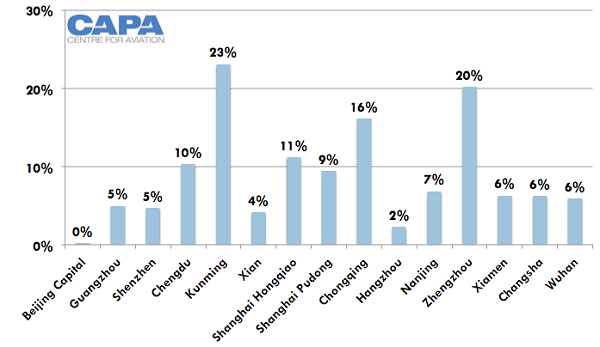 Domestic LCC market share at China's largest airports: Jun-2017
Mainland Chinese airlines are supplanting their Gulf peers as the competitive long haul concern for other airlines. This is partially as Etihad slows down (as do others, in some forms), but is mostly a realisation of the potential the Chinese airlines, and their intent to have their fair share (or more) of the market.
Despite some restructuring efforts, Asia's established airlines are still bloated and not making full commitment to radical changes, as their North American and European peers have. But there is also a sense that making these changes – stripping out service – is a road that is difficult to turn around from.
It is cheaper to be a full service airline in Asia than elsewhere. Asia's airlines also have a feeling (with good reason) that many of their recent problems are due to a significant short term overcapacity, which has depressed yields.
Read original article