Home
>
>
China Express Airlines seeks approval for Shenzhen IPO
China Express Airlines seeks approval for Shenzhen IPO
02/07/2017
|
10:32:19 AM
|
中文
China Express Airlines, a regional carrier in Chongqing, is planning to launch an IPO in the Shenzhen Stock Exchange, raising as much as RMB 1.68 billion for fleet expansion and training arms.
The airline proposed to offer 40.5 million shares, according to a draft prospectus published by the China Securities Regulatory Commission (CSRC).
The release of its draft IPO plan marks a step toward listing after years of waiting. The CSRC typically arranges the "preliminary disclosure" of a draft IPO plan after accepting a listing application, followed by several rounds of feedback and reviews before giving a go-ahead to the issuer.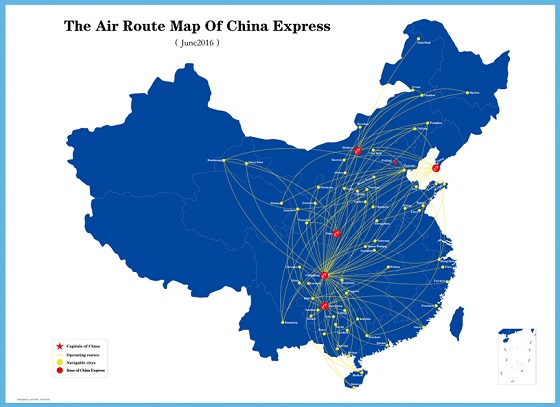 China Express' domestic routes
Known as China's first private regional carrier. It mainly operates domestic passenger and cargo flights, business and tourist charter services, as well as flights to Hong Kong, Macau and neighboring countries.
China Express is set to become the eighth listed airlines once the deal completed following Spring Airlines and Juneyao Airlines.
Read original article