Investors are packing it in on Tuniu Corp., the once-high-flying Chinese online tour company that doubled in value within a month of its 2014 U.S. debut.
The Tuniu's American depositary receipts have given back almost all of those gains, and now its two biggest rivals are joining forces amid the country's deepest economic slowdown in 26 years.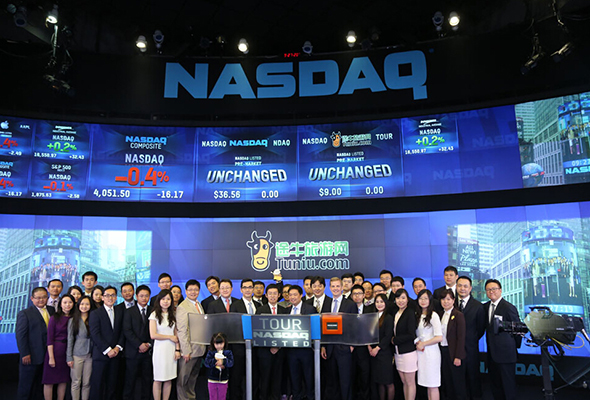 Small companies like Tuniu, with a market value of $1.3 billion, are the most vulnerable in an downturn, so investors are more apt to abandon them when the going gets rough, according to 86Research Ltd. and JL Warren Capital LLC.
The rivals that agreed to a partnership in October, Ctrip.com and Qunar, are valued 15 and four times as much and together have an estimated 80 percent of the Chinese hotel and air-ticket markets. Ctrip also has purchased a majority stake in Elong, an online trip-booking service. During Tuniu's rout, Ctrip fell about 9 percent and Qunar lost 21 percent.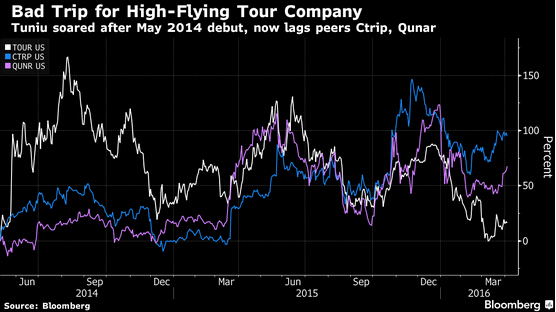 The downturn has tightened the fists of many of Tuniu's potential customers, including luxury shoppers, as shown by slowing mainland retail sales in January and February, said Junheng Li, founder of JL Warren Capital, a New York-based research firm focused on Chinese equities.
Tuniu's gross margin fell to a record low of 4.2 percent in last year's fourth quarter due to the company's "competitive pricing strategy and the higher costs associated with the new regional service centers," it said in a February press release.
Tuniu has been unprofitable since at least 2012 and posted a record net loss of 550 million yuan ($85.3 million) last quarter, data compiled by Bloomberg show. The company in February announced sales projections for the next quarter that were more than 10 percent lower than analysts predicted.
Tuniu is "confident that the effect will be temporary and that outbound demand to Europe will recover in the near future," saidConor Yang, the company's chief financial officer, "We believe that the synergy extracted between our core business and complementary travel services will differentiate Tuniu from its peers."
Some investors remain confident in Tuniu's growth, given that it's in one of China's faster-growing industries. Goldman Sachs Group Inc. estimates that the online travel market will more than triple to $200 billion by 2020.
Tuniu's management is considering a share buy-back plan to shore up its stock, Morgan Stanley analysts led by Amanda Chen said in a March 16 report. The company plans to add 120 service centers in 2016 to the 180 that it operates now, the report said.
Tuniu declined to comment the trading in its shares.
Read original article