ChinaTravelNews, Ritesh Gupta - Foreign hotels are looking into issues related to pricing, brand integrity and distribution infrastructure when it comes to dealing with OTAs in China.

Foreign hotel chains don't label all OTAs as same. The dependence on intermediaries for driving incremental business varies in each country.

China is one such market where OTAs figure prominently in the distribution mix at this juncture, especially considering the intricacies associated with setting up an online direct initiative, plus the lack of wherewithal to compete in terms of bidding against OTAs for their own brand terms. As we highlighted in our recent article featuring Thailand-based ONYX, running mere brand marketing campaigns isn't a rational decision in an environment where conversion optimization is a huge performance metric.

Being Chinese friendly, but not going overboard

Even as foreign hotel companies devise plans for setting up local websites (starting with gaining ICP license to dealing with server latency and slowing of content delivery to a fitting website design and functionalities), the role of OTAs in distribution can't be undermined in China.

While some have chosen to participate in Ctrip's Chinese preferred hotel program (CPH) (the count was less than 1000 when we spoke to Ctrip in December), all brands are not keen on joining. Even if the conversion rate can go up by 15% on Ctrip's platform by complying to the requirements of this program.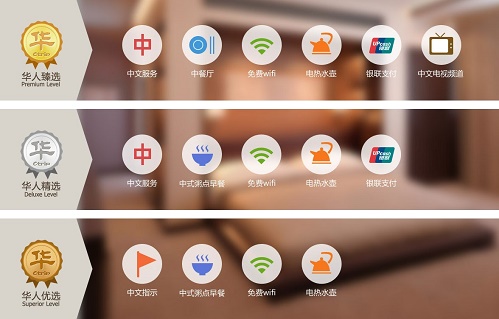 Ctrip's Chinese Preferred Hotel Program
There are other issues that need to be sorted out.

"Ctrip still prefers buying from third parties even though we have a direct contract. Their reasoning is that they have to compete with the cheaper wholesale rates that are available in the market," said a senior hotel distribution VP based in Asia. "So, we have not been able to build a very strong direct relationship." He further added, "We have not been approached by them to make our properties "Preferred"."

"We would like to get more business from China, we are interested in FIT business," he said.

"We also believe in a healthy mix of source markets and do not let a single nationality dominate. Our Chinese guests in one of our properties (in Southeast Asia) commented that they like the resort because there are fewer other Chinese there. We have Chinese team members at some of our properties and we will perhaps qualify with some additional effort but we need to have a stronger direct relationship with Ctrip first.

Right now, two other OTAs bring significantly higher amount of business from China. It is likely they are selling onwards to Ctrip!" explained the same executive, referring to the "openness" of the B2B business in China as well as the strong portfolio of OTAs brands that Ctrip has now its group after a series of strategic alliances and international tie-ups.

"So, in conclusion, it is a good opportunity (Ctrip's Chinese preferred hotel program) depending on your property and what kind of guests you can attract. The concern will be to those that are more mass market and the influx of Chinese guests could deter others," he said.

But there are brands that are keen on Ctrip's CPH program, too.

Bernardo Cabot, senior vice president of Asia Pacific for Meliá Hotels International, acknowledged that to attract travellers from China, "we need a special touch – to understand the needs of Chinese travellers". "These needs span from language to food and beverage choices, right down to the amenities in the room. After all, Chinese travellers, like most of us, expect a comfort level equivalent to home," said Cabot, referring to Meliá's worldwide program, Pengyou by Meliá. Pengyou means "friend" in Chinese.

The CPH program has several tiers, as more relevant amenities and trained staff get added, a foreign property moves into a higher tier. So Meliá's program works with Ctrip's programme called Huatag. "Our hotels that have implemented Pengyou by Meliá should automatically be awarded Huatag Category 2 and some of them that have a Chinese Restaurant should be awarded Huatag Category 1 which is the highest recommendation," said Cabot, who said that the initiative will be gradually introduced in 80 hotels throughout the portfolio.

Brand integrity

Talking of Ctrip and several other OTAs, a hotel executive suggested it's time hotels get better display or recognition in the way they are listed. For instance, a brand's logo is not shown on some top OTAs, and the basic element of differentiation or a consumer building an affiliation is missing.

Also, as witnessed in other markets, hotels are also concerns over the way distribution of content is taking place online, owing to an OTA's affiliate marketing program. This essentially means that smaller online players associated with OTAs can potentially damage a hotel brand – be it for the way content is being displayed or even the amenities that are being promised at the time of booking. "We have had indifferent experiences of dealing with our guests at the time of check-ins. The customers who book via these smaller players have valid concerns," said a source. "The way content is being distributed is impossible to control for us. OTAs are responsive but they need to more vigilant as we can't monitor everything and this isn't our responsibility, too."

Distribution infrastructure

Foreign hotel companies also need to show willingness to invest in IT infrastructure and offer requisite IT support. For instance, there is a need to gear up for faster API requests/and the cache system needs to handle volume of requests aptly. "A large proportion of Chinese OTAs work on caching their data, for various reasons but generally to increase speed of access for users to overcome "traffic jams" caused by differing/ slower response times from their large portfolio of suppliers (especially for those from outside China who sometimes struggle to consistently get their responses through the China firewall effectively/ efficiently)," shared a source.

"Given that rates and availability are dynamic, to ensure accuracy and integrity of the data, they have to pull data very frequently (as few suppliers in the industry work on push-able cache). This means high search volumes and not every supplier has the server capacity to handle such large search requests," said a representative from a foreign B2B company.

So hotels have to look into issues related to pricing, brand integrity and distribution infrastructure when it comes to dealing with OTAs.

OTAs do play a significant role as reaching out to customers in 2nd or 3rd tier cities isn't straightforward for foreign hotels. Plus, as we go deeper into markets, OTAs have a better understanding of buying habits, demand patterns, plus there are destination preference that differs market to market within China. "Therefore, how to effectively market their products to these target customers is where OTAs come in," said a source.