Setting up an e-commerce brand in China – it's about prioritizing investments
There is no magic bullet to succeed in China. An insight into how Thailand-based ONYX Hospitality Group is looking at apt mix of brand building and performance advertising.
ChinaTravelNews, Ritesh Gupta - There is no magic bullet to succeed in China. An insight into how Thailand-based ONYX Hospitality Group is looking at apt mix of brand building and performance advertising.

What does it take to establish a non-Chinese brand in China? How to make the most of outbound pie that is flourishing and makes it a compelling source market?

There isn't any numinous resource that a travel e-commerce requires to excel.

Also, dealing with peculiar intricacies of China isn't new. Non-Chinese entities are coming to grips with the strength of home-grown brands – Alipay, Baidu, WeChat etc. One clearly needs to understand the regulatory environment – what works and what doesn't. Say the smooth functioning of a site to take bookings. One also needs to accept the way Chinese plan and book travel – for instance, a web interface featuring lot of links and content might sound anomalous but that's the way Chinese sites are designed.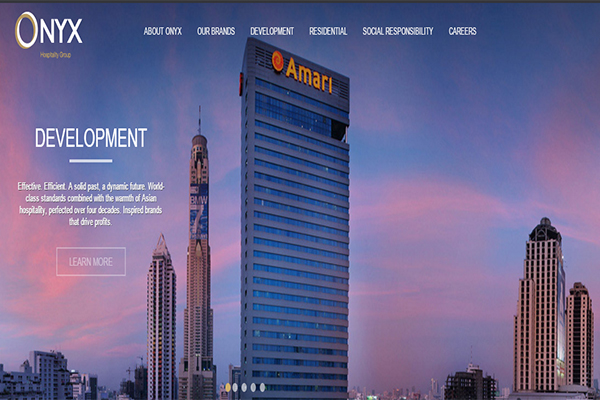 Apt use of marketing resources

Key lies in prioritizing every marketing investment, and of course, major impetus is on direct bookings.

In an era where hotel companies are trying to dig deep to ascertain the intent of guests, pre-empt their digital move, and work out unique profiles, how challenging is to do something similar in China?

"It is possible today. One needs to adapt. But at the same time, one has to prioritize," asserted Chetan Patel, VP, Strategic Marketing & E-Commerce, Onyx Hospitality Group.

Explaining further, Thailand-based Patel said every marketer has to balance the objective of building a brand, and yet not going overboard with it. Of course, the sheer contribution of China as a source market is quite enticing, but running mere brand marketing campaigns isn't a rational decision in an environment where conversion optimization is a huge performance metric.

For instance, if someone searches for "Amari Phuket" on Baidu, the top result can show a sizable banner ad for the property. That would cost $40,000 or so for one month. But this is not what ONYX Hospitality Group, an organization that aspires to be the top mid-sized hospitality management company in Asia in the coming years, can go ahead with at this juncture. "So when we are running a brand campaign, adding features such as contest or sweepstakes or blending it with social media influencers is the route we take."

Being astute with tactics

"Being tactical is of paramount importance," shared Patel.

To understand his context, one also needs to understand the size of the company and its operations. "The trajectory of visitors' growth rate (from China to Onyx's properties outside the country) is on the rise," he said. Also, in China, the group has a current operating portfolio of six properties in Shanghai and Hangzhou. The company has nine new properties under development and scheduled to open 2017 onwards. Brands to be introduced here include Amari (hotels and resorts category), Shama (serviced apartment) and OZO (select service). New cities being targeted include Xiamen and Shenzhen among others.

Patel referred to few areas that ONYX is currently focusing on:

1. Traffic generation and conversion – At best, the company's efforts to strengthen its online direct platforms is "half-way" through, says Patel. The group has content presented in Simplified (for Mainland China) and Traditional (for Hong Kong and Taiwan). "We are associated with search engines, meta-search engines, Weibo, and are in the process of finalising accounts on WeChat for two of our brands – Amari and OZO," shared Patel. As for conversion optimization, the group is on verge signing deal with Alipay for payments. "One of our properties in Hong Kong is already using Alipay – it manages entire set up for front-end and system integration. Right now all our properties are finalising plans for accepting payment via Alipay," shared Patel. Next on the agenda is Tencent's Tenpay. The group is also ensuring that whenever the team is updating content or planning news offers/ packages for its properties the same is quickly translated for audience in China. "This way Chinese visitors will have access to same offers," shared Patel.

2. Digital infrastructure – ONYX is dealing with issues associated with server latency and slowing of content delivery of its website.

ONYX is planning to tie-up with a content delivery network provider in China, and also attaining white-listing for its website via a licence that states that it doesn't contravene Chinese laws. As per the law in China, it is mandatory for all websites operating in the country to obtain an ICP license, or else it will be blocked. Brands tend to get blocked by the Great Firewall of China, and foreign travel companies try to avoid this as it can impact their operations. For instance, loading content from Google's CDN, or Facebook/Twitter APIs etc. can be blocked. The e-commerce team at ONYX is diligently evaluating aspects such as hosting infrastructure and server configuration in order to optimize its website's performance in China.

Page load speed is dependent upon content whether it's optimized or not, and also the infrastructure such as data center location and CDN. According to experts, two seconds is the benchmark for optimal page load speeds. The loading of a web page if delayed by a second can result in abandonment and have a negative impact on the conversion rate. Aspects such as caching, which should be done closer to the location of customers, and optimized images impact the speed of a web page. With new CDN provider, ONYX would ensure that the content will be downloaded from a CDN server closer to customers' location anywhere in China.

On another note, ONYX is planning to test a website specially for China, designing for one of its properties. The designing requirements for audience in China are unique and at times also look "odd" when one observes the way Chinese users interact and consumer content. "Users in China are fine with lots of links, information on their pages," said Patel.

3. Being on mobile – Even as there is lot of talk about mobile commerce, with top OTAs in China today garnering 70% of traffic and transactions from mobile, ONYX is yet to launch a mobile app. In fact, Patel says the company is currently contemplating the potential of a progressive web app. It offers experiences that are a blend of the best of the web and the best of apps. How? The technique is counting on the architecture of the PC and the desktop browser-based web and plan is to speed it up for mobile. A progressive web app features contemporary web capabilities to deliver an app-like user experience.

Web apps start out as tabs in a browser and become progressively more "app" like the when used. Eventually they are pinned on the home screen of a phone and have access to app-like properties such as notifications.

"A mobile user can have 5-10 mobile apps. It is not feasible for every brand to expect to be on a user's device," said Patel. It also needs to be noted from a user's perspective, travel as a category isn't something that a consumer indulges quite often, and there are other areas such as news, music, entertainment for which apps tend to be used more often than travel.

4. Distribution issues: Availability of rates online and pricing in China can impact the direct selling strategy. The problem arises when wholesalers who aren't supposed to push the rates offered to them, and they pass on these to other online intermediaries. For instance, a wholesaler might be extended a room for $100, and this eventually could be sold via an offline agent. Typically, Chinese agents selling rates online would not mark up even to 15%. They could be selling as low as $105 or $115. The hotel entity's retail rates, and also including OTAs, would be in the region of $120-$125. Considering the fact that OTAs often offer rebate or even hotels end up having a rate higher on their properties, then it has a negative impact. Eventually the allotments to wholesalers could be curtailed, but then there is a sales team that has to meet it targets. So it's a tricky issue, but yes e-commerce executives do refer to this a deterrent in a brand's positioning online.

Patel also pointed out that its Chinese OTAs also presented hotel properties in a better way, and do away commoditized way of selling. For instance, a brand's logo is not shown, and the basic element of differentiation or a consumer building an affiliation is missing.

So be it for a prudent distribution strategy, working out an apt marketing mix or putting in place apt digital infrastructure for direct selling, it indeed is a balancing act in China.

The journey of building a brand, offering a top-notch customer experience and filling rooms profitably is all about making right moves.