ChinaTravelNews, Xianhao Zeng – On the last day of 2015 China's tourism industry was struck by the shocking announcements that China Southern Airlines and Hainan Airlines are terminating their flagship store partnerships with leading OTA Qunar.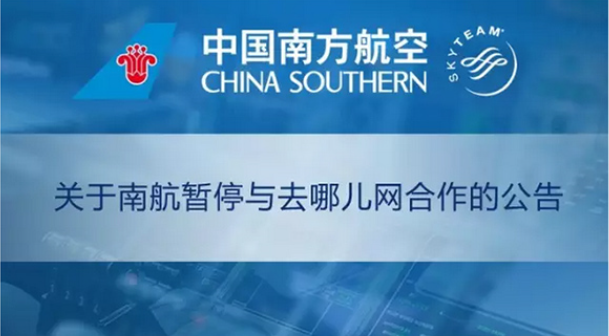 Goodbye 2015: China Southern's Qunar partnership​ termination notice
Industry observers are calling this the Chinese tourism industry's final battle of 2015 which will likely rage on into 2016.
Even more serious is the fact that China Southern and Hainan Airlines are not the only Chinese carriers itching for a fight with Qunar. In fact by 7:00 PM today Capital Airlines also closed its flagship store on Qunar citing similar reasons as the two major carriers in a public notice.
Carriers fed up with customer complaints from Qunar users
One airline source has told ChinaTravelNews that Qunar has recently been breaking regulations at an alarming rate which has led to a flood of customer complaints. "The carriers have decided to cut ties once and for all with Qunar because the high number of user complaints, from extra charges to refunds and ticket change issues, has already passed the point of endurance."
The double-whammy by China Southern and Hainan airlines is also a striking departure from the domino effect common for developments in China's aviation industry. Our source said that although there is no hard proof of collusion between the two carriers, if evidence of a deal surfaces they could easily become suspected of forming a monopoly.
China Southern said in its statement: "Recently China Southern Airlines has received many complaints from passengers purchasing tickets in Qunar's website. These complaints relate to infringement of fair pricing and refund rights for users purchasing China Southern Airline tickets. This has negatively affected travels for some of our passengers and has even caused some to incur unnecessary losses. With the Spring Festival rush at hand we must protect the rights of our passengers and the market order. As such, our company decided to immediately terminate our business partnership with Qunar and close the China Southern Airlines flagship store on Qunar's platform."
Hainan Airlines said: "Hainan Airlines has always strived for the mutual benefit of both parties with a partnership concept that stresses excellent service and putting our customers first. However for some time our company has been receiving a large number of complaints from passengers who have purchased tickets on Qunar's website. These complaints include overcharging on refunds and ticket changes, adding to original sales prices and failure to notify customers of flight schedule changes. This has caused seriously infringed on the rights of many of our customers and hurt our company's brand image."
Other carriers issue ultimatum to errant OTA Qunar
However, ChinaTravelNews has found out that there are other major Chinese carriers who are unhappy with Qunar for the same reasons and have issued an ultimatum to the loose cannon OTA recently. If things don't improve between both sides it's likely that the carriers will also close their flagship stores on Qunar after the New Year holidays.
An unrepentant Qunar hits back
Qunar quickly fired back with a post on its Wechat account stating: "Qunar has temporarily ceased the flagship store partnership with China Southern Airlines and Hainan Airlines as a result of disagreements over the ticket display order."
In typical Qunar fashion, the bellicose OTA is determined to take the offensive even as its partnerships crumble around its ears.
"Recently China Southern and Hainan Airlines have insisted that we change the order of ticket display on our website from an order by price to a chronological order. However, we think that displaying tickets by the order of their prices is more suited to the typical booking search habits of our users and so we are sticking to our 'customer first' values. As a result, we are ceasing our flagship store partnership for the time being but users can continue to purchase China Southern and Hainan Airlines tickets on our site," it said in its Wechat rebuttal.
As Qunar said, its vast supply of ticket agent suppliers will ensure a supply of tickets from China Southern and Hainan Airlines on its website even without their flagship stores. In light of this, the OTA's falling out with the two carriers is not likely to have that big of an effect on its operations.(Translation by David)
Read related articles:
Air China and China Eastern join major carriers to shun Qunar
Ecommerce growth stands out for carriers, but what about customer ownership?