Hilton Worldwide is banking on organic growth within the group even though massive scale expansion might be more effective in meeting diverse needs, according to Bruce McKenzie, Hilton Worldwide's SVP of operations in Greater China and Mongolia.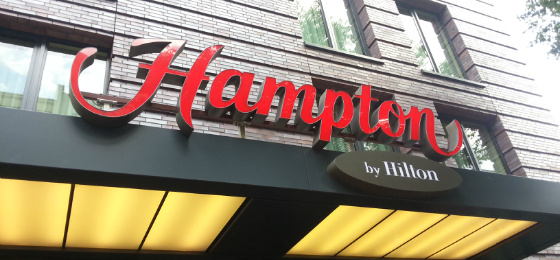 Hilton to add 400 Hampton by Hilton mid-range hotels in China
He said Hilton Hotels and Resorts is developing 300,000 rooms to add to its current global portfolio of 740,000 rooms. As the hotel group's 12 brands continue to develop, the prospect of Hilton's future development strategy is looking rosy.
Losing the global throne to Marriott
Hilton was unseated as the biggest hotel group in the world after Marriott International acquired Starwood Hotels and Resorts for US$12.2 billion on November 16.
In the US Hotels magazine's 2014 annual hotel ranking "Hotels 325", Hilton Worldwide ranked first with over 715,062 rooms and 4,322 hotels, while Marriott International came second with 714,765 rooms and 4,175 hotels. After acquiring Starwood, Marriott's room count increased by almost 50% to a total of 1,100,000 rooms in 5,500 properties worldwide, making it the new giant in the global hotel industry.
Since Hilton began its China venture in Shanghai in 1988, it has built a network of 64 hotels in the Greater China region, 62 of which are in mainland China, and 181 more hotels are in the pipeline.
Half of its top ten global hotel brands are already in China, including the Waldorf Astoria Hotels and Resorts, Conrad Hotels and Resorts, Hilton Hotels and Resorts, Hilton Doubletree by Hilton and Hilton Garden Inn. Hilton has also signed management agreements with local partners to bring two other brands, Hampton by Hilton and Embassy Suites Hotels, to China.
Hilton has also expanded its "Huanying" (meaning welcome) program to over 110 of its hotels worldwide. This program provides Chinese guests abroad with Chinese style service in dining, room and language service.
New brands and management models in China
Mr. McKenzie described 2015 as an active year for Hilton. The group has even climbed down from its pedestal of operating mainly luxury and high-end properties to go for mid-range hotel market in China. The group's two main mid-range brands, Hilton Garden Inn and Hampton by Hilton, have devised clear China development strategies.
He said that the mid-range hotel segment comprise 15% of the China's overall hotel market, whereas in the US such hotels comprise 50% of the hotel market. Hilton has 569 Hilton Garden Inns and 1,960 Hampton by Hilton hotels in the US. This means China's mid-range hotel market is largely untapped and holds vast potential.
He said Hilton will open its first Hampton by Hilton hotel in 2016 and plans to open 400 in the country over the next 10 years. The Hilton Garden Inns brand, which currently has four properties in Shenzhen, Lijiang, Dandong and Fuzhou, will also have new openings next year.
Currently Hilton operates all its hotels in China under direct management, but it will adopt a franchise management model for the Hampton by Hilton brand. The operating rights for the brand in Greater China will be handed to the top domestic budget hotel group Plateno Group.
Mr. McKenzie said Hilton is impressed with Plateno Group's capacity to expand markets in China and its brand-building system as well as its massive rank of loyalty members (totaling eight million, according to Plateno's official data).
The director of Plateno Group's mid and upper range operations, Kai Luo, said Plateno will take on full responsibilities for Hampton by Hilton brand, including developing its presence in China, operations and management in terms of executive directions, recruitment and training, marketing and brand positioning.
Although China's mid-range hotel market has vast potential, there will definitely be fierce competition ahead. Beside Hilton, other global hotel groups like Intercontinental, Starwood and Accor will bring their brands into China, and domestic budget hotel groups are like Homeinns, China Lodging Group, Jin Jiang Hotels and Plateno Group are all developing mid-range hotel brands and upping their game to take advantage of this golden opportunity.
Hilton looks westward in China
On November 21, Hilton opened its first hotel in Chengdu as part of its plan to develop 11 hotels in Chengdu under five Hilton hotel brands, among them is Chengdu Waldorf Astoria Hotel slated to open next year.
Mr. McKenzie said that investment in the western Yunnan province is another highlight this year for Hilton besides Chengdu. Hilton will have four hotels under three brands in Yunnan province by the end of the year.
He sees potential in such second-tier cities, from the leisure travel potential in the cities' surrounds and the MICE business driven by the high-tech industrial zones in the cities.
Hilton's investment in major cities like Shanghai has visibly slowed down, unlike its foray in medium-sized cities like Chengdu and Wuhan. Despite the impending opening of Shanghai Disney Resort and the growing vibrancy of MICE business at the Shanghai National Convention Center, Mr. McKenzie said Hilton will concentrate on tapping into the potential of its existing hotels in Shanghai and unlikely to grow its hotel supply in the city in the next few years.(Translation by David)