On invitation by ITB Asia, TravelDaily China led a delegation of industry leaders from China to attend. Prominent industry representatives from Ctrip, Alitrip, Yiqifei and JointWisdom were invited as guest speakers for the first time at the ITB Asia conference. Held on October 21-23 at the Sands Expo and Convention Centre in Singapore, ITB Asia is the largest B2B travel trade show and convention in the fastest growing tourism region in the world.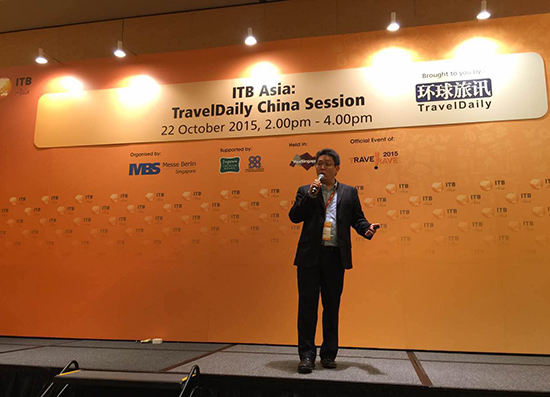 TravelDaily China's CEO Charlie Li
In the afternoon of October 22, TravelDaily China's CEO Charlie Li kicked off the conference attended by 120 global tourism executives with his speech, "Overview of China's Online Travel Landscape". Through a comparison of China's outbound and domestic tourism statistics for the past five years and detail analysis of the growth data of the online travel industry and mobile travel bookings, he offered valuable insight into the scale of China's tourism market and future trends in the Chinese market. 
Ctrip: General trends show a divide in "all-inclusive" or "specialized" service
As China's largest OTA with services covering 6,804 cities in 178 countries, Ctrip has the unique advantage of amassing massive amounts of data on the consumer behavior in the largest tourism market in the world. Ctrip's Head of International Hotel Business John Zhong took center stage with his presentation, "Embrace the Booming Chinese Outbound Market".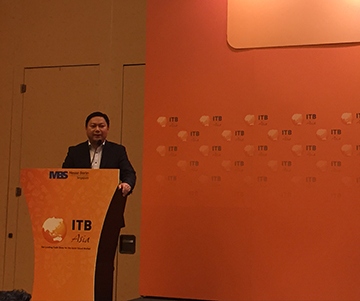 Ctrip Head of International Hotel Business John Zhong
Citing Ctrip's data, Mr Zhong said Chinese travelers are making trips more frequently, and business and family trips are growly relatively fast. As well, booking through mobile devices via apps is increasing, with shortened booking lead time.

He said the core group of travellersngginnignoning of an f an ota. Ihat mong Disneyland Resort, and a fitting tribute to the milestone anniversary year of this magi in China are those aged under 40, especial those between the ages of 31 to 40,and overseas hotels should target their marketing efforts at this segment.
Mr Zhong identified four levels of accommodation preferences of Chinese visitors – basic no-frills, mid-high level, luxury and super luxury. He said the demand for high-end accommodation is growing, and bookings for such accommodation comprise over 60% of Ctrip's hotel bookings in 2015.
Alitrip: technology and big data form the nucleus of an OTA
Next on stage was Alibaba's new OTA Alitrip, which made a high profile launch this year. It's Chief Strategic Officer Sherri Wu spoke on "China's Online Travel Service Platform Development & Future".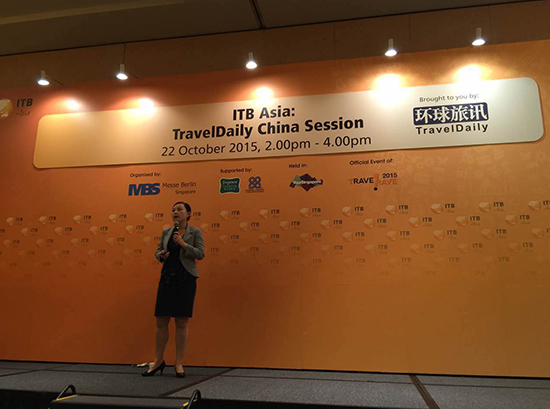 Alitrip CSO Sherri Wu
Putting the focus in China's travel on the younger generation, Ms. Wu explained that Alibaba created Alitrip to serve as platform to connect young, affluent and independent Chinese travelers with the world. 
Although Alitrip is a relative latecomer to the OTA market, she feels the extensive Alibaba ecosystem will more than make up for any disadvantages. As the top ecommerce entity in China, Alibaba has entrenched distribution in O2O supplier chains, mobile apps, commercial service, online communications, digital entertainment and local services on an unrivaled scale in China. Although Alitrip may be one of Alibaba's newest platforms, the massive following and brand power generated by its shopping platforms Taobao and Tmall will drive Alitrip's growth.
Ms. Wu said the key to victory lies in customer big data analysis and precision marketing.Alibaba already has the resources and technology that provide strong support for Alitrip, as well a huge flow of supplier traffic to help it cover its bookings and payment services. She gave the recent "Hotel of the Future" project as an example of Alibaba integrating its partners in hotel, PMS, big data and cloud computing to make smart hotels.
Yiqifei.com: ticket distributers must enter the "Air ticket+" era
Air ticket sales are still the bread and butter for OTAs. Civil Aviation Administration of China data show that domestic air traffic volume was up 10% y-o-y at around 390 million trips last year. Air ticketing specialist platform Yiqifei.com's CEO Morton Huang was up next to share the "Overview Of China's Air ticket Distribution Market".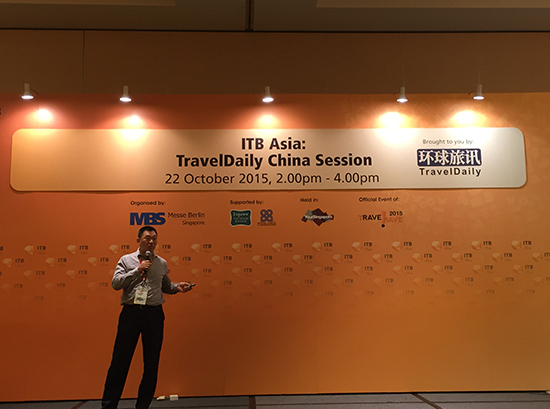 Yiqifei.com's CEO Morton Huang
Mr. Huang showed how sales for international and domestic air services were on the rise yet fierce competition was driving down airfare. At the same time the aggressive campaigning by Chinese carriers to attract more passengers to purchase air tickets through direct channels has been paying off and the proportion of direct sales has been on the rise.
Faced with narrowing profit margins and a dwindling market share, China's air ticket distributors must transform their business models to survive. One way he suggested is they team up with wholesalers at international airport hubs to develop the "air ticket +" inclusive travel business. This model would create consolidated POS payment models and better integrate destinations travel resources with air ticket as inclusive travel products. These products can then be marketed to second-tier Chinese cities where less access make inclusive travel products popular choices for consumers.
JointWisdom: Leveraging technology to better utilize ratings data
As a market with its own unique challenges,the question of how to best leverage big data to understand consumer behavior and find the most effective channels to reach users in China is a long-standing issue and one that JointWisdom Information's COO Jeremiah Chen brought up in his presentation, "Chinese Travelers in Big Data".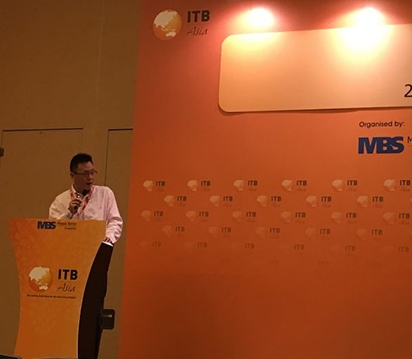 JointWisdom COO Jeremiah Chen
JointWisdom drew from its own big data to make a comparison of consumer behavior among China's outbound travelers and domestic travelers. They found that many domestic travelers made last-minute travel arrangements and chose to stay at economy hotels while outbound travelers tended to plan trips up to three months in advance and preferred high-end hotels.
"By analyzing this data, we can see that domestic travelers are extremely price conscious whereas outbound travelers place more importance in experiences," he said.
Mr. Chen also used JointWisdom's hotel ratings as an example to illustrate the importance of harnessing big data. The company has used its technology to select and improve international travel ratings content to better suit Chinese readers, and this has given the content a huge boost in effectiveness.
The conclusion of the ITB Asia session on China travel, arranged by TravelDaily China, marked the beginning of an ongoing dialogue between the tourism industry of China and the World. TravelDaily China will forge ahead as an influential player in the industry to contribute to the innovative development of China's tourism industry.(Translation by David)