ChinaTravelNews, Nicole Sy - TravelDaily Conference's third executive roundtable panel for the day was ready to tackle the topic: How can traditional travel agencies rejuvenate themselves and compete efficiently in the online marketplace?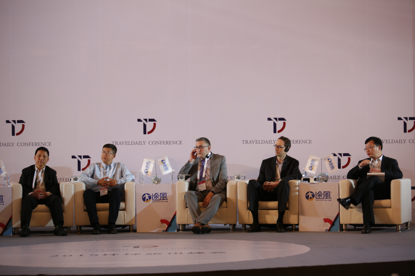 The cast of seasoned executives and managers included some of the oldest and most vibrant names in the travel agency landscape. They were Rodney Bao, Vice Chairman & CEO, Jinjiang Travel; Simon Hauswirth, SVP Strategic Development & Partnerships, Kuoni Group; Martin Herbert, General Manager – Asia, Travelport; James Li, CEO, Mangocity.com; and Stone Chen, General Manager, Greater China, Lion Travel Service.
Moderated by Jonathan Kao, General Manager - Greater China Business Travel, HKFS-TSI, the panel kicked off with general insights on where traditional and online travel agencies stand today. Rodney Bao of Jinjiang Travel started off with a story of a long queue in the airport with only one window to serve all the passengers. When a new window opened up, those at the back of the line ran up to the new window, while those near the front could only watch.
"That's the flexibility of small guys," Bao explains. "They are last at the queue but they are the most nimble to move up. It is easy for them to transform, while those at the front will have a more difficult time transforming."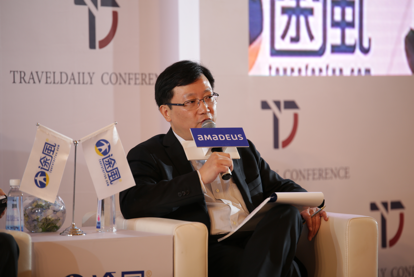 Rodney Bao, Vice Chairman & CEO, Jinjiang Travel
Travel services provider Kuoni is one of those at the front of the queue. With more than a hundred years of experience under their belt, Kuoni has seen the travel landscape change continuously. Their experience has taught them that "either you're very big and you control service supplies, or you can create a niche in your market, country regional or local, or across Europe, for example," says SVP Simon Hauswirth. "These are the two ways you can succeed in a mature and honest way."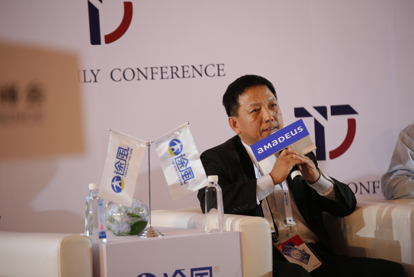 Stone Chen, General Manager, Greater China, Lion Travel Service
On the flip side of things, online travel agency, Mangocity.com's CEO James Li says there are three stages to building successful online travel agencies in China. First is business model innovation, then second, business model innovation + capital funding. The third stage, which is just around the corner is innovation business model + funding + integration of resources, which means many big mergers and acquisitions. "It's no longer about online and offline, you have to combine the two because both have special benefits," he says.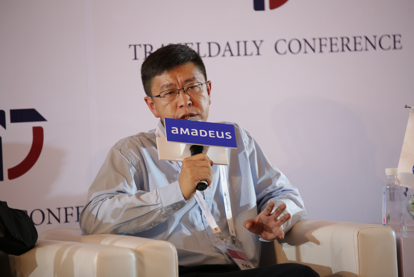 James Li, CEO, Mangocity.com
One thing all the panelists agreed on was that in this new, interconnected world, traditional travel agencies needed to combine the online with the offline, or O2O.
Blurring O2O
Lion Travel Services' Stone Chen says one advantage of offline storefronts are the communities they build and foster, and how they are different from online ones. "If I transform a store into a social community where those with similar interests can gather, then the values of the store can change," he says. "At Lion, we organized seminars and gatherings. For tourism, if we want them to experience values, its impossible with just the website. They should be more tangible."
Traditional agencies in China are falling behind because they were weak to begin with, according to Li. "If offline stores will be upgraded, and they will play a pivotal role. In 3-5 years, the traditional travel agencies will see tremendous innovation. With high technology, we will have better connection between O2O," he says.
Martin Herbert of GDS company, Travelport agrees that stores have to evolve. "They have to be interactive to be successful in those spaces," he explains. "The technology provided will improve as well and will facilitate a seamless experience. It has to support them however they choose to finish that booking (online or offline)."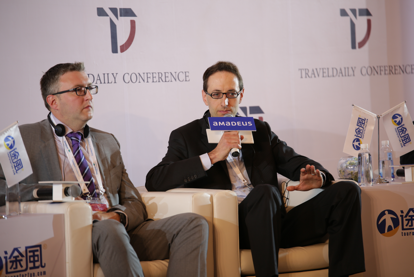 Martin Herbert, General Manager – Asia, Travelport; Simon Hauswirth, SVP Strategic Development & Partnerships, Kuoni Group
Offline stores trump online ones when it comes to personalized interaction and expertise, and need to support travelers when they are looking for personal experiences and recommendations. "The travel agency needs the tools to deliver this promise of expertise and experience," says Hauswirth. "For the customer, the experience goes online and offline. Research is online, then sometimes they go to travel agencies where personal interaction is quite valuable."
People powered
While the line between the two worlds continues to blur, what separates the online and offline prominently are the people in offline storefronts. Traditional commission systems were what used to run traditional travel agencies, but with people going into stores but making final decisions online, the challenge of how to keep travel agents motivated remains a key challenge.
Chen says Lion Travel Service was stumped by this challenge when it first faced them. They ran a commission-based incentive system since 1998-99, when their sales were mostly processed through their call centers. With the change in the travel landscape, they had to redesign all their key perfomance indicators (KPIs). "In the process of transformation of any system, we need to transform KPIs," he says. "We've gone from single KPI to multi-KPI." In Lion Travel Service, a leading Taiwan travel agency, it keeps agents motivated and addresses all their efforts, regardless of sales or channels.
Jinjiang's Bao warns that for traditional travel agencies to remain sustainable, they must attract both older and younger consumers. For that, your staff is the most important. "Experienced tour leaders (staff) needed to provide professional advice to guests," he says. "It's also a good place to collect data," to better serve customer needs.
For Mangocity.com, which also owns traditional travel agencies, stores are no longer just for sales. "We are running fundamental change of business model. For the purpose of serving customers, for us, we started a results-oriented approach," says Li. Like the changing consumer needs, both traditional and online travel agencies need to adapt to the times. "Cycles will be shorter and shorter, and the frequency for change will be faster," he says.
The future of traditional travel agencies
The question on everyone's minds at the start of the roundtable was whether the panel would read doom or success for the world's traditional travel agencies. Perhaps many let out a sigh of relief when the panel concluded that not only were traditional agencies here to stay, but also had room to grow.
Travelports' Herbert says the pie is growing for everyone. "Over the years many people have forecast that the GDS industry would eventually fail and be overtaken by technology but we have evolved and lead the way."
Furthermore, in very mature markets like the US, majority of the market will still book offline. And in the corporate space, online booking in Asia is still below 10%, so there is plenty of opportunity for both types of agencies, Herbert says.
For online travel agencies, he says "the online space is dominated by a few local players and international brands, so there are barriers of entry. It can be a challenge to get into that space."
Chen reports that today's tourism industry can be viewed in bigger context of the lifestyle industry. But what remains unchanged is the value travel agencies are creating. "What information value added are you creating? [Agencies] need to think about this. What kind of value for service value is added? Innovation value added?" he asks.
If there is great value, then the travel agency, both online and offline will survive in today's competitive travel setting.