Joy Air and Okay Airways are planning to start joint operations of auxiliary regional air routes with the possibility of merging the routes under a new joint venture.

Regional air routes are connected to the main routes of airlines. Main route operations presently make up the bulk of Okay Airway's revenue, its chief secretary Chao Lu declined comments on reports of the joint operations with Joy Air.

Joy Air is a joint venture of the Aviation Industry Corporation of China and China Eastern Airlines, and was set up with a RMB1 billion joint investment in March 2008. China Eastern invested RMB30 million for a 5% stake in Joy Air, according to its 2014 annual fiscal report.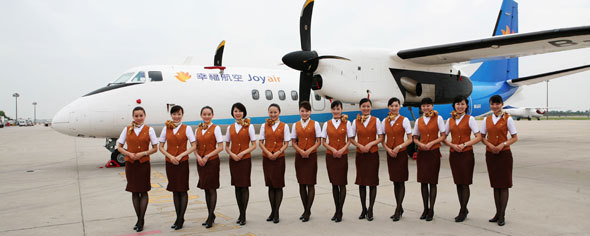 Joy Air MA60 and cabin attendents
One industry observer said the proposed merger would be beneficial for managing the aircraft in the fleet structures and help to reduce costs.

Regional routes are short-haul routes connecting medium and small-sized cities. Unlike the European and US aviation markets, where regional air routes make up 30%-40% of all air routes, China's aviation has had extremely uneven development which makes the fledgling regional air route market a growth area with tremendous potential.

Okay Airways established in 2005 was China's first privately operated airline and the first Chinese carrier to employ the locally produced MA60 aircraft. Its main bases are in Beijing Airport, Tianjin Binhai International Airport and Changsha Huanghua International Airport. It has a fleet of 13 MA60 aircraft, 13 B737 airliner, one B737 cargo aircraft and one B737-900ER airliner, and operate over 100 domestic air routes. It has total assets of over RMB4 billion and annual revenue of over RMB3 billion, according to its official webpage.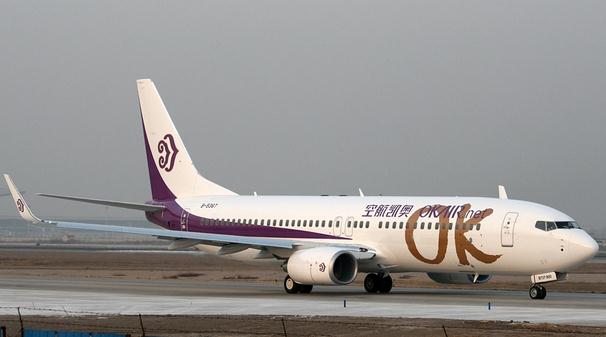 Okay Airways airliner
Joy Air is the sole airline based out of Xian with an air route network connecting medium- and small-sized cities in the central to western China regions. It began operations in 2009 with a fleet of six MA60 aircraft and added another locally produced aircraft, the ARJ21-700, to its fleet in 2012. It plans to expand its fleet to 100 aircraft by 2017. (Translation by David)