ChinaTravelNews, Nicole Sy - Many will be surprised to know that U.S. airline, Delta Air Lines' relationship with China goes back all the way to 1947. At that time, Delta's predecessor, Northwest Airlines flew a great circle route from the U.S. to Tokyo, Shanghai and Manila.
Delta Air Lines' unassuming office in Beijing's Central Business District does nothing to boast of this decades-long history between the company and China, but according to Delta's China Director - Mandy Zhou, the Chinese market is "very important" for the airline. "We're trying to be the most Chinese-friendly U.S. airline in China, that's our goal," she says.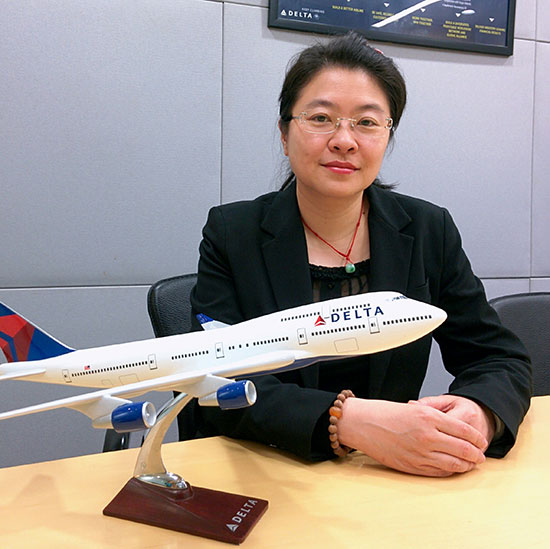 Mandy Zhou, Director - China of Delta Air lines
To do that, the Delta Air Lines team embarked on a mission to determine what is most important for Chinese travelers and what makes them feel the most comfortable, from the moment they decide they want to travel until they leave their destination's airport.
"We wanted to focus on the customer experience from the ground to the air," Zhou says. "From the ground includes when you think of booking an airline, how easily can you access the airline?"
Delta currently offers five non-stop flights from Shanghai-Pudong and Beijing to their hubs, Detroit, Seattle and Tokyo. They also operate a non-stop Seattle-Hong Kong flight and are set to expand with a Shanghai-Los Angeles direct flight is due to be debuted this summer.
To book tickets, delta.com offers services in Chinese, as does their call center, in both Mandarin and Cantonese. They are also the first U.S. airline to launch payment services through Alipay, a third-party payment system ubiquitous in online shopping in China. As of the end of last year, Alipay has more than 300 million users in China and processes 80 million transactions daily.
"We are thrilled to help Delta Air Lines make purchasing travel from China easier and more accessible than ever," said Jingming Li, President, Ant Financial Services Group, Americas, during the announcement in April. "Giving Chinese customers access to the payment method they most trust signals the great service that they can expect when they travel with Delta – from the ease of online booking to the airline's Chinese-speaking flight attendants and airport support."
IP addresses don't determine whether or not the Alipay option is useable, too. That means travelers don't have to be in China to use Alipay. "There is no limitation, anyone who has an Alipay account can use it. Inside China and outside China," Zhou explains. "If you want to get a seat or buy a ticket outside China, you can use that. Its open to all who have an Alipay account."
They also have an official Delta Air Lines Wechat account, a communication app that boasted 500 million users as of the end of 2014, a large majority of who are inside Mainland China. Just launched two months ago, Delta is the only U.S. carrier to take the step that most Chinese companies have taken to maximize their engagement with consumers. "Currently it's on an information basis, but we're building that account to be fully functional," says Zhou. Delta plans on linking it to their official website so users will be able to book flights through it.
Their China-oriented services continue once the flight has taken off. "On the air, we have Chinese-speaking flight attendants, Chinese meals, drinks, snacks, and also Chinese movies," she says. "Both local Chinese movies and Chinese subtitled-movies."
She adds that their staff is trained in Chinese language and cultural sensitivity classes. And that service extends to U.S. airports.
"We have travel assistants. When people arrive at Seattle Airport, we have our Delta agents there, trying to see if they can assist anybody who has a tighter schedule get to that connection faster," she says. The agents speak Chinese too, helping wary first-timers to the U.S. navigate the airport.
"We're working on the airport authorities (to offer this service), because it is one of the factors we think will make customers feel more comfortable traveling," says Delta's director - China. "Also in Seattle and Detroit, we're enhancing our transfer facilities to make the transfer easier."
Other partnerships they have on the ground include two tie-ups with Chinese banks. A joint credit card with Minsheng Bank established in 2012 acts to collect SkyMiles, Delta's frequent flyers program, and collaboration with ICBC's Global Traveler card in 2013 to give their gold and platinum card holders discount tickets.
They also partnered with MLB to bring their baseball camps to China and are founding partner and official airline of the Schwartzman Scholarships, a U.S.-China focused scholarship, to commence in 2016.
It's a wise strategy to win the hearts and consequently, wallets of U.S.-China travelers. The Civil Aviation Administration of China reported 6.13 million passenger trips between China and the U.S. were made in 2014. It further expects that number to rise by 15% annually due to increasing flights between the two countries.
Zhou reports that trips between the two countries are indeed increasing. "Especially after November last year's visa policy, we've seen pretty good traffic both ways," she says. As proof, look no further than their revenues— Delta's revenues in the Asia-Pacific region for 2014 reached more than $3.4 billion.
There's also plenty of room to grow in the market. "We don't have the highest seat share, but we have been growing in our seat capacity over the past several years, 26% every year for the past three years" she says in comparison to other U.S. airlines. "We're not the largest in terms of seat capacity, but we're working hard to be the most Chinese-friendly U.S. airline."
Delta lags behind the other members of the Big Three, United Airlines and American Airlines, in terms of seat capacity by market with just 28% of their US-Asia flights to China compared to 42% and 45% of US-Asia flights for United Airlines and American Airlines, respectively, for the estimated second half of 2015 according to CAPA Center for Aviation and OAG.
United, Delta and American share of non-stop US-Asia seat capacity by market (2H2015):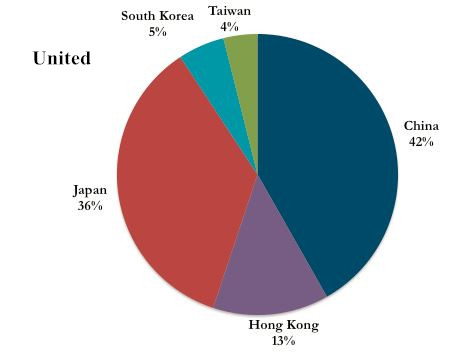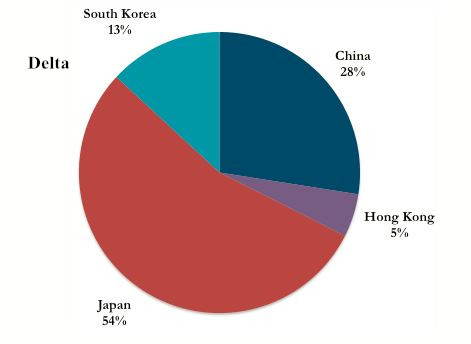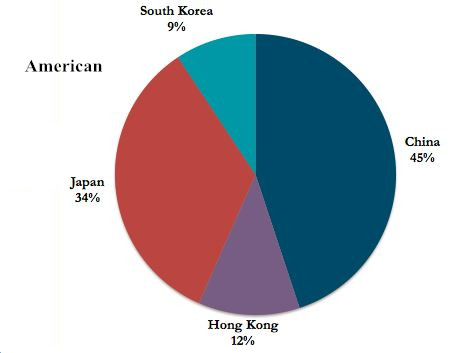 Source: CAPA - Centre for Aviation and OAG
Delta's toughest competition to access the Chinese market however, may not be the usual suspects, United and American, or the Gulf carriers, Etihad, Emirates and Qatar Air with their respective governments' subsidies. Aviation intelligence firm, OAG reported that it would be Chinese carriers that would pose the biggest threat to U.S. airlines.
ChinaTravelNews reported, "John Grant, executive vice-president at OAG, says Chinese carriers such as China Southern, China Eastern and Air China could become the new 'big three'."
Delta Air Lines is part of the SkyTeam Alliance with China Southern and China Eastern, and code-shares flights with them. Mandy Zhou however, insists there is no arguing over customers in these partnerships, insisting they are "our customers," not Delta's or the others' exclusively.
"We have a pretty good relationship with all our Skyteam partners. We have 16 out of the 20 Skyteam partners operating in Greater China, including China Southern and China Eastern," she says. "We have been code-sharing with those two partners for more than 50 interior Chinese cities, with gateways in Beijing, Shanghai and Guangzhou, and 40 something interior U.S. cities beyond our gateways, or they carry our customers to our gateways, so our partnership with them are going pretty well."
In fact, it continues to grow, to the traveler's benefit. Delta co-located with China Eastern and Shanghai Airlines, China Eastern's wholly owned subsidiary, in Shanghai's Pudong airport from Terminal 2 to Terminal 1 early this year. "By co-locating, meaning to be physically in the same terminal, customers can have an even better, smoother connection and transfer, and everything will be faster," Zhou says. "We're also focusing on the customer experience,­ so when it comes to a plane transfer or getting your bag at the airport etc, you don't have to rush from terminal to terminal."
Another hurdle the company encounters is simply due to the Chinese travel industry's market situation. In 2013, Flightstats, a website that annually calculates the industry's best and worst performing airports reported that Shanghai and Beijing's international airports retain the bottom spots for worst-performing airports of the world's top 35 busiest when it comes to punctuality.
In 2014, only 37.3% of Shanghai Pudong's flights departed on time, while Beijing fared slightly better, according to FlightStats. The seven worst performing airports of the world's 61 largest were in Mainland China, as reported by the South China Morning Post.
Chinese travelers are also getting a bad reputation for poor travel behavior, from throwing boiling water at a flight attendant's face, to opening emergency doors out of impatience to disembark.
Delta, however, has a reputation for good customer service, more generous seats, and better flight entertainment systems. It was recently included in Fortune Magazine's Top 50 Most Admired Companies for a second consecutive year. Certainly, they might be challenged to maintain the same quality of service in the Chinese market?
"Delta has a very good culture of taking care of its employees very well, so we are all very proud of working for Delta," she says, undaunted. "We believe if you take care of your employees, your employees take care of the customers. So with that in mind, we're pretty sure we can keep consistence regardless of where we serve in the market situation."
Truly, Delta's 29-staff Beijing office has yoga mats for their daily 20-minute session—an integral part of managing their work-life balance, according to Zhou.
Delta perhaps plays the unfamiliar role of the underdog in this race for a slice of the Chinese market­ but they want to be Top Dog this year, for this market. For 2015, they are strongly focused on their goal to become "the most Chinese-friendly U.S. airline". "We rolled out Alipay, Wechat, we're going to have the LA service, that's big things for this year," Zhou says.
Time will tell if those strategic investments are enough to bring Delta a bigger slice of the pie. (Report by Nicole Sy)