LANGLEY, U.K., Nov. 6, 2014 /PRNewswire/ -- Travelport Worldwide (NYSE: TVPT) announced today its financial results for the quarter ended September 30, 2014.
Key Points
Solid Q3 performance and year-on-year growth continues – Net revenue up 3% and Adjusted EBITDA up 4%
Travel Commerce Platform continues to strengthen: launched enhanced agency desktop that fully integrates Travelport's unique merchandising "Rich Content & Branding" solution
Beyond Air revenue increases by 14% year-on-year in Q3 driven by hospitality and payments
eNett momentum continues with Q3 year-on-year revenue growth of ~45%
Significantly strengthened balance sheet and Adjusted Free Cash Flow generative ability looking forward
Board of Directors declared $0.075 per share dividend for Q3; target annualized payout of $0.30 per share
Positive full year outlook; 2014 Adjusted EBITDA guidance of $538 million – $540 million
Gordon Wilson, President and CEO of Travelport, commented:
"Travelport's third quarter performance demonstrated continued solid growth in both Net revenue and Adjusted EBITDA. We are particularly excited that within our Travel Commerce Platform, Beyond Air revenue is showing acceleration driven in particular by hotel distribution and our eNett payments business, and that our airline merchandising capabilities have been enhanced through the launch of the latest iteration of our Smartpoint point of sale product. This ground breaking technology is a first for the industry and has made real the ability for the 76 carriers who have so far signed up for our Rich Content and Branding capabilities to be able to display and sell their full range of products and services to both corporate and leisure travellers who book through travel agencies, in a manner similar to the way in which these airlines sell through their direct channels. This all bodes well for the future, and we remain committed to investing in our platform, continuing to develop leadership positions and delivering sustainable, long-term growth in order to provide attractive long-term returns to our shareholders."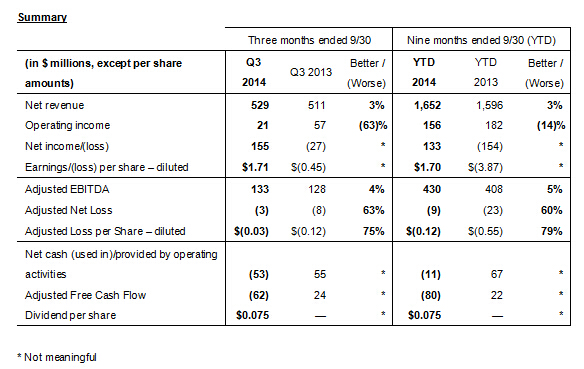 The Company refers to certain non-GAAP financial measures in this press release, including Adjusted EBITDA, Adjusted Net Loss, Adjusted Loss per Share, Adjusted Free Cash Flow, Capital Expenditures, Net Debt, Trading Working Capital and Unlevered Adjusted Free Cash Flow. Please refer to pages 10 to 12 of this document for additional information, including reconciliations of such non-GAAP financial measures. We have not reconciled Adjusted EBITDA guidance to net income guidance because we do not provide guidance for share-based compensation expense, provision for income taxes, interest income, interest expense, litigation and related costs, etc., as certain of these items are out of our control and/or cannot be reasonably predicted.
Discussion of Results for the Third Quarter 2014
Net Revenue and Adjusted EBITDA
Net revenue increased by $18 million, or 3%, to $529 million, due to an $18 million, or 4%, increase in Travel Commerce Platform revenue. Our International Travel Commerce Platform revenue increased $13 million, or 4%, due to a 2% increase in RevPas to $6.99 and a 2% increase in Reported Segments. Travel Commerce Platform revenue in the United States increased $5 million, or 4%, primarily due to a 3% increase in Reported Segments. Overall, there was a 1% increase in Travel Commerce Platform RevPas to $5.67 and a 2% increase in Reported Segments to 88 million.
The Travel Commerce Platform revenue increase of $18 million includes a $15 million increase in Beyond Air revenue and a $3 million increase in Air revenue.
Adjusted EBITDA increased $5 million, or 4%, to $133 million.
Operating Income
Operating income declined $36 million, or 63%, to $21 million driven by an increase in Adjusted EBITDA of $5 million that was offset by incremental non-core corporate costs of $31 million (including $22 million of additional equity-based compensation) and $7 million higher depreciation and amortization charges.
Net Income
Net income increased $182 million to $155 million as a result of changes in operating income and a gain of $304 million realized on the sale of our 39 million shares of Orbitz Worldwide, Inc. that was partially offset by a $94 million loss on early extinguishment of debt.
Adjusted Net Loss
Adjusted Net Loss, which excludes the gain on sale of Orbitz Worldwide shares, the loss on the early extinguishment of debt and equity-based compensation, improved by $5 million, or 63%. This increase reflects the growth in Adjusted EBITDA and lower interest expense, partially offset by higher depreciation and income tax expense.
Net Cash (Used in) Provided by Operating Activities
Net Cash (Used in) Provided by Operating Activities decreased $108 million from 2013, primarily as a result of $72 million of incremental interest payments and $23 million of non-operational items. The increase in interest payments is due to the timing of interest payments related to the debt refinancing completed in September 2014.
Adjusted Free Cash Flow
Adjusted Free Cash Flow, which excludes payments for non-operational items, decreased by $86 million, primarily as a result of a $72 million increase in interest payments due to the timing of interest payments related to the debt refinancing completed in September 2014.
Net Debt
Net Debt decreased from $3,340 million at December 31, 2013 to $2,269 million at September 30, 2014, and is comprised of $2,444 million in debt less $175 million in cash, cash equivalents and cash held as collateral.
Travelport completed year-to-date deleveraging transactions amounting to $1,382 million, resulting from $571 million of debt for equity exchanges, the use of proceeds from the sale of substantially all of our shares in Orbitz Worldwide of $366 million, and the use of net proceeds raised through our initial public offering of $445 million.
Highlights
Continued benefits of Travelport's significant and balanced global footprint
Our International revenue (i.e. outside of the United States) grew 4% to $338 million in Q3 (YTD: up 5% to $1,064 million) and represented 67% of Travel Commerce Platform revenue (YTD: 68%), with Asia Pacific revenue up 9% in Q3.
Our revenue from the United States grew 4% to $163 million in Q3 (YTD: up 1% to $497 million) driven by growth in international carrier bookings made in the United States, together with growth in hotel and car reservations, notwithstanding reductions in US domestic airline capacity.
Beyond Air continues to drive growth of Travel Commerce Platform
Beyond Air revenue up 14% in Q3 to $111 million (YTD: up 12% to $316 million), driven by accelerating growth in hospitality and payments.
Beyond Air revenue represented 22% of Travel Commerce Platform revenue in Q3 2014 versus 20% in Q3 2013.
Hospitality
TripAdvisor is powering its new Instant Booking feature through its mobile app and website with Travelport.
The corporate travel brand of Expedia, Egencia, switched onto the broader hotel content we now offer through our Universal Application Programming Interface (uAPI).
The corporate hotel booking system, Hotelzon, which we acquired in May 2014, expanded into France and Poland from its base in the Nordics. The business launched an enhanced version of its user interface, Hotelzon Online, in October and expanded the distribution of its content through the existing Travelport hotel booking system.
The largest and fastest growing hotel chain in the UK, Premier Inn (part of the Whitbread Group), is now implemented and bookable by Travelport's global travel agency and corporate customers for their 670 properties.
Payments
With eNett, our majority-owned (73%) subsidiary, we continue to redefine how travel agencies pay travel providers, largely moving payments from cash and other older B2B payment methods to eNett's Virtual Account Number ("VAN") capabilities.
eNett VANs are innovative payment solutions that automatically generate unique MasterCard numbers used to process payments globally, addressing the issues of risk, costs of reconciliation and offering a range of other financial and efficiency benefits to our customers.
eNett's momentum continued during the period, with Q3 net revenue year-on-year growth of approximately 45%.
Significant new VAN customer signings during the period included the Flight Centre Travel Group, which for their financial year ended June 30, 2014 generated travel sales (total transaction value) in excess of A$16 billion from over 2,500 selling locations. Flight Centre is already a major customer of the Travel Commerce Platform.
Additionally during the period, eNett entered into a landmark agreement with Cornerstone Information Services to expand its capabilities into the corporate travel space, facilitating a partnership to develop an innovative direct hotel billing payment solution for Travel Management Companies ("TMCs").
Continued airline content leadership
Air revenue up 1% in Q3 to $390 million (YTD: up 2% to $1,245 million).
We continue to attract additional Low Cost Carriers ("LCCs") to our platform, adding the leading LCC in Turkey, Pegasus Airlines, as well as three further leading LCCs in Asia – AirAsia India, Jeju Air (South Korea) and Malindo Air (Malaysia).
In October 2014, the latest version of our merchandising travel agency desktop solution, Smartpoint, was launched. This includes Rich Content & Branding, which enables our airline customers to fully display their products to travel agencies including optional or ancillary products available for sale, and providing the ability to see "the next product up" to encourage more upselling.
76 airlines have now selected to upgrade to Travelport's Rich Content & Branding capability, including our first African airline customer, South African Airways, our first Russian customer, Aeroflot, and our first Indian customer, Air India. These carriers join existing clients such as Delta Air Lines, British Airways, easyJet, Avianca (Colombia), Silk Air (Singapore) and Germanwings already live with these enhanced facilities, which will enable them to enhance their sales and revenue per seat through our platform.
Significant deals signed in corporate and online leisure travel
During Q3 2014, we announced new multi-year contracts for the use of our Travel Commerce Platform with a number of the largest global corporate TMCs, including:
Carlson Wagonlit, headquartered in Paris (US$26.9 billion in sales for their financial year ended December 31, 2013; service provision in over 150 countries); and
BCD Travel headquartered in Utrecht in the Netherlands (US$22.4 billion in sales for their financial year ended June 30, 2013; service provision in over 100 countries).
Travelport continued to deploy its services with the leading Latin American online travel agency, Despagar, commencing operations in two countries in the region with more expected to follow during the remainder of 2014 and early 2015.
Initial public offering
On September 30, 2014, Travelport successfully completed an initial public offering of 30,000,000 common shares at a price of $16 per share, raising $445 million of net proceeds. The net proceeds from the offering were substantially used to reduce our outstanding indebtedness and certain other liabilities.
Strengthened capital structure
Net Debt has decreased by over $1 billion since December 31, 2013 to just under $2.3 billion at September 30, 2014, with our corresponding Net Leverage Ratio improving from 6.5 times at December 31, 2013 to 4.2 times at September 30, 2014.
We consummated a comprehensive debt refinancing on September 2, 2014, which, after our IPO, leaves Travelport with a much more simplified debt structure with no term loan maturities until 2021.
Strengthened free cash flow generative ability and continued investment in the Travel Commerce Platform
The combined impact of the reduction in our debt, together with the refinancing programme, will significantly reduce interest payments going forward and, therefore, enhance Travelport's ability to generate free cash flow.
Capital Expenditures in Q3 2014 consisted of $29 million of property & equipment additions (YTD: $83 million) and $8 million of capital lease payments (YTD: $23 million), and in total represented 7.0% of total Net revenue (YTD: 6.4%).
Positive outlook for Q4 and Full Year 2014
The fourth quarter has started positively and in line with our expectations, and conversions of recent customer wins remain on track. Guidance for full year 2014 Adjusted EBITDA is $538 million – $540 million.
Dividend
On November 4, 2014, Travelport's Board of Directors declared a cash dividend of $0.075 per common share for Q3 of 2014, with a targeted payout of $0.30 per share on an annualized basis. The dividend will be payable on December 18, 2014 to shareholders of record on December 4, 2014.
Board of Directors
We have strengthened our Board through the appointment of three new independent Directors:
Elizabeth Buse, former Executive Vice President of Visa Inc. and currently Co-CEO and member of the Board of Directors of Monitise PLC;
Michael Durham, former President and Chief Executive Officer of Sabre Group Holdings and currently a member of the Board of Directors of Hertz Global Holdings; and
Douglas Hacker, former Executive Vice President, Strategy of UAL Corporation and current member of the Board of Directors of Aircastle Ltd.
With the appointments, Travelport's Board of Directors now consists of eight members, all of whom, with the exception of the President and CEO, Gordon Wilson, are independent Directors.
Gavin Baiera, Scott McCarty and Gregory Blank, the representatives of Angelo, Gordon & Co, L.P., Q Investments, and The Blackstone Group, respectively, continue as independent Directors.
After the IPO, Angelo, Gordon & Co, L.P. owned approximately 13% of our outstanding common shares, Q Investments owned approximately 8%, and The Blackstone Group owned approximately 7%.