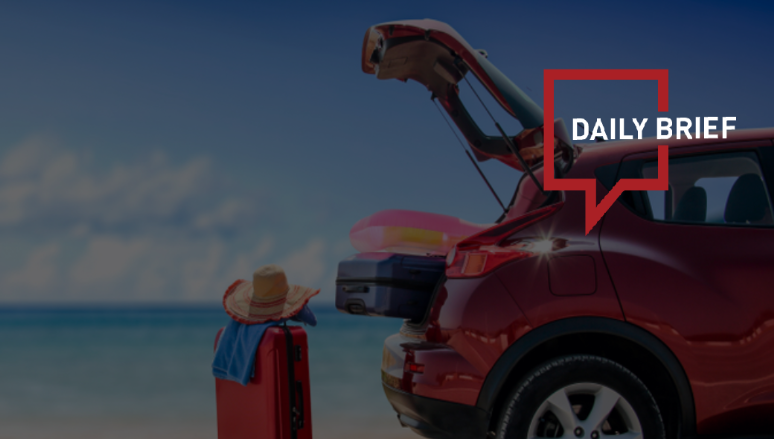 Typhoon Koinu turns south off China's coast, headed for Hainan
>> Typhoon Koinu, which lashed Taiwan with rains and winds last week, on Sunday turned south over the seas off the coast of China's Guangdong province towards the Chinese resort island of Hainan, with its intensity nearly unchanged from a day earlier.
China's planemaker gets $9.9 billion order for 100 C919 jets, dealing potential blow to Boeing
>> China Eastern Airlines Corp. ordered 100 C919 single-aisle planes from Commercial Aircraft Corp of China Ltd., dealing a potential blow to Boeing Co., which hasn't had a large order from Chinese carriers in years.
Macau casinos boom as Chinese tourists flood in for holiday
>> Chinese tourists flocked en masse to Macau during the Golden Week holiday after the world's largest gambling hub rolled out a busy slate of events, including a poolside dance party with former NBA star Shaquille O'Neal, to entice visitors to casinos. Tourist arrivals over the eight-day break that ended Friday reached more than 932,000, taking the daily average to about 84% of 2019's in the same period, according to official data from the city. About 76% of the visitors were from mainland China, the data show.
China's flagging economy gets a temporary boost as holiday travel returns
>> Chinese tourists jammed popular sites as travel bounced back to pre-pandemic levels during a recent eight-day national holiday, giving a temporary boost to China's flagging economy. Tourism revenues reached about 753 billion yuan ($103 billion) during the combined Mid-Autumn Festival and National Day holiday period.
China's entry-exit trips soar during eight-day holiday
>> China saw a surge in its inbound and outbound trips during the eight-day holiday that ended Friday, according to the official data released by the National Immigration Administration on Saturday. Nearly 1.48 million entry-exit trips were made per day during the holiday.
Tunisia implements visa-free policy for Chinese tourists
>> The Tunisian government has decided to implement a visa-free policy for Chinese tourists. The Chinese Embassy in Tunisia announced Saturday on its official website, in accordance with regulations issued by the Tunisian government, the visa-free policy will apply to Chinese individuals or groups traveling to Tunisia from China or abroad. Chinese tourists will be required to present hotel reservations and air tickets before entering the country, the announcement said.
Thailand receives over 100,000 Chinese tourists first week after visa-free policy implemented
>> According to data from the Ministry of Tourism and Sports of Thailand on Wednesday, during the first week after the country implemented its visa-free policy for Chinese tourists, the number of visitors from China entering its border surpassed 100,000, showing a week-on-week growth of 72.49 percent.
Pattaya tourism grapples with fallout from Bangkok mass shootings
>> The Association of Chonburi Attractions addressed the aftermath of a recent mass shooting incident in Bangkok, particularly its impact on the tourism industry. The gathering focused on crucial discussions surrounding the Chinese tourist market, crisis management, and featured insights from key industry figures. The shooting sparked concerns about tourist confidence, particularly for Chinese tourists. Negative Chinese media coverage impacted Thailand's image.
Chinese outbound tourists key to Egyptian tourism
>> The recovery of the outbound tourism industry in China is now providing a significant boost to Egyptian tourism. This surge in outbound travel coincided with one of China's most significant annual holidays, the Golden Week, which began on Sept. 29 and extended for eight days. With moderate warm weather, beautiful beaches, and enormous ancient attractions, besides the recently improved infrastructure, Egypt is a good destination for Chinese tourists, said Ahmad Amer, an archaeological inspector in the Egyptian Ministry of Tourism and Antiquities.
Cuba gears up for more Chinese tourist arrivals in upcoming peak season
>> Cuba hopes to resume direct flights with China and is gearing up for an influx of Chinese tourists during its upcoming peak season, a tourism insider has said. "Cuba is anxiously anticipating the arrival of Chinese tourists," Yoelkis Salazar, director of Havanatur S.A., Cuba's largest travel agency, told Xinhua in a recent interview from Guardalavaca, a seaside town in northeastern Cuba.
Data from the Cuban Ministry of Tourism shows that from 2010 to 2019, before the onset of the COVID-19 pandemic, the number of Chinese tourists to Cuba grew at an average annual rate of about 23 percent.