Wyndham Hotels & Resorts reported its third quarter results recently with total revenue down by 12% year on year.
Global RevPAR grew 12% compared to the third quarter 2021, and system-wide rooms grew 4% year-over-year, including 1% of growth in the U.S. and 9% of growth internationally.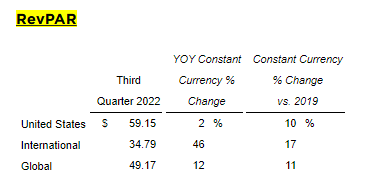 Direct franchising business in China grew by 8% despite all the challenges last quarter.
As of September 30, the company had 158,500 hotel rooms in the Greater China area, up by 5% from last year. RevPAR for the region was only USD 14.97, a decrease of 5% year-over-year and some 21% from the pre-Covid level.