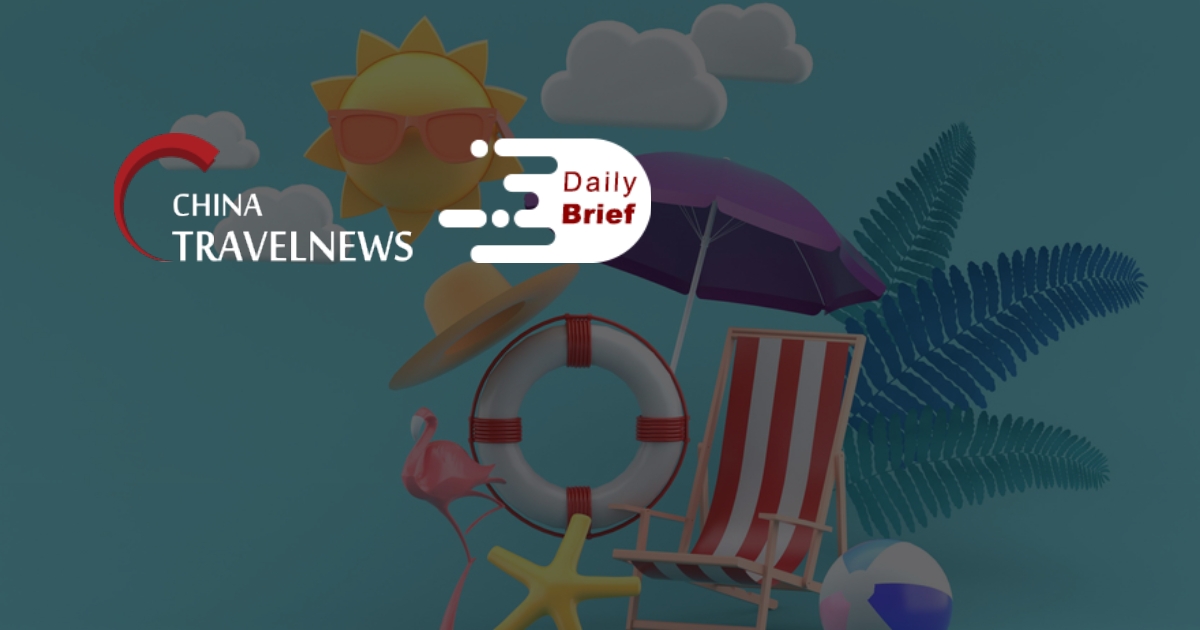 Beijing welcomes international flights after Covid isolation
>> Beijing is welcoming back direct inbound passenger flights from overseas for the first time in more than two years as China eases parts of what is still the toughest pandemic border regime in the world.
Air China Ltd.'s website shows it restarted a direct flight from Paris once a week, while ANA will resume weekly flights from Narita in August. Meanwhile, Etihad Airways PJSC resumed direct flights to the capital in late June after China halved the length of time incoming travelers must spend in a quarantine facility to seven days, state broadcaster China National Radio reported earlier this month.
Volkswagen Group China unveils the V.MO – an autonomous passenger drone prototype
>> Volkswagen Group China has unveiled its first eVTOL passenger drone prototype– the V.MO, as part of its strategy to explore and break new ground in fully electric and sustainable individual mobility concepts. Volkswagen Group China will conduct several flight tests later this year to optimize the concept and an improved prototype will undergo further advanced test flights by late summer 2023.
Chinese Embassy in Germany eases travel rules to boost work resumption
>> German businesses on Thursday welcomed a move by the Chinese Embassy in Germany to further ease travel rules for German personnel traveling to China for work resumption, expressing their commitment to long-term development in the Chinese market despite the protracted pandemic and downward economic pressure. Effective Wednesday, travelers from Germany who intended to come to China to resume work and production no longer needed an invitation letter issued by relevant Chinese departments when applying for a business or visitor visa, the Chinese Embassy in Germany announced on the same day.
Didi's car-sharing arm reportedly goes bankrupt
>> On the evening of July 25, a screenshot related to Didi's ongoing bankruptcy audit was leaked by an accounting firm employee. On Chinese social media platform Weibo, a user suspected of being a Didi employee confirmed that the firm's car-sharing business is going into liquidation. The news comes as Didi's autonomous driving business, which is heavily associated with its car-sharing venture, is undergoing mass layoffs.
Cuba-China seeks to boost bilateral cooperation in tourism
>> A memorandum of understanding on bilateral cooperation in tourism has been signed between Cuba and China, Cuba's ambassador to China, Carlos Miguel Pereira, said. The Cuban ambassador and the Caissa Tourism Group's CEO, Chen Xiaobing, signed the document. The CEO of Caissa Tourism Group confirmed the group's interest in being the first to organize tours to Cuba upon the lifting of China's travel restrictions.
Trip.com and Ctrip celebrate the return of travel by announcing their strategic partnership with Hylink Digital
>> Hylink Digital was announced as the official strategic partner of Trip.com and Ctrip for the Americas (North and South America). This marks the first of its kind between an advertising agency and an international online travel agency. As tourism returns, destination marketers, travel brands and travel marketers can expect not only more value from their existing services, but also better rates and exclusive access to inventory and content creation through this partnership.
Trip.com Group announces long-term green tourism goals, aiming to inspire 100 million travelers to travel more sustainably
>> Trip.com Group has announced its long-term goal to build green tourism, covering three key areas, including working with partners to launch over 10,000 low-carbon travel products, promoting sustainable travel concepts and engaging 100 million travelers in low-carbon practices and aiming to further reduce carbon emissions across its own operations.
China's Tencent, Huawei launch car-hailing platforms to boost ecosystems
>> China's ride-hailing market is expected to become increasingly efficient as tech giants Tencent Holdings and Huawei Technologies are entering the sector to complement their other services. The pair has indirect goals. "Huawei expects to sell more cars via the platform, and WeChat hopes to find a new way to profit from its great number of users," an industry insider said to Yicai Global.
MoU with Luxemon Hotel Group to expand in China
>> Centara Hotels & Resorts, Thailand's leading hotel operator, has signed a Memorandum of Understanding (MoU) with China's Luxemon Hotel Group that will accelerate the expansion of Centara's portfolio in China and support its goal of becoming a top 100 global hotel operator within five years.