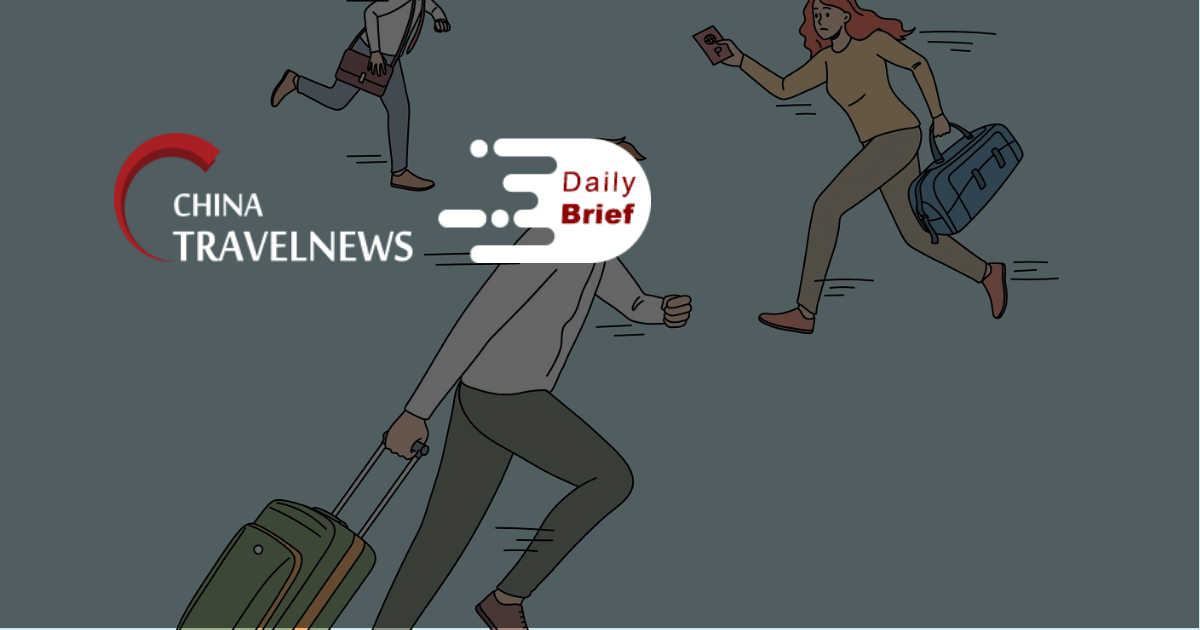 Omicron casts a shadow over Chinese New Year travel, but sun and snow destinations shine a ray of hope
>> A new report from ForwardKeys reveals that the recent lockdowns in China, imposed in response to outbreaks of the Omicron strain of Coronavirus have cast a long shadow over new year travel plans. The latest data, as of January 11, shows flight bookings for the upcoming holiday period, January 24 – February 13, were 75.3% behind pre-pandemic levels but 5.9% ahead of last year's dismally low levels.
China boosts transport services to support Spring Festival travel
>> China has taken a slew of policies on railway services, power supply and civil aviation to ensure safe and orderly transport during the Spring Festival travel season. During the first three days of the 40-day travel season, the country is expected to see a total of more than 15 million passenger trips. To meet travel demands during the travel rush, the country has rolled out policies to increase transport capacity for popular railway routes, while strictly implementing measures on COVID-19 prevention and control.
Chinese Embassy in Canada asks travelers to strictly follow epidemic prevention rules
>> The Chinese Embassy in Canada on Wednesday reminded travelers going to China to strictly follow epidemic prevention regulations. This came after cases of people returning to China who were exposed to the virus through social activities after the "double test," warned the embassy. Passengers need to enter a "personal closed-loop management" after the "double test," and take self-health monitoring for 7 days ahead of the flight.
China's fastest 'RORO' passenger ship arrives in Guangzhou
>> A Chinese-made luxury "RORO" (roll-on/roll-off) passenger ship was delivered to the buyer on Tuesday in Guangzhou City, south China's Guangdong Province. With a maximum speed of 23 knots, the ship named "Xiang Long Dao" is the fastest of its kind in the country. Measuring 208 meters long and 28.6 meters wide, it can carry as many as 1,375 passengers and more than 500 vehicles.
Hong Kong residents hire private jets to take their pets out of city
>> Hong Kongers leaving the city are chartering private jets for their pets to take their animals with them as pandemic restrictions squeeze freight space on commercial flights. With the city's zero-Covid regime leading to soaring cargo rates and flight cancellations, people are grouping together to use private jets at a cost of about HKD 200,000 (USD 25,665) for each owner with their pet, according to a FT report.
China's home-grown C919 aircraft to start deliveries in 2022
>> Deliveries of China's home-grown narrow-body C919 aircraft, which is yet to be certified by the country's aviation regulator, are expected to start in 2022, local media cited an official with the state planemaker COMAC as saying on Wednesday. The C919 aircraft, China's ambition to rival Aibus SE and Boeing Co, earlier missed a previously stated target of achieving certification by the end of 2021, with the Civil Aviation Administration of China (CAAC) saying the program only completed 34 certification tests out of 276 planned.
Hyatt announced brand expansion plans for Asia Pacific
>> Hyatt announced its brand expansion plans for Asia Pacific, which will see the group further increase the presence of its luxury and lifestyle brands. This includes the introduction of the Caption by Hyatt, Destination by Hyatt and Thompson Hotels brands to the region. Stephen Ho, Hyatt's President of Growth and Operations in Asia Pacific, said China has always been a strategic focus for Hyatt. With a growing middle class and continued upgrade in consumption, the tourism economy in the Greater China region continues to grow with new opportunities and vitality and plays an important role in the recovery of the entire Asia Pacific hotel industry.