With the five-day May Day holiday approaching, the number of tourists heading to Macau is expected to surge significantly. According to the data from Dianping, a lifestyle service review and reservation App under the umbrella of Meituan, hotel bookings in the SAR have increased 180%, and online reservations for dining experience have jumped over 30% when compared with 2019.
As part of its efforts to accommodate the anticipated surge in tourist arrivals, the government of Macau has increased the subsidies provided to local small-and-medium-sized merchants for ease of creating safer and a more diversified selection of experiences for tourists and consumers.
Accelerating recovery with subsidies of over MOP 10 million while supporting the growth of local businesses in digital transformation
The culinary and cultural tourism sectors representing a key role in Macau's economic development have experienced the greatest impact during the pandemic. Industry players are now embracing digital transformation to accelerate their recovery post-COVID-19. In line to help merchants address the challenges and return to normal operation, local government agencies have started collaborating with Meituan since 2020. As part of the partnership, 4.92 million MOP were extended to small-and-medium-sized merchants to accelerate their digital transformation. The government subsidy program has supported around 100 merchants in a wide range of services including Chinese and Portuguese cuisines, baked specialties and desserts, local souvenirs, and other merchandise.
To adjust themselves to the changes in visitor expectations, local merchants have added online reservations, group purchasing, coupons and other contactless services, making it easier for visitors to plan their itinerary before arriving in Macau.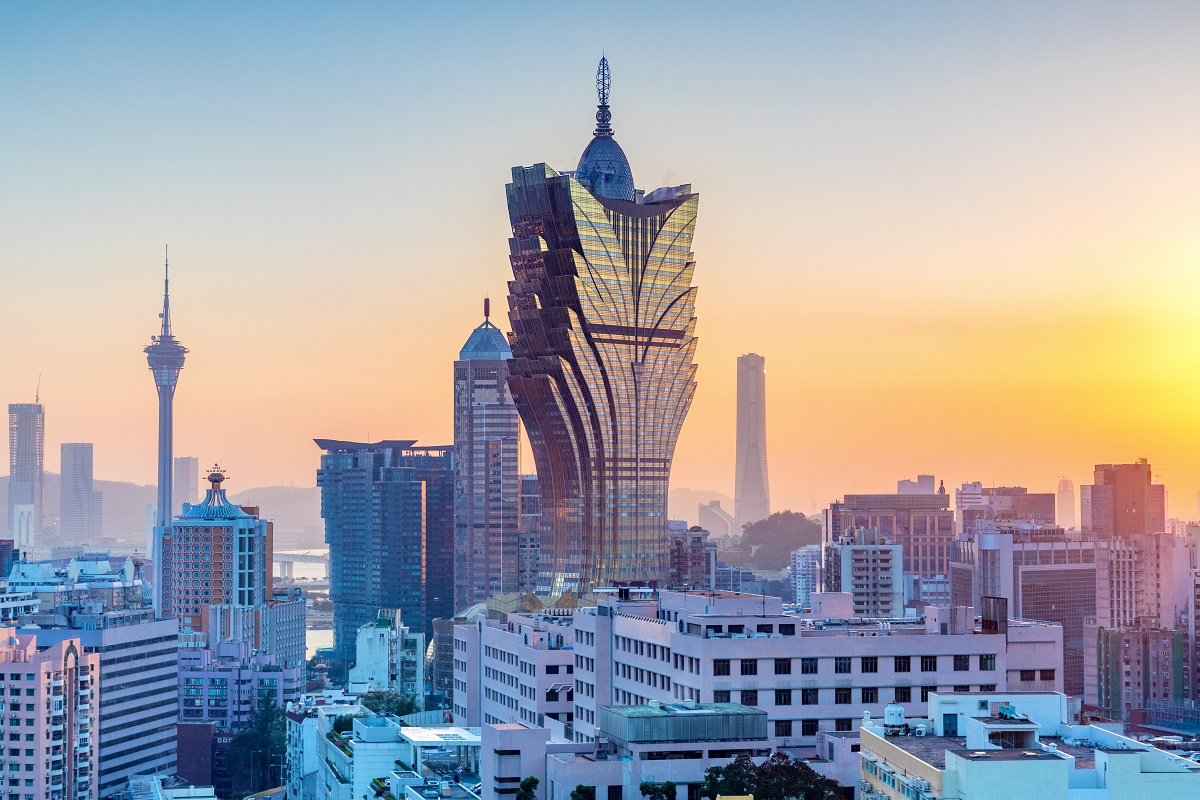 Data from Dianping showed that, as of March 2021, local merchants covered by the subsidy program have seen significant increases in online visibility and grown their followers by 15 times. Taking the Pingmin Chiwang restaurant as an example, after upgrading its online store and issuing coupons, the restaurant received 225 online orders in just two months, mostly from the Dianping App.
Commenting on the growth, the manager at the restaurant said, "The government subsidy program for local small-and-medium-sized merchants provides us an opportunity to increase our restaurant's visibility and profits, positively proving that the tourism sector in Macau is recovering."
Since the beginning of the year, the local government has launched a fresh round of significant cash subsidies and tax exemptions, including the MOP 10 million program in partnership with Meituan to continually assist the merchants in growing their business as the tourism economy returns to normal.
Macau expects to be one of the most-visited destinations during the May Day holiday, restoring the confidence of visitors by providing them with safe and quality experiences.
Tourists are allowed to travel to and from Macau without having to quarantine by providing proof of a negative COVID-19 (nucleic acid) test issued within seven days prior to their arrival in the region as well as valid endorsement certificates. Since the resumption of the travel endorsement, Macau continues to increase the confidence of tourists from mainland China in the region as one of best and safest places to visit by rolling out effective campaigns, including live broadcasts, recommendations from key opinion leaders and videos of Chinese New Year blessings.
Over the past year, Dianping has worked with Sands China, Galaxy Macau, Wynn, Studio City Macau, among other local entertainment venues, to launch promotional campaigns aiming to provide visitors with better sightseeing, dining and shopping experiences. In addition, Dianping also held several themed events, inviting key opinion leaders to visit selected stores and share their fact-based and interesting insights into local attractions, restaurants and entertainment facilities, including less-visited points of interest as well as tips for shopping in Macau. Sands China's The Londoner Macau resort and its Crystal Palace, citing an example, had attracted over 4 million consumers to participate in their online topic interaction in celebration of openings. Buoyed by such campaign, the two venues rose to be among Macau's most popular attractions as well as the region's top 10 most highly-rated attractions.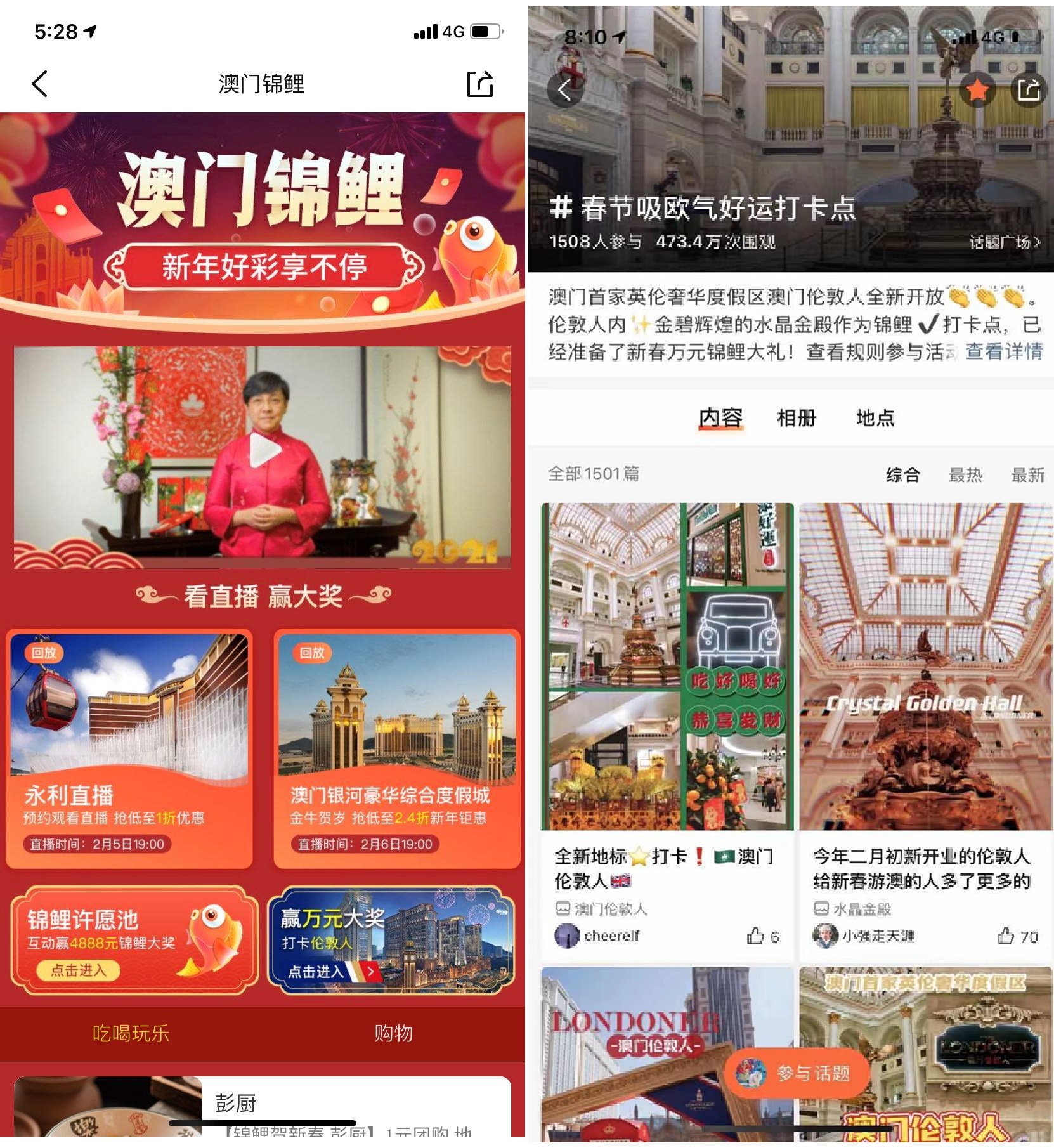 Spring Festival-themed campaign
In June 2020, Macau rolled out a series of tourism recovery plans, including the Macao Ready Go campaign, in a move to provide tourists with innovative experiences complemented by new venues to visit. According to data from Dianping, a growing number of younger visitors to Macau for leisure purposes are exploring new experience options in the area, including duty-free shops, lifestyle buyer shops, immersive art exhibitions, sunset observatories, perfume emporiums and interesting walking tours.
When choosing destinations outside of the mainland, the younger travelers seek some solace from the impact of COVID-19 by supporting the tourism sector in its recovery through subsidies and partnerships with online platforms. According to the Macau Government Tourism Office, with the May Day holiday just around the corner, occupancy rates at hotels in Macau have increased from nearly 50% to 70%-80%. As of April 2021, visitors to the Macau section on the Dianping App jumped 16% over the number in the same period of 2019 with the number of participating merchants growing three-fold. Bookings of local hotel rooms for stays during the upcoming holiday surged 1.8 times while online dining orders grew to 30% over the level in 2019, all of which demonstrating that Macau's tourism sector expects to revive quickly with a strong boost from the May Day holiday.