ChinaTravelNews, Jerry Tang - Global hotel chains are unequivocally looking to the increasingly stabilized China market, while travel restrictions and demand downturn are still hampering the hospitality industry in other parts of the world.
International hospitality group Marriott has rolled out its "brand+destination" strategy in China; Hilton plans to open 1,000 hotels in China by 2025 and create 100,000 jobs; and Germany-based hotelier Deutsche Hospitality, backed by its Chinese owner Huazhu Group, has big plans in this market.
Late last year, Deutsche Hospitality announced that it would debut two Steigenberger Hotels in eastern Chinese Hangzhou Bay.
Mr. Marcus Bernhardt, CEO of Deutsche Hospitality, told ChinaTravelNews in an exclusive interview that the company has a distinctive advantage of having Huazhu to help manage and drive its expansion in China, as well as operating the Steigenberger hotels.
"We see very good opportunities for our Steigenberger Hotels & Resorts brand in both the upper-upscale and luxury segments. The brand perfectly complements Huazhu's brand portfolio," he said.
"With Huazhu's innovative drive, their understanding of the industry and society, we have a unique opportunity to enter the Asian markets."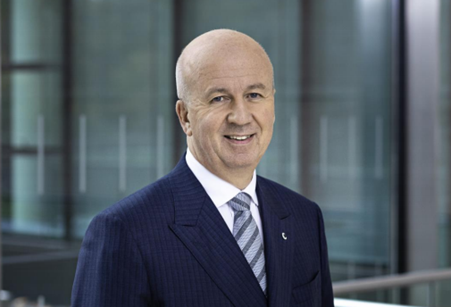 Marcus Bernhardt, CEO of Deutsche Hospitality
Finding the right partner in China
As consumers desire experiences over products, Mr. Bernhardt believes the Steigenberger brand is well placed to offer "unique and sophisticated experiences" to attract loyal guests.
The German hotel company had made earlier attempts to grow in China a few years ago, when it launched the Steigenberger Maximilian Beijing hotel through a joint venture with a local investor. But it did not work out.
Mr. Bernhardt said Deutsche Hospitality no longer operates the Steigenberger Maximilian Beijing hotel. "We have gained valuable experience and learned how important it is to have the right partner," he said.
Its partnership with parent company Huazhu Group delivered the desired effect, as the portfolios of Huazhu and Deutsche Hospitality generate great synergies and opportunities, he said.
Deutsche Hospitality has five major brands in its portfolio, namely Steigenberger Hotels & Resorts, MAXX by Steigenberger, Jaz in the City, IntercityHotel and Zleep Hotels. "Huazhu's expertise in expanding and growing market share will support the achievement of our growth strategy in all segments on an international scale," Mr. Bernhardt said.
The company has already launched an IntercityHotel property in Qingdao, and it's planning to open more IntercityHotel projects in cities like Shanghai and Zhengzhou, according to Chinese media reports. Other "exciting" projects in the pipeline will be announced in the future.
Joint transformation to drive growth
The strategic partnership with Huazhu is also delivering unique opportunities for Deutsche Hospitality to emerge stronger globally post-pandemic, in addition to expanding in China.
According to the preliminary results of Huazhu Group's hotel operations in the fourth quarter last year, the Deutsche Hospitality hotels were hard hit during the second wave of COVID-19 outbreak in European countries since late September 2020.
Deutsche Hospitality's RevPAR in the fourth quarter dropped by 74% year-on-year, following the 52.2% year-on-year decline recorded in the third quarter; while the Q4 occupancy rate was just 22.5%, down by more than 15 percentage points from the third quarter.
"Compared with other key regions in the world, Europe's hotel occupancy was the lowest at the beginning of January (2021)," Mr. Bernhardt revealed. "Major EU countries like Germany and Italy saw occupancy levels below 10%."
Learning from its parent group Huazhu, Deutsche Hospitality has continuously adapted and optimized cost reduction measures and is constantly negotiating lease terms.
"Throughout the pandemic, we were able to exchange knowledge, experiences and approaches in dealing with the effects of the pandemic...It helps to have Huazhu behind us when speaking to investors and banks."
Today, Deutsche Hospitality has 102 of its 120 hotels in active operation.
"The situation in Europe has been very challenging last year and, obviously, the situation will remain very challenging until the fourth quarter of 2021," Mr. Bernhardt reckoned.
During crises like COVID-19, it is imperative for traditional hotel groups to undergo digital transformation to overcome challenges and tap opportunities for the future. This is also true for Deutsche Hospitality, which was founded in 1930 and has a history of more than 90 years.
Mr. Bernhardt said that Huazhu's hotel technologies have helped Deutsche Hospitality improve its operational efficiency.
"We are improving operational efficiency by investing in digital transformation and creating an international uniform system platform for Huazhu and Deutsche Hospitality. The plan is for Deutsche Hospitality to support the expansion of Huazhu in Europe."
The first joint achievements are enabling the Asian markets to book Deutsche Hospitality hotels through Huazhu's website and app, and also the joint launch of an international customer loyalty program, according to Mr. Bernhardt.
The creation of a global sales structure and distribution infrastructure for all of Deutsche Hospitality's hotels as well as Huazhu is another important aspect. "These joint projects will enable us to tap into new markets within a short space of time whilst also becoming even more attractive for guests," he said.
Eyeing to become Europe's top 5
With its joint transformation with Huazhu in full swing, Mr. Bernhardt remains very optimistic about the future, despite ongoing challenges of the COVID-19 pandemic in the short term.
"Recovery in Europe is delayed by the coronavirus mutations and subsequent stronger restrictive measures by governments. We are hoping for a first recovery in the fourth quarter of 2021 and to be able to operate at pre-crisis levels by 2022, or 2023 at the latest."
The company's ambitions are to build a hotel portfolio that has between 600 and 700 hotels by 2025.
"This would put us amongst the top five hotel companies in Europe. Our organic growth is currently 25 hotels per year, or 125 hotels in five years. The remaining gap in numbers will be closed through mergers and acquisitions," according to Mr. Bernhardt.