Shanghai-headquartered hotel chain Huazhu Group said that it expects Q4 net revenues in China to be better than previous guidance, as travel demand shows resilience and recovery in previously affected cities started accelerating after adjusting down the risk level in those cities.
In its third-quarter financial report, Huazhu expected net revenues to grow by 0%-3% year-over-year for the fourth quarter.
Despite numerous recurrence of COVID-19 in several cities and provinces in mainland China, such as Shanghai, Chengdu, and northeastern China, the company said its business continued to recover.
RevPAR of the Legacy-Huazhu hotels (excluding overseas subsidiary Deutsche Hospitality) for the fourth quarter was RMB 186, down by 2.4% year-over-year but up from RMB 179 in the previous quarter.
Occupancy was down to 80.6% for the fourth quarter, compared to 82.2% in Q4 2019, and 82% in Q3 2020.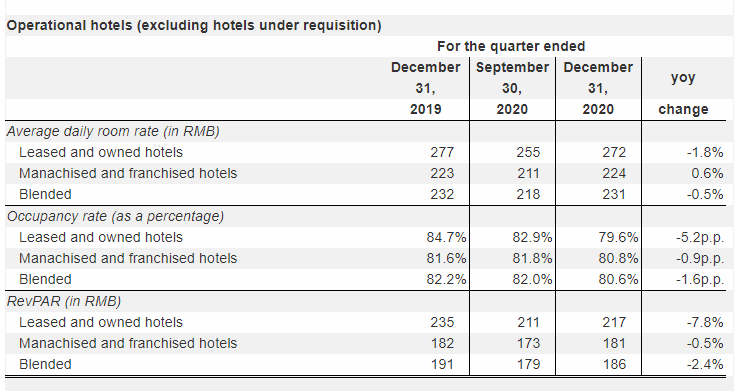 As of December 31, Huazhu had 6,669 hotels and 628,135 rooms in operation in China. The company had 393 hotels opened and 114 hotels closed, so 279 hotels were net added during the time.
For the full year 2020, RevPAR was RMB 149, representing a 24.5% decrease from 2019, while occupancy was down by 13.4 percentage points to 71%.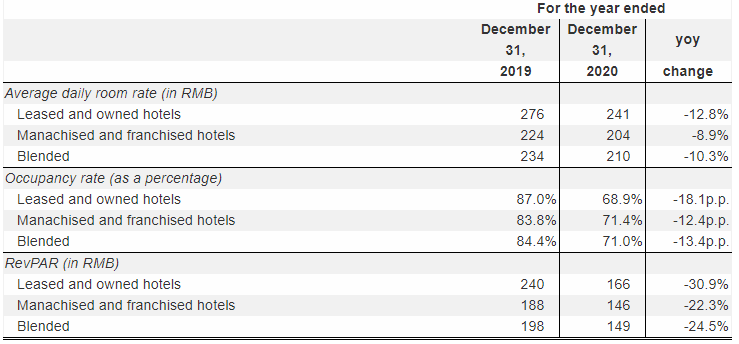 As of December 31, Deutsche Hospitality had 120 hotels and 24,027 rooms in operation. A total of 18 DH brand hotels were temporarily closed due to COVID-19.
For the full year 2020, Deutsche Hospitality recorded a RevPAR of EUR 31, down by 54.6% from 2019. Occupancy dropped by 34.3 percentage points to 34.8% for the year.