ChinaTravelNews, Ritesh Gupta – Travel brands can look into what people are missing out about travel and how they can capitalize on the same – in emails, a notification via a mobile app, posts on social media and in their overall communication strategy – to empathize and make a compelling impact at this juncture.
"People are missing travel," said Martyn U'ren, Head of Research - APAC and MENA, Twitter, during an online presentation at the 2020TravelDaily Conference.
He shared how consumers are expressing themselves and what can be understood from Twitter-based conversations regarding their trips and different aspects associated with a journey.
For instance, U'ren referred to a photo posted by a user, carrying his bag and ahead of him is a hallway to an aircraft. "…it's the small things that people are missing as well," U'ren said, emphasizing on areas like the departure lounge, the time spent in that environment and so on.
In fact, the intensity or the fear of missing out on what they normally enjoy is depicted in such posts via pictures, hashtags etc.
Rather than just waiting for the actual trips, travelers have been resorting to certain initiatives to rejoice what they generally associate with such leisure activity or even a business-related trip.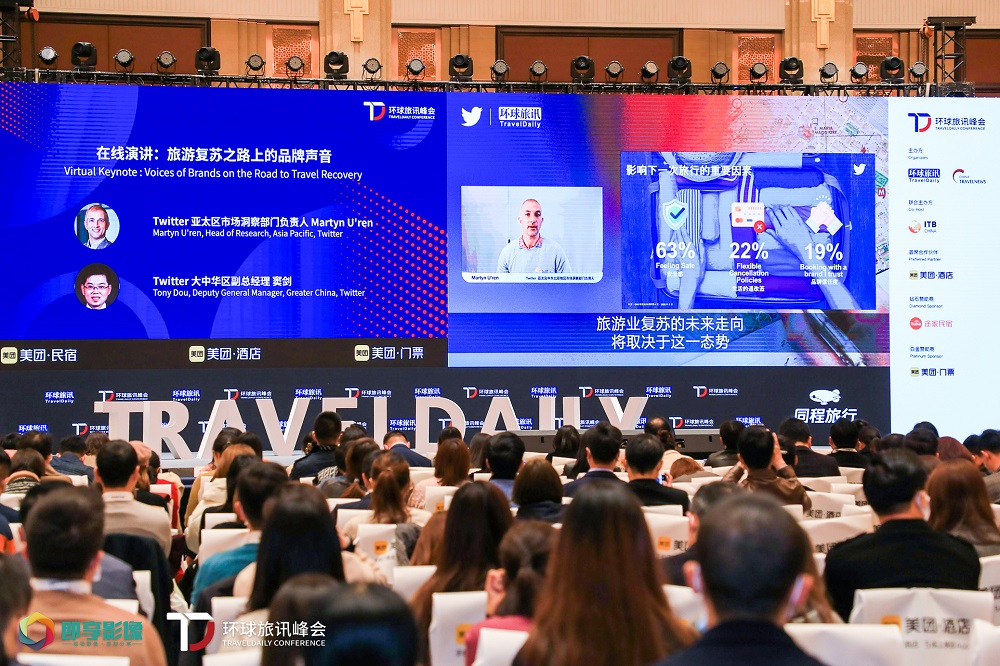 What does user-generated content indicate?
Consumers not only chose to continue with some of the light-hearted discussions that they used to indulge in about flying, but they also created new hashtags, memes, videos etc. to keep the fun around travel going. For instance, content or hashtags around "the fake plane challenge" that was posted on Twitter wasn't new. But the trend gained momentum again this year.
The discussion around the same was witnessed on platforms like Weibo and TikTok last year as well where one used to pick up an object from their house or anywhere and then used to act as if they are on a flight. So the thing could be used to showcase a plane window or any element of travel being disguised this way.
"We have seen people participate in the #FakePlaneChallenge," said U'ren. "People have actually tried to recreate that experience. This has led to a great level of conversation plus also enabled people to show their creativity and connect with others who are also feeling the same sense of loss of travel."
In addition to this, the trend of "Flight To Nowhere" also gained popularity on Twitter, with the same hashtag (#flighttonowhere). "Immensely popular…people are boarding planes, they are taking journeys where they actually end up being back at the same destination just to receive that thrill of flying once again," acknowledged U'ren. Admirers or loyalty program members chose to spend their miles/ loyalty currency on such trips. For instance, Qantas reportedly completed a journey by flying back at exactly the same spot it flew from. The flight was initiated by the carrier to garner revenue and cater to travel-starved people. Ticket price ranged from US$566 to $2,734 for 150 seats.
Another example, as mentioned by U'ren, as seen in the case for Singapore Airlines and Thai Airways, "what we've actually seen recently is people willing to go on board the plane, just to have that in-flight meal experience".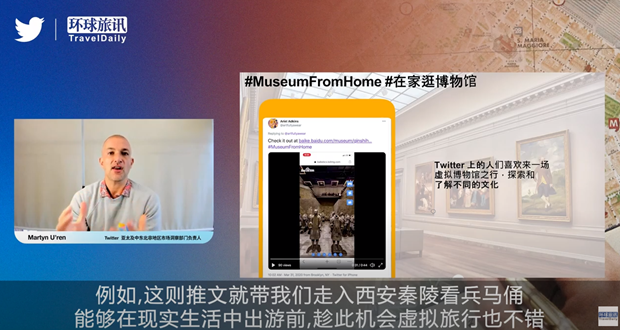 "We've also seen other opportunities as people cannot fulfill their physical travel destinations. We've seen people use things like hashtag #MuseumFromHome as a great opportunity. For example, looking at the Terracotta Warriors in Xi'an. It's a great opportunity to use virtual travel until we can get back and do things in the physical landscape," he said. The Terracotta Army is a collection of terracotta sculptures depicting the armies of Qin Shi Huang, the first Emperor of China.
Another trend that U'ren mentioned was that of "normalization", as seen via the gaming research of the company. "In this people are using technology to continue to live their external lives that they were before," he said. For example, a virtual Sentosa on Animal Crossing indulging by dressing up in wacky outfits or a yoga session. "We've also noticed one user had gone off and built her own Orlando Disney World just to get that feeling back of traveling and going to theme parks."
Lastly, he said people chose to focus on the concept of staycation, where people are trying to replicate their travel needs or experiences around their vicinity or nearby towns/cities.
Data from communication – signs of traveling "more"
As per the analysis by Twitter, travel conversations have actually increased year on year. "What we've actually seen is an increase of 14% on 2019 as we move into 2020," said U'ren.
The signs are encouraging today. During the phase when trips were being canceled or consumers were struggling for their refund, there were negative posts, admitted U'ren. "…they were talking about all the holiday plans, which they've had to postpone or they've had to cancel." But with the passage of time, things changed for the better. " And what we can actually be reassured with is this tends to be one of the most positive-led parts of the conversation that we see on Twitter. People love talking about travel, and it's something which they're continuing to do," stated U'ren.
One trend that the travel industry can take heart from is the fact that people "mention future travel plans". This is being indicated by posts or content like "I miss travel" or "I'm planning for the future."
Environment or eco-friendly trips in the future
Referring to another aspect as "super fascinating", U'ren said that there is a huge volume of people who state that they intend to travel more in the future.
"I think almost in a way, sometimes what we missed, it gives us a better fondness for this going forward. And that is definitely felt by people on Twitter. Also, what we've seen is a huge number of people 79% of people are saying that they're desperate to explore more nature. Again, I feel like we've probably got a better understanding of the role of the environment. And now people are really desiring this as they move forward," he said.
Among the list of potential significant purchases including things that people buy when they can or travel indicates that holiday is actually on top of that list. Referring to discussions around destinations, he said, "…we can see intent, we see one in four people who can actually foresee a holiday within the next 12 months. This is actually up 12 percentage points from May, a true sign that optimism is growing back as we move forward."
New spin to safety and security
Feeling safe and secured was always on the priority list of travelers. But post pandemic this would take a new spin, said U'ren. Be it for a recommendation from a government or any other facet that can assure that every aspect of a trip is safe would be of paramount significance. "Along with this, being open and honest about cancellation plans (is going to be another vital element)," he said.
Brands have to establish trust and convey that traveler's money is safe and they would be entitled to get it back in case they don't go ahead with their purchase or trip.