ChinaTravelNews, Jerry Tang – China's hotel industry is the first country in the world to report year-over-year revenue growth since the onset of COVID-19, according to data from a Bernstein analysis report.
Loretta Chan, Vice President of Hotel Solutions, Connectivity, DerbySoft, believes lessons from China's hotel recovery can be applied to different parts of the world due to some similarities.
In a webinar hosted by TravelDaily China last week, Ms. Chan shared observations about how China's market landscape had evolved amid the COVID-19 pandemic and how hotels and their partners could adapt to the new normal.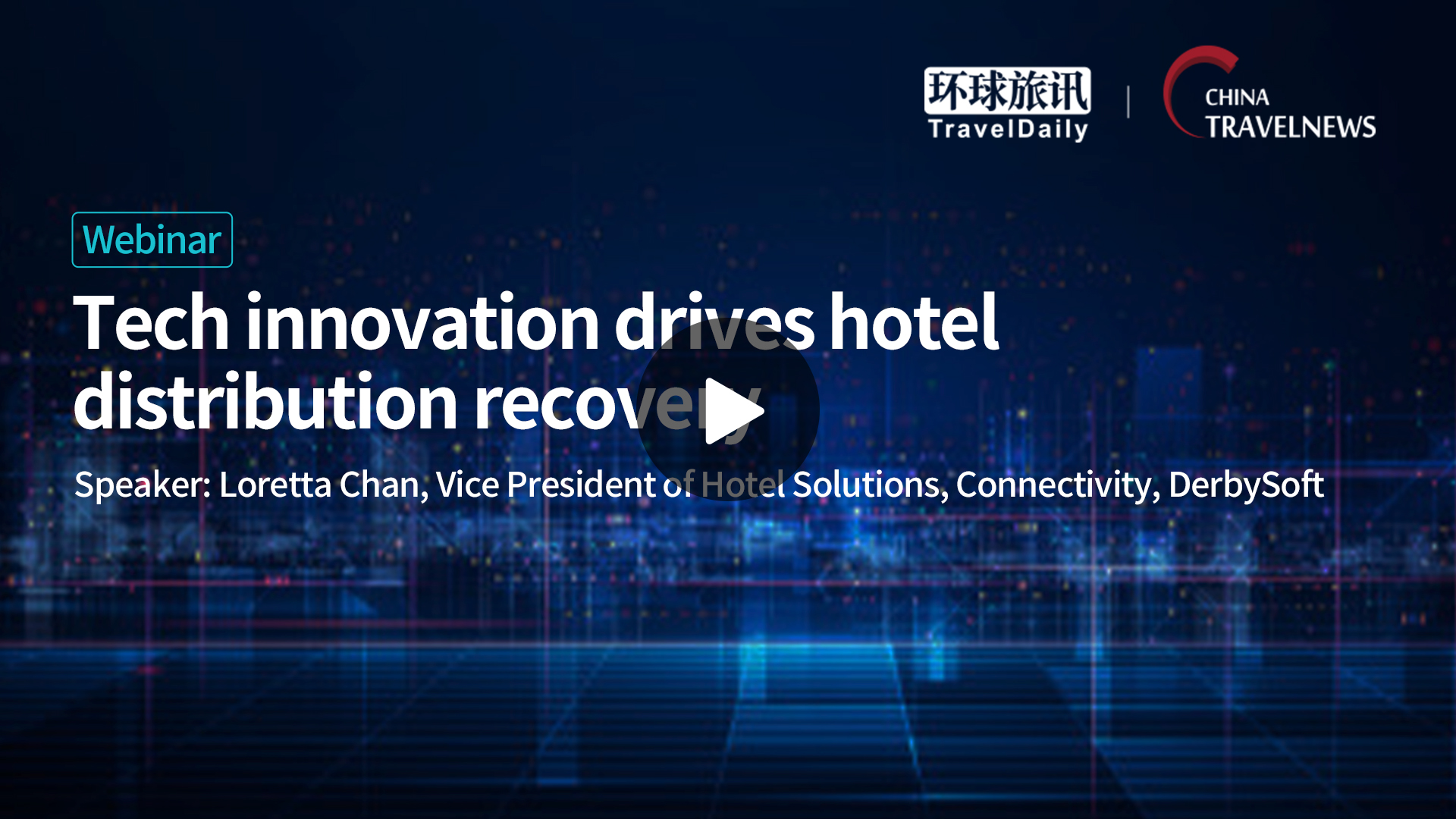 New channels and engagement models
Digital distribution is one of the fastest-growing trends in China. Within the digital landscape, social lifestyle and live streaming media like Xiaohongshu, Douyin (TikTok) and WeChat Mini Program are the most noteworthy.
According to the China Internet Network Information Centre, there are more than 10 million live-streaming e-commerce shows and about 309 million live-streaming e-commerce users, or one-third of the total internet users in the country.
The sales channels for hotels have expanded beyond traditional distributors like OTAs, metasearch engines and hotels' official websites, to interactive and live channels. So hotels should establish their overall digital marketing plans across a series of new touchpoints.
In addition to the new channels, major Chinese online companies are also seeking new ways of customer acquisition or engagement such as membership matching.
Trip.com Group's domestic brand Ctrip helped its hotel partners launch their online flagship stores, allowing the hotel brands to reach Ctrip's 300 million registered members. Similar membership matching programs have been rolled out by Alibaba's mobile payment unit Alipay and e-commerce giant JD.com.
The membership matching programs have become an uptrend since the pandemic. One major benefit for hotels is that they will be acquiring more customer data from digital platforms.
The digital uptrend is not just for hotel chains. Ms. Chan revealed that the Alipay membership and the JD.com membership do connect directly with two-way interface to hotels' PMS systems or to CRM systems, and the partnerships are also available for independent hotels.
Diversified offerings
Other than the changes in channels and engagement formats, hotels are also responding to the post-pandemic markets with different products.
To maximize customer demand and create more business, hotels are offering a total distribution of diversified offerings including non-room products like gym membership, food delivery and more.
The "survival mode" post-COVID-19 has pushed everyone to think more on how to drive new revenue streams, said Ms. Chan, who noted that Shangri-la was successful with food and beverage delivery business before their hotels re-opened in China.
Once that has become an additional revenue stream, the business line won't stop even after the pandemic, according to Ms. Chan.
The lesson is not just applicable to hoteliers, but also to online travel agencies.
Ms. Chan gave another example of the search result page of a Chinese OTA, which includes a so-called Hotel Shopping Mall, where dining offerings are recommended immediately after a hotel room order.
Ms. Chan also thought the pre-sale or advance purchase offerings in live streaming shows were very successful, because they provided good value for money. She said the redemption rate was around 50%.
"The live-streaming model will become a new norm as any distressed inventories can be put forward as a pre-sale offering," she commented.
Ms. Chan cited OTA data to show that midnight hotel sales have also become an interesting trend in China. "A major Chinese OTA recorded around 300,000 searches for midnight hotel rooms in a single day."
The midnight demand is mostly for the Millennials who would go out for entertainment and later check in for stays between 00:00-07:00 am.
Technologies are increasingly important
What will the hotel distribution sector face after COVID-19?
Hotels will be left with fewer staff when they re-open, yet more new standard operating procedures (SOPs) will follow, and they will face dynamic rate changes, according to Ms. Chan. There will be more diversified offerings and channels but the hotel system data will still be in different silos.
That's where new technologies play an increasingly important role.
Ms. Chan said innovative technologies would offer hotels more capability to cope with the new norms post-pandemic.
Hotels need to have a system that can support dynamic update and market pricing, and have the capability to work with local partners and emerging new channels.
Also, the process has to be automated. Ms. Chan mentioned an example of a hotel partner who had all the bookings post-pandemic from domestic market and all the bookings came in within the same day so the hotel couldn't handle them all.
With digital distribution channels emerging, content update has become more important than ever. In the old days, when a hotel distributed its inventories across different channels, it used excel worksheets, packing all the images into the file and transmitting the file to new partners.
"It doesn't work the same way anymore," said Ms. Chan.
Hotel distribution now needs real-time communication and dynamic hotel information sharing, especially after the pandemic, when customers would like to know more information about the places they are staying for safety concerns.
Technologies are now more important than before in supporting hotels to navigate through the recovery process while ensuring customer experience.
Advice
To sum up, Ms. Chan made a few recommendations for both hotels and their distribution partners readying themselves for post-pandemic recovery:
a). Hotels need to find a partner that is very focused on the core value of distribution and willing to share the risks with them. A partner should be able to help hotels to connect with emerging markets, with the capability to support the changes mentioned above.

b). Hotels need to control pricing across different channels. They should have control over metasearch bidding as well.

c). A partner should be technically scalable and stable to ensure response time on ARI (availability, rate and inventory) information.
Click here to view Webinar Playback
Click here to download Presentation Slides