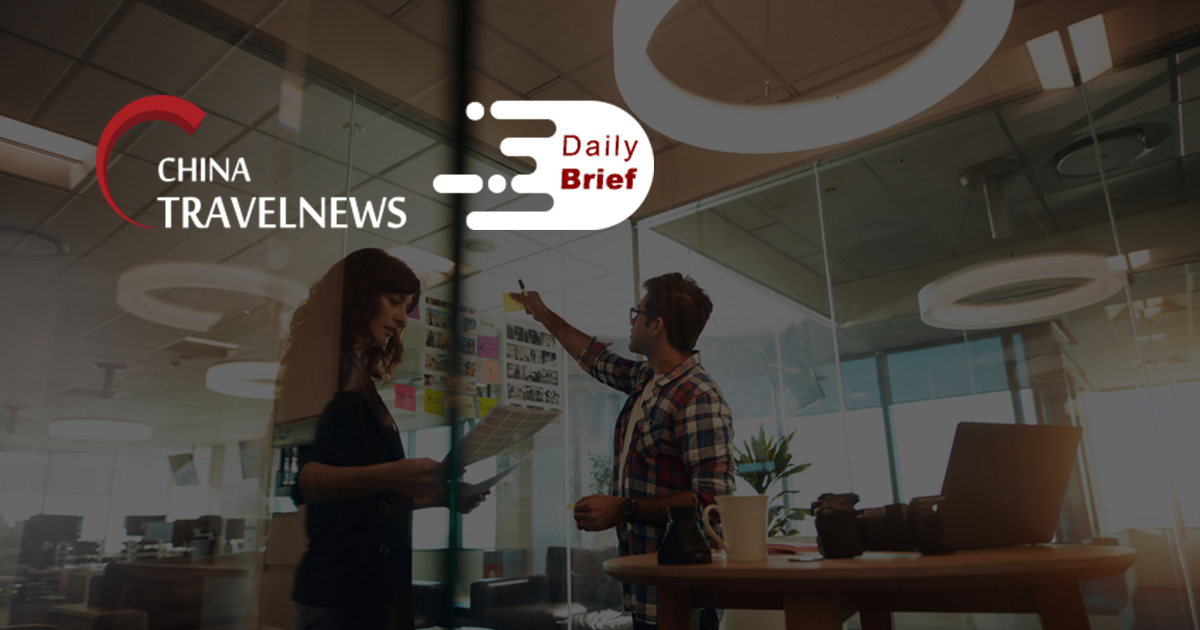 China relaxes restrictions on foreign-funded travel agencies' registration
>> China's Ministry of Commerce announced a pilot program on deepening the innovative development of trade in services, identifying inbound tourism as one of the areas to improve consumer environment and enhance international cooperation. According to the program, the regulators will further relax restrictions on the procedure of reviewing and approving registration of foreign-funded travel agencies in the country.
Airbnb adds 100,000+ new guests in China, second only to US
>> China saw the second largest number of new Airbnb users worldwide (more than 100,000) as of August 11, as cross-province travel has resumed in China and the recovery of domestic tourism is steadily quickening. The number of new Airbnb users in China was among the top three either as a source market and as a destination. The company's data show that 2/3 of Airbnb's new users chose destinations within 480 km from home. Most of the new users made the first reservation for domestic trips, and 75% of them made their booking within 30 days in advance.
Airbnb partners with Xiaomi on smart home renovation
>> Airbnb announced that it has teamed up with Chinese smartphone and home appliance maker Xiaomi in an Intelligent Homestay Renovation program. The program will have a home owner's property renovated with an intelligent residential system to offer guests greater stay experience.
ForwardKeys calls full recovery in Chinese domestic air travel
>> Travel analytics company ForwardKeys predicted that domestic air travel in China will reach a full recovery by the start of September. In the second week of August, domestic arrivals at Chinese airports reached 86% of 2019 levels and bookings (issued air tickets) hit 98%, with most being for travel in mid to late August.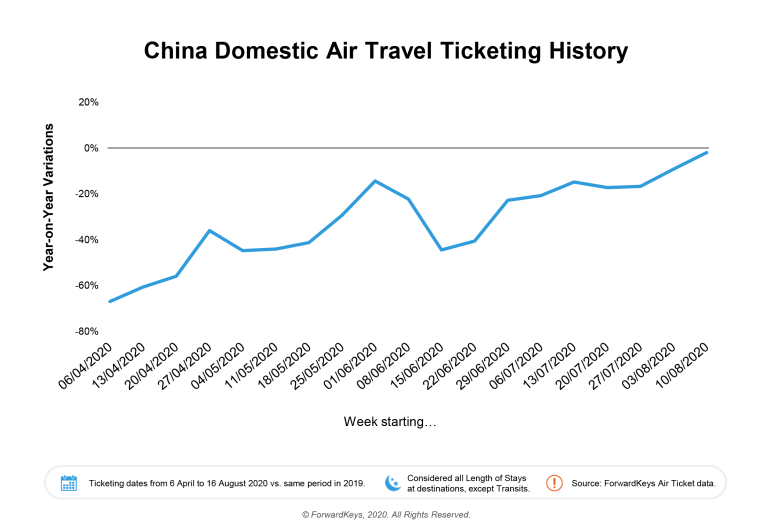 Business travel in China is still slow
>> Leisure travel in China is making a comeback ahead of business travel according to Dragon Trails Interactive CEO George Cao. Mr. Cao said business travel suffered a bigger impact than domestic leisure travel. Business travel could be replaced by digital events and meetings as a long-term trend, that would save costs for corporations, he noted.
Singapore to provide COVID-19 tests for China-bound travelers
>> Singapore will offer COVID-19 tests for travelers to China prior to departure, in an effort to align with new Chinese requirements aimed at stemming the growing number of imported virus cases. The new travel rules were instituted after China earlier registered dozens of passengers arriving from Singapore who tested positive for the coronavirus. In response, the world's second-largest economy had temporarily suspended a number of flights from Singapore as a precautionary measure.
High hopes pinned on Chinese tourists to help revive Egypt's tourism
>> Secretary-General of the UNWTO, Zurab Pololikashvili, said Chinese tourists can help boost Egypt's tourism sector which has slumped due to the COVID-19 pandemic. The problem with Chinese tourists now is that they have to be quarantined for two weeks once they are back home, he said, adding that this rule has yet to be changed. Egypt's Official statistics revealed that China has become the fourth largest exporter of tourists to Egypt since the beginning of 2017.