Huazhu Group reported a 38% drop in RevPAR for the second quarter this year, while its occupancy rate declined by 18 percentage points during the time, according to the company's preliminary operation results released today.
That marks an improvement as Huazhu recorded a 58% RevPAR decrease in the first quarter while occupancy rate dropped by 41 percentage points in Q1.
The company said occupancy rate was improving steadily from March through mid-June. With the containment of a mini outbreak of COVID-19 in Beijing, occupancy rate in China gradually improved once again, reaching more than 80% by mid-July.
For the mature hotels in operation for more than 18 months, same-hotel RevPAR dropped 40.8% in the second quarter and occupancy was 70%, 19.4 percentage points lower than the same quarter in previous year.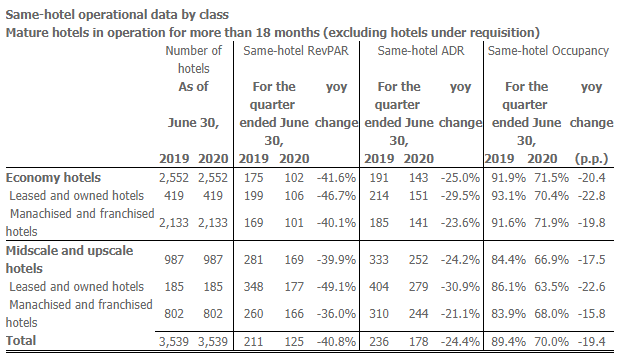 Huazhu registered a 52.8% decline in same-hotel RevPAR in the first quarter and same hotel occupancy was 35.5 percentage points lower year-on-year in Q1.
Deutsche Hospitality (DH) has been affected since the outbreak took place in Europe in early March. At the end of March 2020, 74% or 85 DH hotels were temporarily closed. With the containment of the pandemic, Germany and some European countries started to stop land border checks and remove travel restrictions, and the lodging industry in Europe started to recover. As of June 30, 2020, 21% or 24 DH hotels were temporarily closed.
In the second quarter of 2020, Huazhu expects net revenues to decline 32% to 34% year-over-year or 35% to 37% if excluding the addition of Deutsche Hospitality.