APAC accounts for over half of global domestic flights in July
>> Domestic market recovery is leading the aviation sector's global return, with China showing particular strength, according to airline data platform Cirium. Domestic scheduled flights for July 2020 within the US still lead the world's domestic aviation markets with 413,538 flights in total, compared to 378,434 flights within China. However, the US trails behind China when it comes to actual capacity on the flights being operated.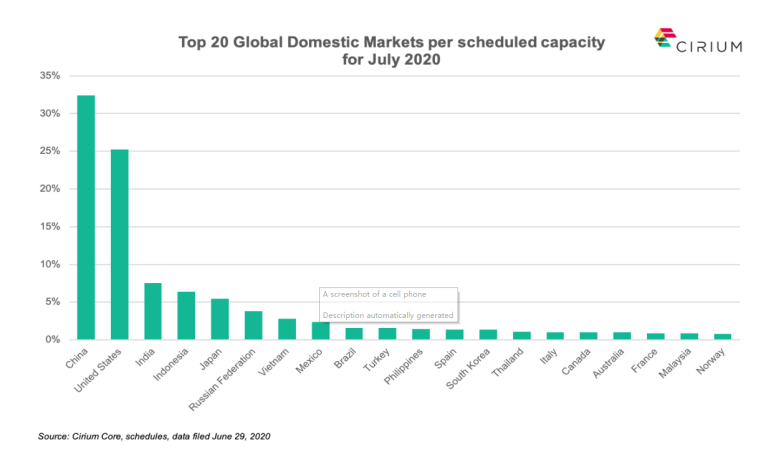 China's aviation space loses $4.9 billion in Q2
>> China's aviation industry has been recovering faster than most countries emerging from the COVID lockdowns. But it still lost RMB 34.25 billion (USD 4.89 billion) in the second quarter, only slightly narrower than in the first quarter. The industry, which includes airlines, airports and other aviation companies, lost RMB 38.1 billion, according to data released by the Civil Aviation Administration of China (CAAC).
Airbnb China reports more than 20% rise in active listings
>> Internal data from Airbnb China show that the company's USD 10 million special fund has helped 200,000 Airbnb hosts. As of the end of June, Airbnb reported a more than 20% rise year-on-year in the number of active listings in the country that the company has a strategic focus on.
Advertising and social media nous key to restarting Chinese tourism
>> Social media nous and major national advertising campaigns are key to restarting Australia's more than AUD 12.4 billion tourism trade with China. The Australia China Business Council has called on domestic industry players to develop boosted understanding of Chinese social media channels and payment platforms. In 2019, China accounted for some 1.4 million visitors to Australia.
Mega international tourist resort to be developed in southern China
>> A mega international tourist resort is to be built in Nama town in the Guangxi province of China. The site will integrate themed tourism, cultural performing arts, shopping, leisure facilities, as well as ecological preservation and protection. The tourism resort will sit on an area of around 3.36 sq. km. The site will form what's described as "One Belt, One Heart and Three Zones."
Hong Kong Airlines defers $24 million in interest payments on bond
>> Hong Kong Airlines notified bondholders that it will defer USD 24.33 million in semi-annual interest payments for a perceptual bond due on July 26. The deferral raises doubts about the carrier's ability to pay mounting debt over the longer term, as the coronavirus continues to ground most of the carrier's passenger fleet.
Foreign aircrew refusing to fly to Hong Kong over mandatory testing
>> Foreign pilots and cabin crew are refusing to fly to Hong Kong over fears of testing positive for COVID-19, as United Airlines and American Airlines became the first carriers to suspend flights to the city on Thursday over new mandatory-testing rules for aircrew. Airlines are concerned all crews could be quarantined for 14 days if one person tested positive, something flight staff find unacceptable. A coalition of European and North American carriers has proposed testing aircrew before they depart for Hong Kong, according to those familiar with the talks.