Airbnb appoints China COO that reports directly to co-founder
>> Airbnb China announced it has appointed Siew Kum Hong as chief operating officer. Mr. Siew will be fully responsible for the company's routine operation and management in China. He will bypass Airbnb China president Mr. Tao Peng and report directly to Nathan Blecharczyk, Airbnb's co-founder, chief strategy officer and chairman of Airbnb China. Prior to that, Mr. Siew served as Airbnb's interim head of China in 2017 before Mr. Peng's appointment in 2018.
Disney to cut a significant number of jobs in Hong Kong
>> Disney is to cut a significant number of jobs in Hong Kong over the coming months, staff have been told. It is understood that the plans, which have been hatching for some months, were explained formally to staff on Friday. Unconfirmed estimates of the number of job losses run from 100-150. Disney has not issued a statement.
IHG projects RevPAR to drop 75% for Q2
>> InterContinental Hotels Group said it has continued to reopen hotels through the second quarter, with only 10% of the global properties still closed. In Greater China, just 1% are closed. The hotel chain expects a comparable RevPAR decline of 75% for Q2 and a 52% drop for H1. The RevPAR decreased 82% in April, 76% in May and 70% in June. The small but steady improvements in RevPAR through the second quarter are mostly attributed to the Americas franchised estate and the Greater China region.
IHG brings the voco brand to China
>> IHG announced that it has inked an agreement with a partner in Wuhan to introduce the company's voco brand into the China market. This marks the eleventh brand that IHG has brought to China. The voco brand currently has 12 hotels in operation and 18 hotels in pipeline worldwide.
Occupancy rate of Macau's five-star hotels hits record low in May
>> The occupancy rate of Macau hotel rooms fell by 77.8 percentage points year-on-year to 12.3% in May, according to information published by the Statistics and Census Service. The decline was felt particularly hard by the city's five-star hotels, which saw occupancy plummet 85.2 percentage points to 5.5% year-on-year, also down 1.1 percentage points compared with April 2020.
China's travel recovery "slower than expected"
>> China's travel recovery is proving "slower than expected" with outbound leisure travel "not considered safe", business services giant McKinsey has reported. McKinsey partner and lead on travel for Asia Steve Paxton said China "is headed in the right direction", but he noted "good and bad news" from research on consumer confidence in China. More than half (53%) of Chinese consumers expected China's economy to recover in McKinsey's research in late May. But just 4% said they expected to travel more post-COVID than before, with 36% expecting to travel less.
Taiwan is first in world to resume cruise travel
>> Taiwan has become the first to resume ship travel with the cruise Explorer Dream docking at the port of Keelung on June 30 before beginning operations in July. The service is part of the Dream Cruises brand, which is owned by the Hong Kong-based Genting Cruise Lines. The ship is set to depart from Keelung and will stop at Kinmen, Matsu, and Penghu - the outlying islands of Taiwan - starting July 26.
China air passenger volume down 56.54% in January-May
>> In a report about the operation of China's civil aviation from January to May 2020 released recently by airline data platform Flight Master, the passenger throughput for January to May was said to have declined 56.54% year-on-year to 117 million. By May, the number of passengers increased by 54.54% month-on-month, and the passenger load factor of the five major Chinese carriers climbed to above 60%.
Trip.com expects Indonesian nature to lure tourists after pandemic
>> Indonesia will still be a lucrative tourist destination in the post-pandemic era with its nature-based attractions, seen to be the new destination preference going forward, global online travel agency Trip.com Group stated. The pandemic has severely battered tourism in Indonesia. Foreign tourist visits to Indonesia have plunged 87.44% year-on-year to 160,000 visitors in April, the lowest in recent history.
China's largest online travel agency to sell trips to South Korea
>> China's biggest online travel agency Trip.com Group, for the first time in three years, is going to sell package tours to South Korea in a one-off event. The Korea Tourism Organization (KTO) said it has partnered with Trip.com Group to promote tourism products in South Korea.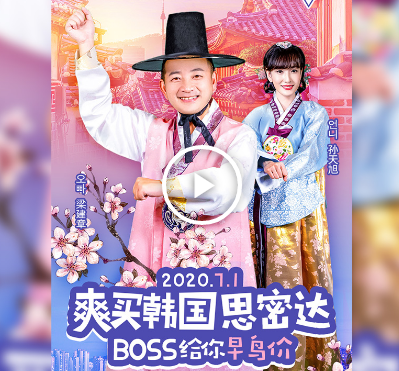 James Liang, chairman of the Trip.com Group, will personally appear on an upcoming live streaming show to promote the products. Purchases will be available on WeChat messengers and Trip.com Group's own platform.