The rate of technological disruption varies from industry to industry, with the tech sector outpacing others. However, the airline industry has not yet experienced a "technological boom," especially from a passenger-experience perspective. Yes, incredible progress has been achieved in aircraft design, increasing the comfort of travel. However, many airlines are yet to embrace innovation at its fullest. Over the last years, we have witnessed the creation of many startups, which could revolutionize the way we travel. We chose five we particularly liked.
Airfree
It is fair to say that the full capabilities of onboard duty-free sales have not been utilized yet. The size of the trolley has limited airlines' onboard offers. Additionally, carrying excessive inventory onboard is expensive and not efficient. This can soon change, thanks to inflight WiFi and Airfree.
This startup is working on an in-flight e/m-commerce experience that would allow travelers to benefit from duty-free sales and connect them with retailers and travel-related service providers worldwide. In short, you will soon be able to shop onboard, benefiting from reduced prices and the goods that will be delivered upon departure, transfer, or arrival.
Orok
We are used to watching our luggage being offloaded to a baggage cart, with many passengers cautiously looking out the windows, trying to spot theirs, and making sure that their bags arrived. Yet, these carts are far from efficient. It takes a long time to pack out all the luggage from the aircraft, and then most bags are moved all together, creating inefficiencies.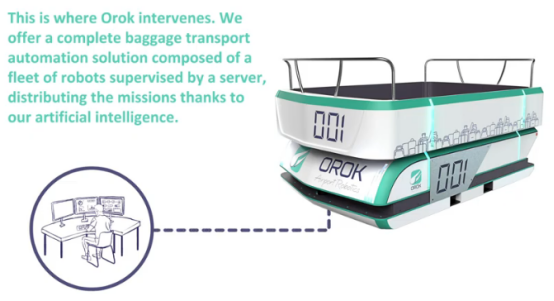 Orok is working on "Orokarts," autonomous luggage carts that are supposed to improve the way baggage is (un)loaded and transported by optimizing the path between airport and plane. These self-driving carts will reduce baggage transport expenses by up to 50%, as well as improve baggage traceability. All of this is supposed to help reduce the turnaround time, bringing financial benefits to the airlines.
Rubiq
If you ever had to deal with a delay or flight cancellation, you should be excited about Rubiq. This AI automated platform will simplify how airlines deal with flight disruptions. This platform monitors all flights in real-time, identifying disrupted passengers in real-time.
Further on, it automatically optimizes rebooking costs by finding and matching the optimal flight alternatives for each passenger. It then automatically provides the passenger with the update and the new schedule. Rubiq would incredibly simplify dealing with flight disruptions, increasing both passenger satisfaction and reducing costs for the airlines. It would once and for all eliminate the gigantic cues to "Transfer desks" once flights are canceled. The firm has been selected for IAG's startup accelerator program.
Unicoaero
A similar solution to Rubiq's is that of Unicoaero. However, this platform deals with baggage problems. It can be fully integrated with airline systems, allowing airline employees to have a clear insight into all baggage issues. It would simplify and speed up the process of luggage tracing and recovery, by automatically connecting airline passengers with delivery partners and delivering your luggage straight to your door. Customers would receive text notifications, updating them on every step of the way.
Lilium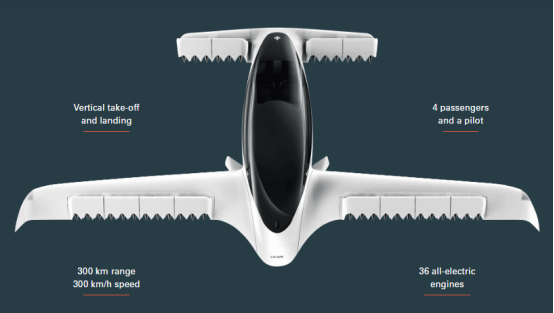 This startup is different from others, yet probably the most revolutionary, as it can make an important step for the industry. Lilium has recently finished their second round of funding, featuring $35 million from Baillie Gifford, Tesla's largest investor. This German startup is working on an all-electric sky taxi, with many revolutionary features.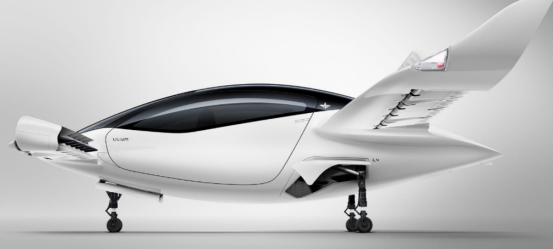 This five-seater performs vertical take-offs and landings, is powered by 36 all-electric jet engines mounted on its flaps, and can travel up to 300 kilometers per hour (on one charge) and has already completed its maiden flights. The first versions will include a pilot, who will steer the airplane.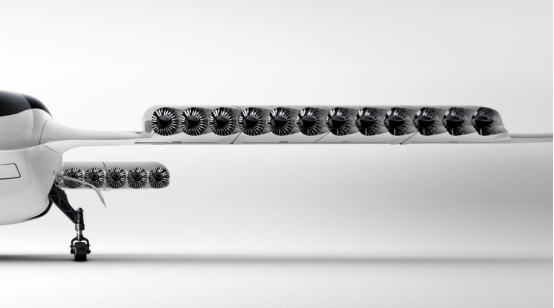 However, the goal is to make Lilium autonomous in the future. The company plans to manufacture and operate the Lilium Jet as part of a revolutionary on-demand air taxi service. This startup is one of the most known and advanced when it comes to all-electric aircraft. To date, it has attracted over $375 million in funding, employing more than 450 people. It provides hope that flying will one day become emission-free.
Read original article