Lilium, a startup based in Munich, Germany developing new kinds of all-electric vertical take-off and landing (VTOL) devices, announced it has closed USD 90 million in Series B funding, up from the USD 10 million Series A Lilium raised a year ago.
Backing the round are Tencent; LGT, the international private banking and asset management group; Atomico, Lilium's Series A backer founded by Skype co-founder Niklas Zennström; and Obvious Ventures, the early-stage VC fund co-founded by Twitter's Ev Williams.
"The founding mission of the company was to enable everyone to use this kind of transportation system in their everyday lives," Lilium co-founder and CEO Daniel Wiegand tells TechCrunch. "We want to be the leading company enabling every person to take a jet instead of using the car and be five times faster to their destination… There's going to be an app and from day one you'll be able to book this airplane as a service".
"When we had the Series A investment, we had an idea and a smart founding team and a promise, basically. In April we delivered that: we have shown a full-scale airplane flying, even in transition from hover flight, so we could really demonstrate this is the best technology in that field and it works. That was probably the key difference".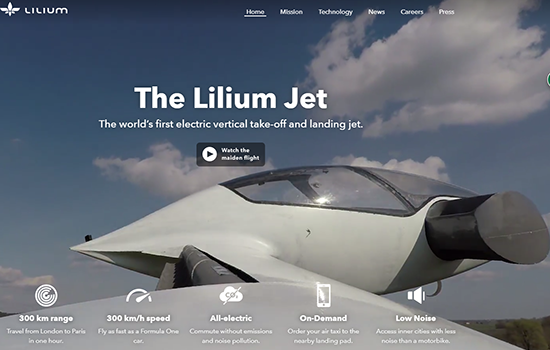 The Lilium jet's party trick is that multiple engine flaps tilt from a vertical into a horizontal position depending on the jet's flight mode. During take-off, the flaps are tilted vertical to enable the engines to lift the aircraft, but, once airborne, the flaps transition slowly into a horizontal position to enable the aircraft to accelerate until enough lift is provided by the wings alone, just like a conventional airplane.
"We have highly congested cities where we can do things to improve matters," Remo Gerber, Lilium's chief commercial officer, said. He and his colleagues envision a fleet of air taxis zipping across crowded cities, once the vehicles are created and approved by the various regulators, of course.
That has obvious appeal to Tencent: Its e-commerce empire could benefit from making such air transport a reality.
The cash infusion from Tencent and other investors will help accelerate that work, and allow Lilium to expand beyond its team of roughly 70 employees, Mr. Gerber said.
Read Original Article