TravelSky adds China Eastern as investor of its mobile app
>> China's airline IT service giant TravelSky said its previous agreement to sell a stake in its mobile app unit to a couple of investors including China Southern Airlines is now terminated and replaced by a new deal to add new investor China Eastern Airlines.
Airbnb China CEO sees domestic travel recovery
>> Airbnb has shed light on the Chinese market as the company's China CEO said the country has seen a steady recovery in domestic travel over the past few months. According to data compiled by Airbnb China, 72 out of the top 100 cities with the most nights booked monthly by travelers saw more than 100% month-on-month growth in May.
Commercial flights in China are making a comeback
>> Chinese air traffic was the first to fall, as the extent of the COVID-19 outbreak became clear. Now, it is showing the green shoots of recovery, with each of the biggest three airlines operating around 1,000 more flights per week by the end of May. Although air traffic remains at just around 40% of what it was in January, there's a clear upwards trend giving hope to the rest of the world for a swift and solid recovery.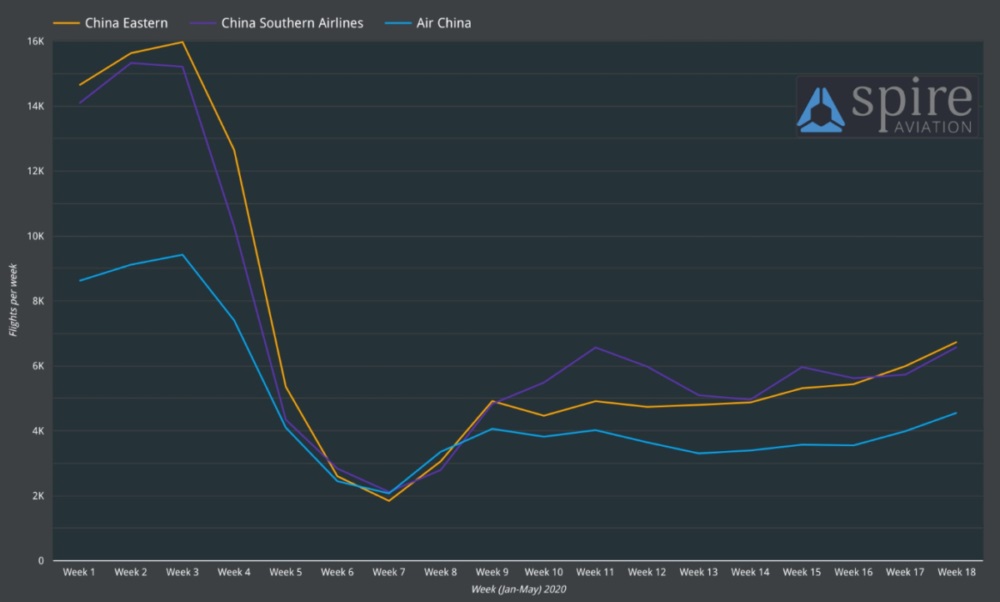 Bailout of Hong Kong's Cathay Pacific gets investors' scrutiny
>> After the Hong Kong government said it would spend about USD 5 billion to bail out Cathay Pacific, analysts remained skeptical on the company's long-term outlook, even though the rescue plan will address some short-term cash issues. Analysts noted that the airline's problems will linger because a swift rebound in global aviation travel, which has been dented by the coronavirus pandemic, is not on the horizon. And the airline had already been suffering from a decline in business and leisure travelers as a result of anti-government protests last year.
Cathay Pacific sees 99% drop in air passengers in April
>> Cathay Pacific saw a 99.6% drop in passenger traffic in April as coronavirus has limited travel worldwide. In a statement, the group of two main airlines reported that they carried a total of 13,729 passengers last month, a 99.6% drop year-on-year. In the first four months of 2020, the number of passengers carried dropped by 64.4% against a 49.9% decrease in capacity and a 59.1% decrease in revenue passenger kilometers, as compared to the same period of last year.
China's realized hotel stays progressively increased through end of April
>> As China's COVID-19 cases dipped below 2,500 in the third week of February, realized hotel stay volumes progressively increased through the end of April, according to data from OnyxComp. In comparison, the rest of East Asia's COVID-19 cases, which were reported slightly later, continued to hold steady through the end of April. Therefore, stay volumes have not yet begun to bounce back. Similar pattern can be expected around the globe.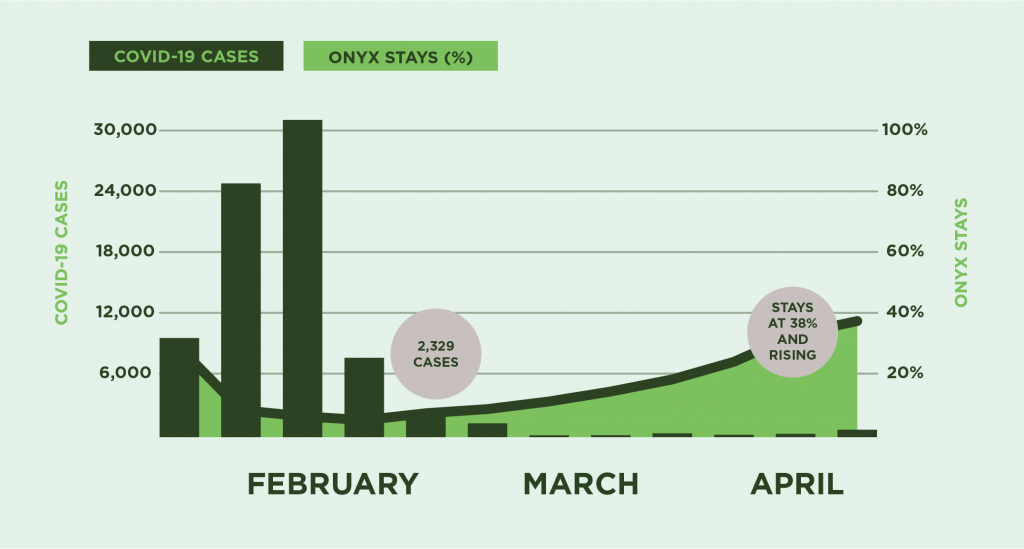 Onyx has seen parallels in the U.S. as well. States like Florida and Texas, who began actively reopening in early May, have seen consistent increases between 8-18% week over week in the first half of May. In states like Illinois, where some of the largest metropolitan areas are taking a more conservative approach to reopening, hotels have seen little to no increase in realized stays.
Klook partners with Redeam to grow in the North America
>> Channel management and voucher redemption solution provider Redeam has teamed up with travel activities booking site Klook to bring new marketing reach and guest bookings to North American operators.