China's dominant airline IT provider TravelSky Technology said it will sell a majority stake in its "insignificant" subsidiary TravelSky Mobile Tech to investors including China Southern Airlines. TravelSky Mobile Tech is the operator of Umetrip, a mobile app for flight management, check-in, flight information and other functions.
The transaction is understood as a step for the state-controlled giant to reform and better adjust to the market-based economy. TravelSky also wants to accelerate the monetization of the Umetrip platform.
According to the announcement, Southern Airlines Capital, Air Traffic Investment Company and TravelSky Capital will make a capital contribution of RMB 241 million (USD 33.7 million) to TravelSky Mobile Tech, while Yicheng Technology will inject RMB 33.7 million (USD 4.7 million) into TravelSky Mobile Tech.
After the deals, TravelSky Mobile Tech will be held as to 8.39% by Yicheng Technology, 12% by Southern Airlines Capital, 12% by Air Traffic Investment Company and 36% by TravelSky Capital, respectively, while TravelSky Technology will still own a 31.61% stake.
TravelSky Technology is jointly owned by major airline companies and related stakeholders in China including China Southern Airlines, China Eastern Airlines and others. As of the end of 2019, China Southern collectively controls a 14.19% stake in the company and China Eastern holds a 12.21% stake.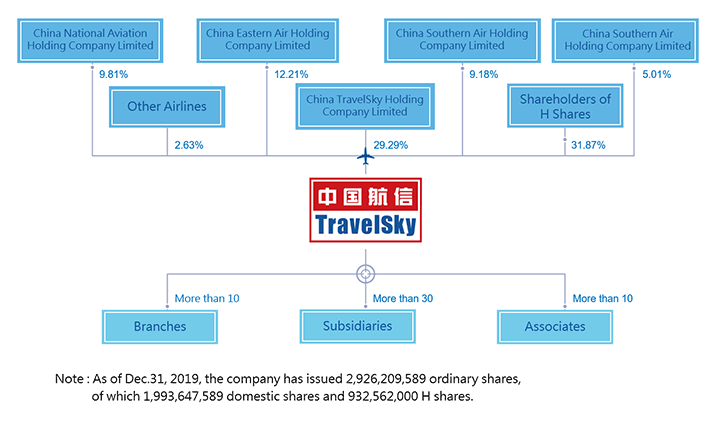 The company's revenue amounted to RMB 8,121.7 million in 2019, up by 8.7% over year 2018. Profit attributable to owners of the company grew 9.4% to RMB 2,542.9 million. Revenues from aviation information technology services amounted to RMB 4,517 million last year, up by 8.6% and accounting for 55.6% of the company's total revenue.
Yicheng Technology is an employees' shareholding platform of TravelSky Mobile Tech invested by the key and core employees of the company and established for the purpose of employees' incentive project of TravelSky Mobile Tech.