On May 28, Caissa Tongsheng Development Co., Ltd. ("Caissa Travel") issued a notice stating that it intended to give up the option to buy shares of Tuniu from JD.com for now, but reserved the right of preemption in the future.
The notice stated that Caissa Travel's holding company Caissa Group had previously reached an agreement with JD.com for transferring the latter's stake in Tuniu to the Caissa Group.
The deal would have given the Caissa Group more than 78 million Class A ordinary shares of Tuniu in total, or 21.1% shares and 14.8% of the voting rights of the online leisure travel company, with the right to appoint a director to Tuniu's board, subject to the final transaction plan.
It was also revealed that the Caissa Group had not yet signed the final transfer agreement with JD.com nor completed the investment.
Caissa Travel stated that it decided not to close the deal because Tuniu had been losing money, which would have a negative impact on the earnings of publicly listed Caissa Travel.
As well, the acquisition would involve a significant investment, and the risk of taking on a financial burden without getting returns in the long term was not conducive to protecting the interests of investors, especially small and medium shareholders, Caissa Travel explained.
It's a "hard decision" for JD.com
JD.com bought Tuniu shares twice in the past six years – including USD50 million in December 2014, and USD350 million for Tuniu's newly issued Class A ordinary in May 2015. The latter deal involved USD250 million in cash and USD100 million worth of online traffic and operational support. That transaction boosted JD.com's holding to approximately 27.5% of Tuniu's outstanding shares, making it Tuniu's largest shareholder at the time.
Following the two capital injections, Tuniu had been granted an exclusive five-year commission-free right to operate the website and mobile terminal of JD.com's Travel-Holiday Channel, selling packaged tourism products, tickets of scenic spots, cruise ships and trains, and providing services such as visa application and car rental. At the same time, Tuniu became a priority partner in JD.com's air ticketing and hotel business, with JD.com providing a wide range of operational support.
Since its listing on NASDAQ in May 2014, Tuniu has been struggling to make profits for six consecutive years, chalking up a total loss of RMB5.98 billion (USD837.7 million).
As the global tourism industry was being hit hard by COVID-19, Tuniu estimated that its first-quarter net revenue in 2020 plummeted 65% to 75% year on year, to around RMB 114.2 million to 159.9 million (USD16 million to 22.4 million).
As of December 31, 2019, JD.com still held about 21.2% of Tuniu's outstanding shares. Tuniu registered a market capitalization of only USD143 million after the market closed on May 28. That means JD.com's stake in Tuniu is worth about USD30.17 million, representing nearly 90% loss of JD.com's investments in Tuniu. Based on this current market price, selling its stake in Tuniu would have been a difficult decision for JD.com.
Reorganizing Tuniu will not be an easy job for Caissa Travel
Meanwhile, Caissa Travel announced strategic cooperation with Tuniu on May 22. The two companies said in a joint statement that they would take advantage of their own strengths in Internet platform interface, streaming resources, local marketing, inbound and outbound tourism resources, member resources, to mutually strengthen their online products and marketing, carry out offline promotion, and improve the conversion rate.
But in reality, the two companies will face two obstacles for their consolidation.
On one hand, Caissa Travel has suspended a wide scope of businesses due to the pandemic. Its revenue in the first quarter decreased 41.63% YoY. Net loss attributed to the company's shareholders was estimated to be around RMB 75 million to 125 million (USD 10.5 million to 17.5 million) in the first half of 2020.
This would lead Caissa Travel to make cost-cutting a priority to stabilize its cash flow, which explains why Caissa Travel walked away from the business opportunity to buy the Tuniu shares from JD.com to avoid assuming financial pressure and risks.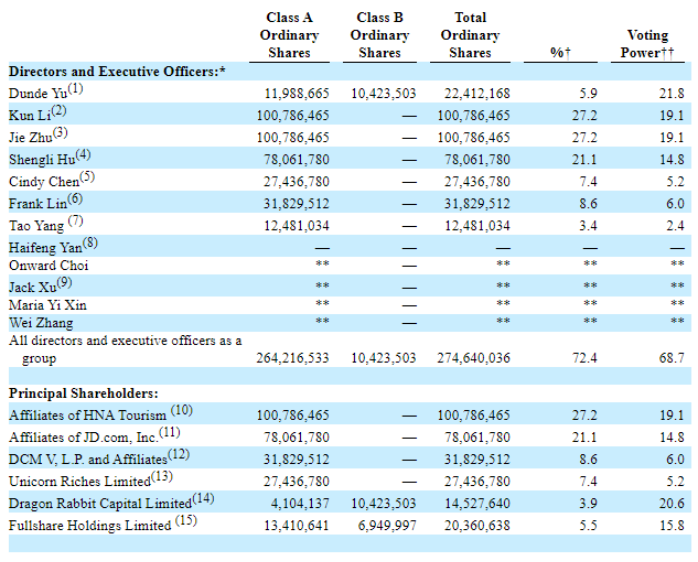 On the other hand, Caissa Travel's model integrating wholesale and retail inherently conflicts with Tuniu's OTA model. Besides, Tuniu's CEO Dunde Yu still owns 21.8% voting rights of the company, the highest among all the shareholders. Unless Mr. Yu relegates his control of Tuniu, the two companies' consolidation will prove a long and arduous journey.