OTA giant revenue drops 42% in Q1, faces tougher challenges ahead
>> Trip.com Group said its first-quarter results have been significantly and negatively impacted by the COVID-19 pandemic. Net revenue plummeted 42% to RMB 4.7 billion (USD 669 million) during the quarter. Net loss for the quarter was RMB 5,338 million (USD 752 million).
>> The Chinese online travel powerhouse posted a 62% drop in accommodation revenue and a 29% decrease in transportation revenue in the first quarter.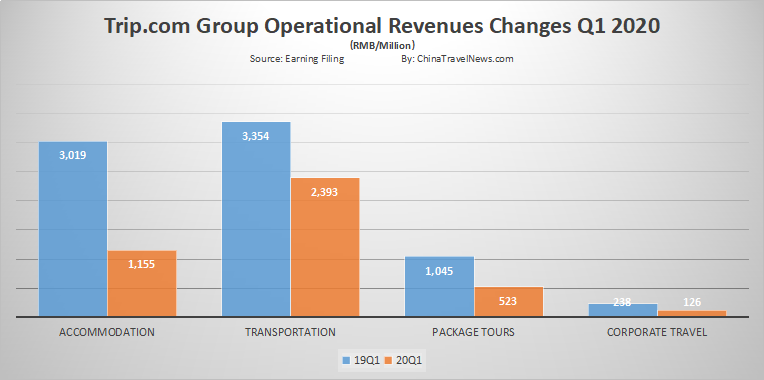 But the worse is yet to come in the following quarter as the company projected that net revenue will decline by 67%-77%. For the second quarter, accommodation revenue will decrease 67% to 77% year-on-year, transportation revenue is expected to plummet 70% to 80%, and packaged tour business will decrease 80% to 90%, according to CFO Cindy Wang during the conference call.
>> Trip.com Group has also closed the senior syndication phase of a USD 1 billion multi-tranche loan with Standard Chartered as the original mandated lead arranger and bookrunner. It brought in seven participants during the senior stage, including Bank of Communications, China Construction Bank (Asia), China Zheshang Bank, DBS, Industrial and Commercial Bank of China Macau branch, Mizuho and Shanghai Rural Commercial Bank.
Tuniu appoints financial controller
>> Another Chinese online travel company Tuniu Corporation announced that it has promoted Mr. Anqiang Chen to the Financial Controller of the company, effective as of May 31, 2020. Ms. Maria Yi Xin, who tendered her resignation as the company's CFO effective as of May 31, 2020, will continue to serve as a consultant to the Company to assist with the transition.
Travel disruptions, cost cutting key issues for US business in China
>> Global travel disruptions are the top concern for American businesses in China, of which many are cutting compensation and bonuses amid the fallout of the COVID-19 epidemic, according to a report from a business group. Ninety percent of around 100 respondents said they were affected by such disruptions, up from 77% last month, according to a monthly survey on the impact of COVID-19 by the American Chamber of Commerce in China, released Friday.
China's domestic air travel surpasses 50% of pre-COVID-19
>> China domestic air travel has reached more than 50% of what it was at the same time last year, according to the data of issued air tickets collected and analyzed by travel analytics company ForwardKeys.
Analysis of flight ticketing data reveals a significant uptick in last-minute domestic flight bookings in China between May 11 and 21. During that period, the lead time between ticketing and travel shortened dramatically; 72% of flight tickets were issued within 4 days of the travel date, compared with 51% at the equivalent point in 2019.
>> Another study by EuroControl shows similar and even more optimitic result. The Chinese domestic air traffic is continuing to recover strongly and is now at nearly 70% of 2019 figures, according to a tweet by Mr. Eamonn Brennan.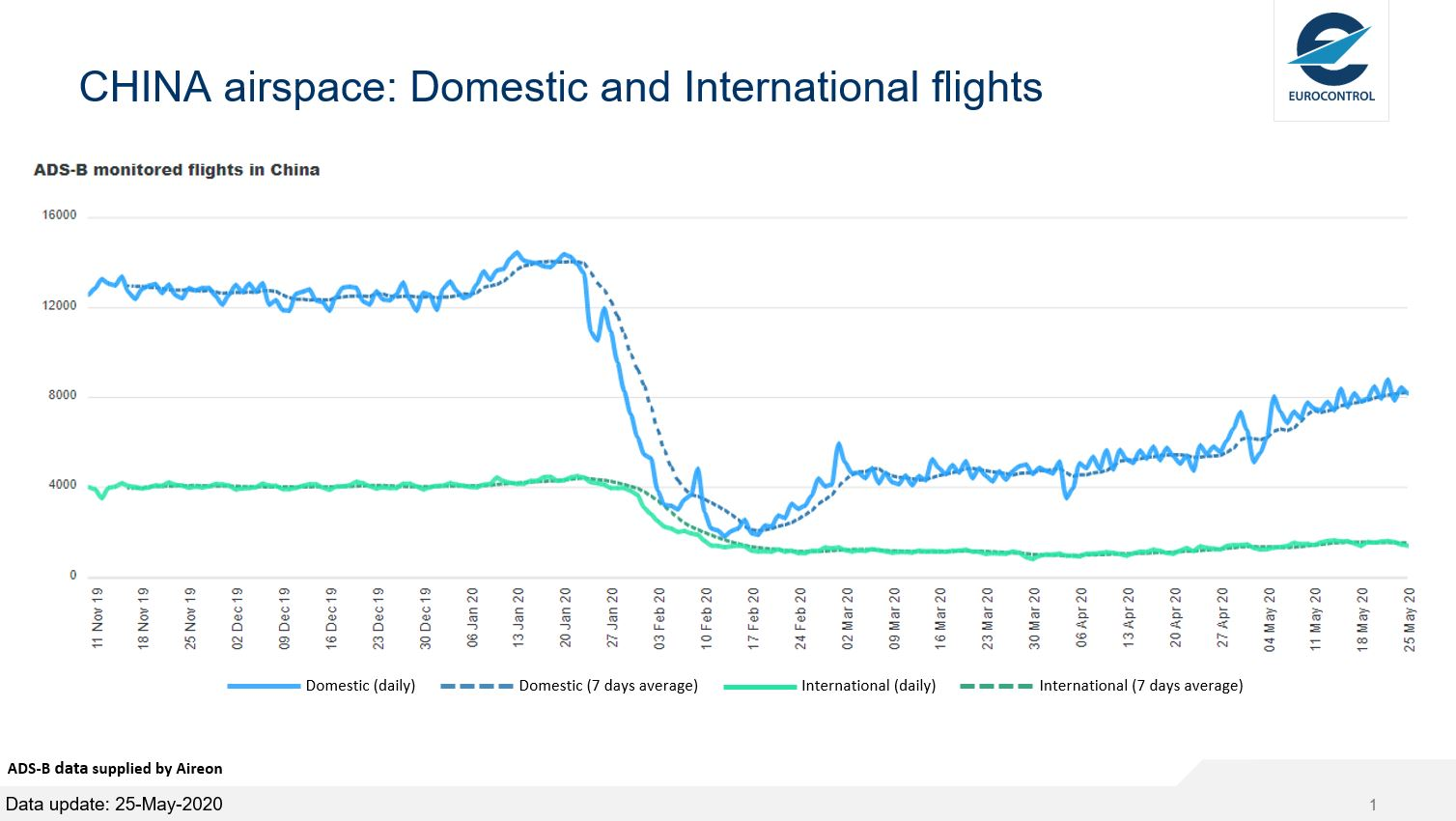 Chinese airlines on recovery track
>> China's airline industry is on the road to recovery, as data revealed that domestic demand is expected to rebound for the month of May and in-line with gradual work resumption. China Eastern Airlines told the Global Times that average daily flights have increased by nearly 40 percent compared with April. By the end of Q2 2020, domestic flight recovery is expected to reach 70 percent, exceeding 2,000 daily flights.