Huazhu Group announced the 2019 financial information of its German subsidiary Deutsche Hospitality. The Chinese hotelier completed the acquisition of all shares of Steigenberger Hotels Aktiengesellschaft ("Deutsche Hospitality") on January 2, 2020.

Deutsche Hospitality reported annual revenue of EUR 484 million (RMB 3,783 million) last year, making up 25.2% of Huazhu's consolidated revenues for the year.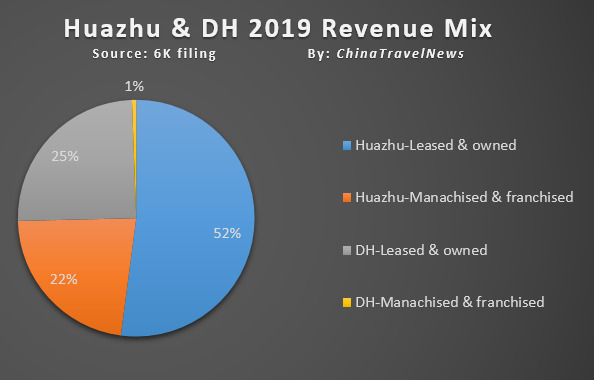 Excluding the Others Revenues, revenues from Deutsche Hospitality's Leased and owned hotels accounted for 25% of Huazhu Group's consolidated revenues in 2019, while revenues from the German hotelier's Manachised and franchised hotels took up only 1% of the consolidated revenues for the year.
As of December 31, 2019, Deutsche Hospitality held five separate hotel brands, operating 108 hotels located in 20 countries on 3 continents.
• Steigenberger Hotels and Resorts: 58 luxury hotels
• InterCityHotel: 41 mid-range Business Hotels
• "Jaz in the city": 2 music-specilized hotels
• Maxx by Steigenberger: 3 upscale hotels.
• Zleep Hotels: hotel brand in Scandinavia.
These brands may be broken down into three categories on the basis of the contracts:
• Lease businesses (58 hotels)
• Management businesses (24 hotels)
• Franchise businesses (26 hotels)
Deutsche Hospitality suffers the economic consequences throughout the hotel industries from the drastic measures taken to contain the COVID-19 pandemic. At the end of first quarter, almost all the hotels of the group were forced to be closed. The group is facing declines in revenues and earnings in the first quarter in 2020.
The group applied a loan contract with KfW in the amount of € 35 million with a duration of 60 months and entered into a loan contract with Commerzbank in the amount of € 12 million.
Huazhu Group scheduled to issue a shareholder loan of € 20 million with a term of 12 months. The first tranche in amount of € 5 million was via wire transferred. The Chinese parent company issued a Letter of Guarantee to ensure the liquidity of Deutsche Hospitality to meet all its obligations as fall for the next twelve months.
Cash and cash equivalents for Deutsche Hospitality in total of € 44,034,000 include mainly € 41,178,000 cash in bank and € 2,845,000 cash at hand at year end.
Read original report