Fosun Tourism's Q1 sales drop 15.9%
>> Leisure travel and resort company Fosun Tourism said its total business volume in tourism operations declined 15.9% to RMB 4,089 million (USD 578 million) in the first quarter this year. Sales volume of resort operation in the first two months of 2020 grew 8% year-on-year despite the COVID-19 outbreak since late January.
Shiji grows operating revenue by 18.24% last year
>> Shiji Information announced that the company registered an 18.24% rise in operating revenue to RMB 3,663 million last year. Profit dropped 18.70% to RMB 494 million. In 2019, Shiji bought the 100% stake in Touchpeak Software for RMB 36.9 million, acquired the 100% shares of ICE PORTAL for RMB 93.8 million, and took full control of Quick.Check for RMB 233 million.
ForwardKeys expects significant uplift in China's air travel
>> China's domestic air travel bottomed in mid-February, from which point it has been in muted recovery mode, according to data from ForwardKeys. In the week of February 23-29, it jumped by 62.9% over the prior week. It has since grown from a still very low base, by 19.5%, between the first week of March and the third week of April.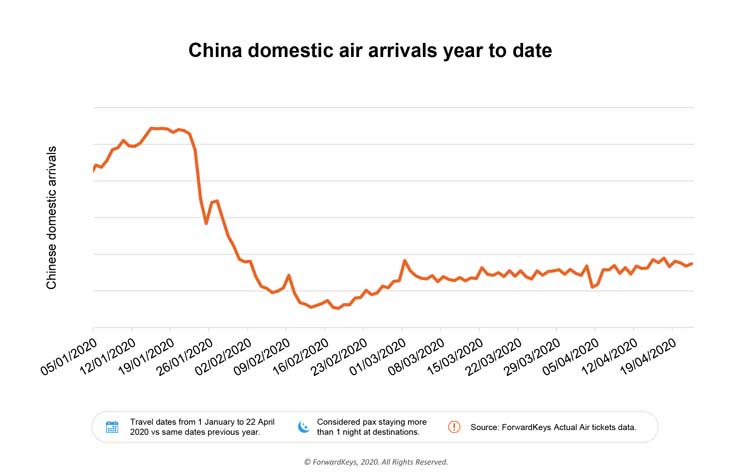 As Beijing recently lifted its 14-day quarantine requirement on travel between the capital and low-risk areas in China, ForwardKeys now expects a significant uplift.
Travel bookings surge up to 1,500% after Beijing downgrades alert
>> Within an hour of Beijing downgrading its emergency response level, relaxing quarantine requirements for some arrivals to the Chinese capital city, travel bookings on some sites surged up to 15 times. Searches for travel packages and hotel bookings on the platform also increased three-fold, according to a Qunar report. On Alibaba Group's Fliggy travel platform, bookings for flight and trains heading in and out of Beijing increased 500% and 300% respectively one hour after the announcement, compared to the same time a day ago.
Shanghai tourist attractions require reservations in holiday
>> Tours to all of Shanghai's top tourist attractions should be reserved during the upcoming five-day Labor Day holiday in a bid to avoid people crowding to contain the spread of COVID-19, according to local authorities. As of Tuesday, 84 major tourist attractions in the cityhave reopened and 5,200 hotels have resumed operation. Shanghai ranks both the largest tourist destination as well as the largest tourist source for the upcoming holiday, according to booking data from Trip.com Group.
Beijing-Shanghai high speed railway's profit dives 86% in Q1
>> Beijing-Shanghai High-Speed Railway, the operator of bullet train services between China's capital and its biggest city, reported an 86% plunge in first-quarter profit as the coronavirus lockdown kept passengers at bay. The company said passenger traffic is picking up as the pandemic eases.
Budget carrier opens new short-haul routes
>> Spring Airlines will open 47 domestic routes from Sunday to meet the increasing travel demand as the COVID-19 pandemic wanes in China. The Shanghai-based budget carrier announced during a live-streamed press conference that some of the routes will cover Yangtze River Delta cities.