ChinaTravelNews, Jessie Li - Hotels in Mainland China are seeing signs of a budding recovery after a steep decline when the epidemic hit in past months.
Chinese hotel chain Huazhu claimed to have restored its occupancy to 62% as of March 26. Atour, a Shanghai-based lifestyle hotel company, reported occupancy above 70% on April 14.
The hotel occupancy trends for January 1 to April 11 of 2019 and 2020 mapped by STR show that hotel occupancy was at its lowest just ahead of the Spring Festival in 2019, but rebounded sharply as holiday leisure traffic increased and business travel picked up post-holiday.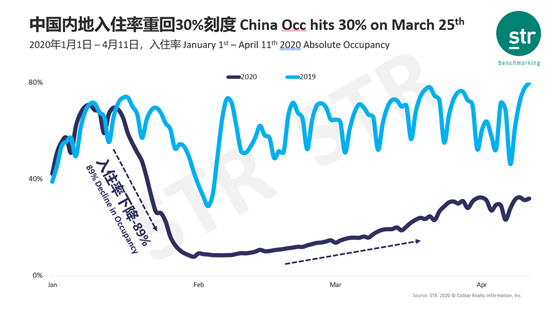 For the same period this year, hotel occupancy rose steadily and peaked in mid-January before plunging to the lowest point at 7% on February 1. Demand has been picking up slowly but steadily since February when business resumed in major provinces and cities, albeit still far lower than the 2019 occupancy levels. Occupancy rebounded to above 30% since March 25 and fluctuated between 20% to 40% from April 1 to 11.
Globally, as the world is grappling with the pandemic, a similar trajectory is seen in markets outside of China.
Hotels in Asia excluding China reported a significant decline in occupancy since mid-March. The hotel occupancy rates in Italy, Russia and Europe hit rock bottom on March 14, April 4 and March 28, respectively, and were still hovering under 10% as of April 11. The hotel occupancy rate in the United States went downward from March 7.
Global hotel distribution technology provider DerbySoft revealed that Asia Pacific had the highest share of hotel bookings from regional visitors in the first 12 days of April, though only up to 34.9% of last year's level. Hotels bookings for North America by travelers from South America, the Middle East, Asia-Pacific, Europe and North America were just about 18% of last year's, and other regions generally received less than 10% of the hotel bookings as before.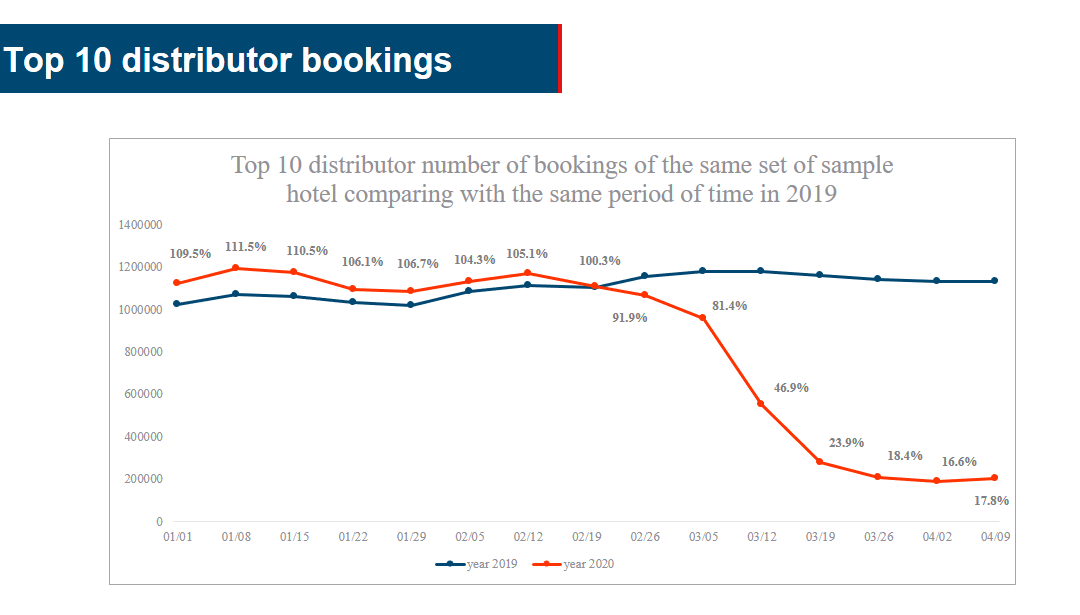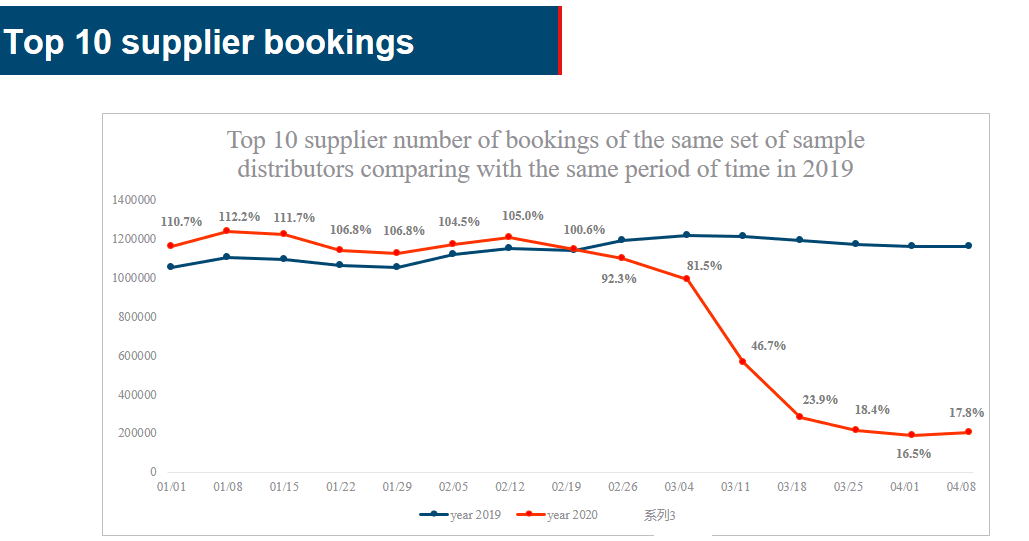 The trend of hotel reservations by distributors is similar to that of suppliers, as indicated in the two sets of graphs. Before February 19, the hotel booking level was higher than in the same period of 2019. It peaked at around 1.2 million on January 8 for both groups, at 10% above last year's level.
However, booking volumes started to decline since February 19. The biggest drop was recorded between March 4-11 by supplier data, falling sharply from 81.5% to 46.7% of the previous year's level in just a week. On March 11, the World Health Organization declared the coronavirus outbreak a pandemic.
The daily booking levels of global hotel distributors and suppliers basically stabilized at around 200,000 after March 25, less than 20% of the last year's volumes. Bookings by the top ten global hotel suppliers and distributors had both fallen by 82.8% on April 8 and April 9.
STR projects that China hotels will recover to only 90% of 2019's level of occupancy, ADR and RevPAR by 2021. By 2022, RevPAR will return to the level of 2019, while occupancy will surpass the 2019 baseline and ADR will still be below par. (Translated by Elena)