Airlines globally stand to lose $39 billion in the second quarter, which ends June 30 and could burn through $61 billion in cash reserves, according to an analysis by the International Air Transport Association.
IATA is basing the number on a forecast of three months of severe travel restrictions, which would mean a 71 percent drop in demand in the second quarter. For the full year, demand will be down 38 percent and revenues down $252 billion, according to IATA's projections.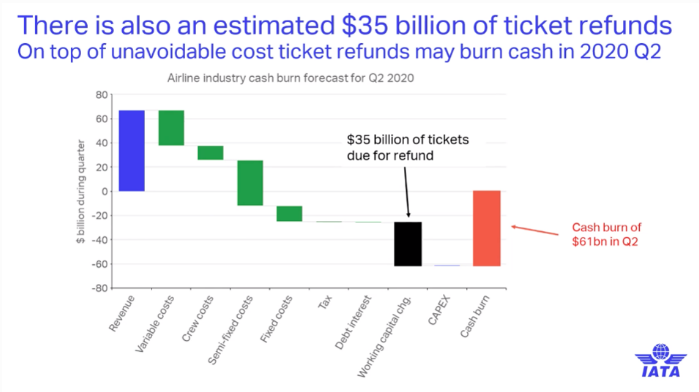 Global airlines are liable for $35 billion in refunds for tickets sold but not flown, IATA said Tuesday.
"Everybody is trying to preserve cash," said Alexandre de Juniac, Director General and CEO of IATA, referring not only to airlines but to the broader chain of suppliers, travel agents and customers. "And everyone is running out of cash."
IATA's Chief Economist, Brian Pearce, has forecast a 70% drop in passenger traffic during the second quarter of this year. He expects that the industry recovery will be delayed by the effects of a three-month lockdown and an economic recession. Allowing for fiscal stimulus packages issued by multiple governments around the world, recovery is unlikely before next year.
Read Original Article