Huazhu leverages equity investments to grow profit
>> Chinese hotel giant Huazhu posted an 11.4% rise in net revenue last year, but the company's same-hotel data on RevPAR, ADR and Occupancy all saw declines, dragged down by the company's soft brand performance.
Unrealized losses from fair value changes of equity securities for 2018 were RMB 914 million while gains for 2019 were RMB 316 million. This means the company's income from equity investments or holdings last year was around RMB 1.2 billion, which represents a significant part of the company's annual profit figure.
Hong Kong Disney extends ticket expiry date
>> Hong Kong Disneyland said it's extending the expiry date of some unused park tickets to August 31, 2020. The theme park has been closed since January 26 due to impact form COVID-19.
Airport hotel operator Regal staring at abyss
>> Regal Hotels International, which owns the airport hotel in Hong Kong, said that the double whammy of coronavirus outbreak and social unrest could prove disastrous for the company, as one in five rooms at its properties remains unoccupied.
ANA enables direct booking with Skyscanner
>> Japan's largest airline All Nippon Airways worked with Skyscanner's Direct Booking platform to allow customers to search for, book and pay for ANA flights on Skyscanner from March 25, 2020.
Chinese airline partners support KLM
>> Three Chinese airline partners - China Eastern Airlines, China Southern Airlines and Xiamen Airlines - work with KLM to support the Netherlands by donating many tens of thousands of face masks and gloves.
Hotel market with hightest occupancy is now Wuhan
>> Surprisingly, the hotel market with the highest occupancy in the world two weeks ago was Florida Keys, and last week it switched to Wuhan - which is busy thanks to housing medical workers and quarantine patients, according to an STR report.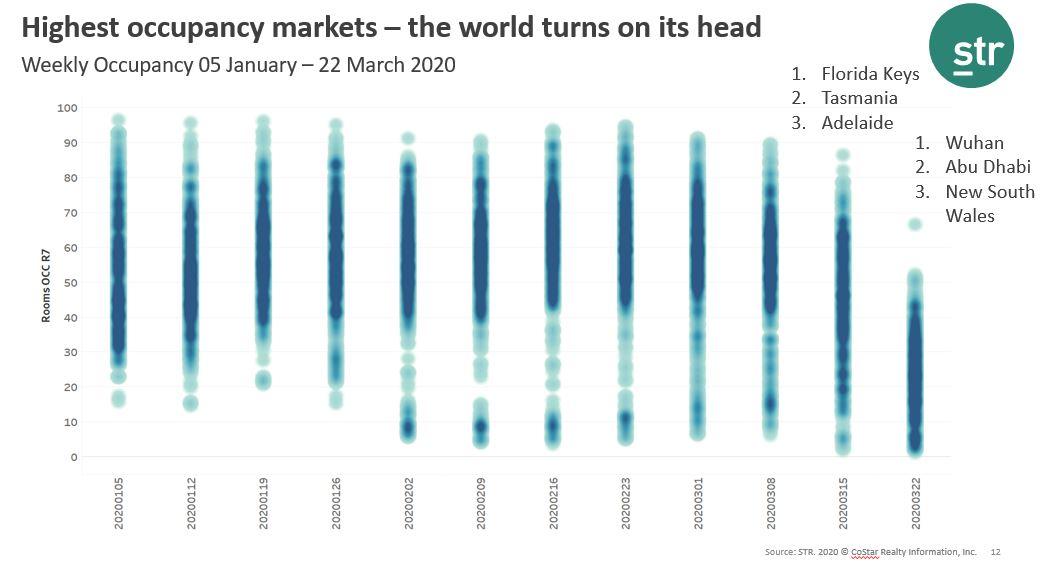 Travelzoo furloughs 70% of global workforce
>> Deals business Travelzoo has furloughed 70%-75% of its global workforce, according to a Skift report. At the end of 2019. Travelzoo had 418 employees in North America, Europe and Asia Pacific although the company is now exiting Asia Pacific. Travelzoo claimed some 30 million subscribers to its newsletters touting insider deals and experiences at the end of last year.