Fliggy launches live channel for homestay business
>> China's homestay industry has lost around 90% of bookings since the outbreak of the coronavirus, according to data from local home-share platform Xiaozhu. To prepare the homestay business for revival after the outbreak, Alibaba's travel business Fliggy has launched a live streaming channel for members of the newly-founded homestay alliance.
There have been hundreds of live-broadcasts each day, covering more than 30 countries and regions around the world since the live streaming platform was launched, with up to 7.5 million online viewers tuned in for a single show, said Xu Xiang, head of Fliggy's live streaming business.
Japan to quarantine visitors from China, Korea
>> Japan will quarantine people arriving from South Korea and China for two weeks at designated facilities to prevent the spread of the coronavirus, Prime Minister Shinzo Abe said Thursday. The measure will take effect at 12:00 am on March 9 and last through March 31.
The government is calling for tourists from China, where the virus emerged and South Korea, which has been hard hit by the outbreak, to put off travel to Japan and will cancel visas for travelers from the two countries.
Russian tourism takes $400M hit from coronavirus
>> Russia's tourism sector has already taken a 27 billion rouble (USD 406 million) hit from the impact of coronavirus, the head of the Russian Association of Tour Operators said.
The coronavirus outbreak has caused havoc across the global travel industry as companies restrict employee trips, airlines axe flights, major events are canceled and holidaymakers choose to stay at home or delay their travel.
Cruise ship held off California coast for virus test
>> A cruise ship with 3,500 people aboard was ordered by local authority to stay back from the California coast, after a traveler from its previous voyage died of the disease and at least three others became infected. Princess Cruise Lines said fewer than 100 people aboard had been identified for testing.
Global airlines to lose $113B due to virus impact
>> The International Air Transport Association updated its analysis as it now sees 2020 global revenue losses for the passenger business of USD 63-113 billion.
IATA's previous analysis put lost revenues at USD 29.3 billion based on a scenario that would see the impact of COVID-19 largely confined to markets associated with China. Since that time, the virus has spread to over 80 countries and forward bookings have been severely impacted on routes beyond China.
Flight bookings to Europe dive
>> The outbreak of the coronavirus in Italy in the final week of February has triggered a wave of cancellations to the country. Bookings to Italy in the week fell by 138.7% and the number of cancellations exceeded the number of new bookings, according to data from ForwardKeys.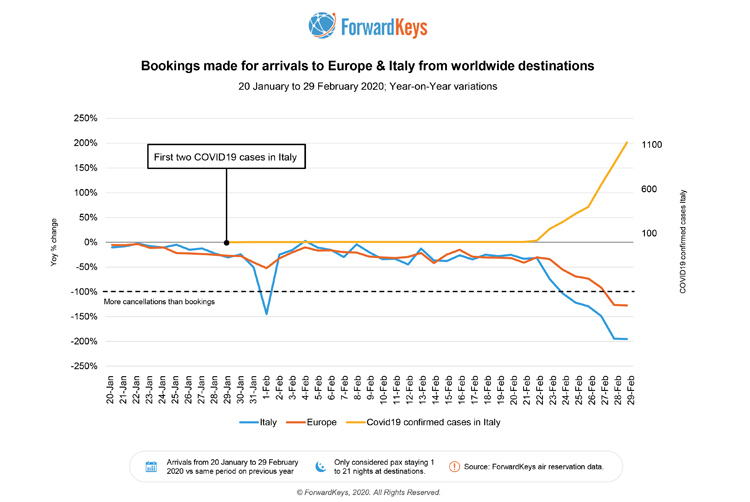 Bookings to Europe from intercontinental source markets had decreased by 23.7%. The overall number of new flight bookings to Europe fell by 79.0%.
Klook taps into food delivery amid virus outbreak
>> Klook and Lalamove have worked together to launch a Hong Kong food delivery service. A spokesperson said the tours-and-activities booking platform is "exploring more F&B experiences and looking into leisure activities, to diversify our activities spectrum". Klook secured a USD 225 million funding round supported by Softbank in April 2019.
Airbnb, OTA giants agree to landmark data deal with EU
>> Airbnb, Booking.com, Expedia Group, and Tripadvisor have come to a data-sharing agreement with the European Union. The deal means that for the first time reliable information about the short-term rental market will be made public via the EU's statistical office Eurostat.
Airbnb and other platforms have been fighting a running battle across Europe over the proliferation of urban rentals. Cities like Amsterdam and Barcelona have put in place restrictions with many locals voicing their concerns about the impact on house prices.