Key developments:
* Booking projects a 5%-10% loss in room nights
* Expedia global layoffs cost $135-185 million
* Luxury hotels embark on take-out business
* Marriott projects a $25 million loss in monthly fee
Worldwide updates:
Top OTA expects a 5%-10% drop in room nights booked
>> Booking.com's parent Booking Holdings said the coronavirus has had a significant and negative impact on business for the first quarter this year. The company anticipates a 5%-10% drop in room nights in the quarter. Total gross travel bookings are to fall by 10%-15% during the time, and revenues may decline by 3%-7%.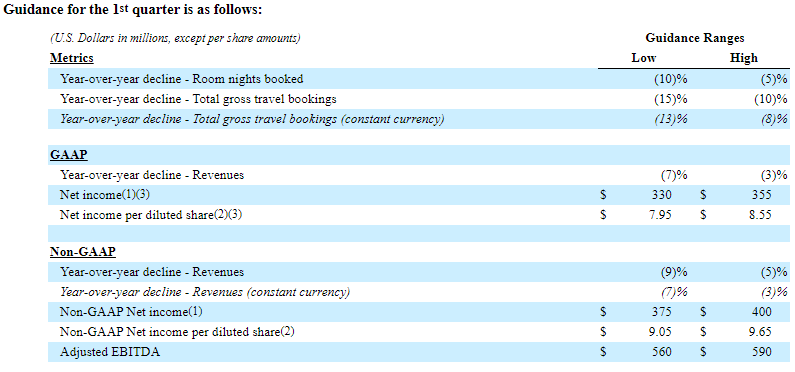 Booking reported 191 million room nights for the fourth quarter of 2019, up by 11.8% year on year. Total gross travel bookings for the whole year were USD 96.4 billion, a 4% increase compared to 2018.
Expedia starts global lay-offs in Hong Kong, Singapore
>> Expedia Group has kicked off its global lay-off of 3,000 staff this week in Asia. The first dismissals will take place in Hong Kong and Singapore, where staff will receive redundancy notices as early as this week.
The Seattle-based company has 106 employees in Hong Kong, with another 343 in Singapore. More lay-offs could come in the two offices and possibly other branches in Asia.
The global redundancies may cost between USD 135-185 million in total pre-tax charges, Expedia said in its filing this week.
Sabre warns of $100-150M impact in revenue
>> US-based global travel distribution system giant Sabre said the coronavirus outbreak could cost a USD 100-150 million loss in the company's first-quarter revenue this year.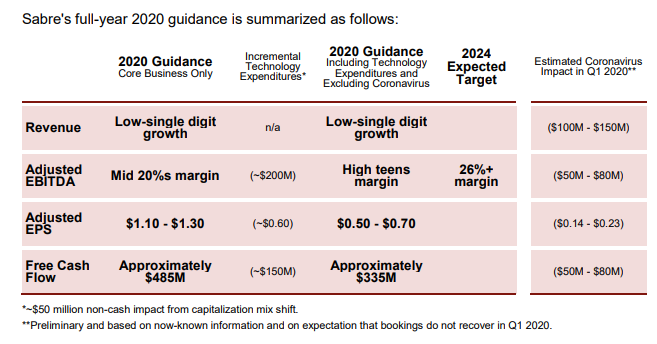 Sabre's fourth-quarter revenue increased 1.9% to USD 941.4 million, compared to USD 923.9 million in the fourth quarter of 2018. Full-year operating income was USD 363.4 million, versus USD 562.0 million in 2018, and global air bookings share increased 130 basis points to 38.8%.
Marriott projects a $25 million impact to monthly fee
>> Marriott expects a roughly USD 25 million hit to its monthly fee revenue, as the hotel operator faces low occupancy rates in the Asia Pacific region due to the coronavirus outbreak. The world's largest hotel group said room additions in 2020 could also be delayed as a result of the outbreak.
RevPAR in Greater China dropped 0.1% to USD 83.53 in 2019, and occupancy grew by 1.7 percentage points to 69.1%. For the whole Asia Pacific region, RevPAR was USD 103.98, up by 2.4%.
Luxury hotels in China embark on take-out business
>> Businesses in China have been gradually resuming work, and over 100,000 new brick-and-mortar restaurants have set foot in online take-out services, including luxury hotel brands like Shangri-La and Westin which offer meals from prawns and beef with truffles to beef burgers and vegetable salads, according to food delivery app Eleme.
The food delivery platform shows more than 1,600 users have ordered from a Shangri-La hotel in Suzhou. A Crowne Plaza hotel in Jiangsu's provincial capital Nanjing has also initiated take-out business as they suspended dine-in services.
Spanish hotel group warns of virus hit
>> Spain's Melia Hotels said it expected its business in China to take a hit in the first quarter due to the coronavirus, which has so far had only a moderate impact on results but has clouded its outlook globally for this year.
China, where revenues climbed 9.2% in 2019, will be particularly hard hit by the outbreak, which has so far had a limited impact on the rest of its destinations in the Asia-Pacific region, Melia said.
Delta cuts Korea flights, JetBlue waives US change fees
>> Delta Air Lines said it would temporarily cut flights to and from South Korea, citing global health concerns related to the coronavirus outbreak as U.S. airlines grapple with lagging travel demand.
Hawaiian Airlines plans to suspend its five-times-weekly service between Honolulu and Seoul-Incheon beginning on Monday through April 30. With US air travel demand slumping, JetBlue Airways said it would suspend change and cancel fees for new flight bookings for travel completed by June 1.
Over 25,000 Cathay employees to take unpaid leave
>> Hong Kong's flagship airline Cathay Pacific warned that its business conditions remained "acute", with 25,000 employees opting to take unpaid leave, accounting for 75% of the carrier's workforce.
In response to the virus outbreak, Cathay Pacific and subsidiaries Cathay Dragon and HK Express cut their capacity by 40%, amounting to the cancellation of more than 60% of their scheduled flights – including most of their mainland China flights – every week.
43 countries including China restrict travel from Korea
>> More than a dozen additional countries and parts of China have enacted entry restrictions on travelers from South Korea over coronavirus concerns, bringing the total number of such countries to 43. South Korea has seen a rapid rise in the number of coronavirus cases in recent weeks.
UNWTO warns against stringent travel ban
>> The World Tourism Organisation (UNWTO) and World Health Organization (WHO) have warned against stringent, or even blanket, travel restrictions that could disrupt international traffic "unnecessarily" or have wider "negative repurcussions" on the tourism sector.